A busy tradesman can't afford to spend much time finding the right tool from his heap of accessories. Tool backpacks are very convenient in storing tools and making you look professional at the same time. Using these backpacks will also enhance your productivity. People tend to spend a lot of money on regular backpacks before realizing to invest once in these heavy-duty bags that are durable as well as comfortable. We have reviewed the best tool backpacks here so that you can find a solution for your messy tools.
Tool backpacks are easier to carry to your workplace and handle when you climb stairs or operate from any high or uncomfortable place. All handyman work-type have different requirements for tool storage. You can choose the bag type and size according to your profession. We would suggest not rushing into buying one without reading details about all of them. You might not want to miss the best one of them with the most unique feature.
Best Tool Backpacks
1. Klein Tools 55421BP-14 Tool Backpack
39 pockets
Fully protected water-resistant base
Bright color interior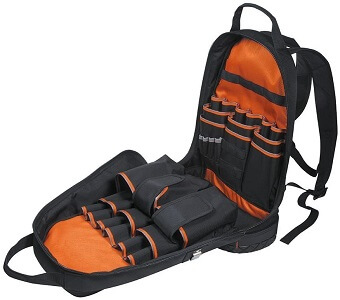 [maxbutton id="1″ url="https://www.amazon.com/gp/product/B00MK9UY0A/ref=as_li_tl?ie=UTF8&camp=1789&creative=9325&creativeASIN=B00MK9UY0A&linkCode=as2&tag=thumbtube-20&linkId=2a28304f4018041d51d7cb3a1e061651″]
A perfect bag for handling your tools most efficiently. After looking at the design of this bag, one can surely say that they know how tools can be handled best. It has 39 pockets to keep different tools including a rough front pocket to keep the safety glasses and other fragile things very safely. Above that, there is another zipper pocket at the front for keeping loose parts of your machines. It is really helpful in storing small things like screws and nails. The bag is tall enough to carry very long screwdrivers in the pockets inside.
The interior of the bag is orange in color so that you can quickly spot your tools. Most of the tool bags get damaged from the bottom because people tend to drag it most of the time. Klein Tools have got it covered here. The base is nicely molded with rubber material to keep the bag durable and free from harm. It is also water-resistant, so you don't have to worry about working near wet surfaces. The overall durability has also been ensured by using 1680d Ballistic Weave material to make this bag. The shoulder strap has extra padding for making it easier to carry when you are carrying some heavy stuff.
2. CLC Custom Leathertcraft 1134 Carpenter's Tool Bag
44 pockets
Durable material
Dual handles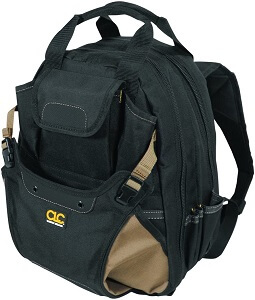 [maxbutton id="1″ url="https://www.amazon.com/gp/product/B0047O3PFC/ref=as_li_tl?ie=UTF8&camp=1789&creative=9325&creativeASIN=B0047O3PFC&linkCode=as2&tag=thumbtube-20&linkId=e376711b72ffdbdc66d83877993dd731″]
Unlike most of the good tool bags, this backpack comes with 2 zippered compartments. One compartment consists of pockets to keep your tools, whereas the other one is suitable for keeping other accessories like wires, batteries, etc. The pockets are adjustable through compression for fitting your bulkier items. The bag is made up of hard durable material with comfortable padding and straps that can be adjusted according to your ease. Dual handles are given to take your bag with more convenience and there are 8 pockets outside the bag as well.
People having a job profile of fitter man, cable operators, technicians will find this bag suitable even while working to keep their hands free. They have also given a big exterior pocket to easily access the most important tools. For keeping pens, there are three small pockets by the side. The bag's feet material is also quite impressive as it won't let your tools catch moisture and also protect the bag. The disadvantage of this bag is that it is not tall enough to carry very big screwdrivers or other long wrenches. But you can find other CLC tool backpacks if you operate with bigger tools.
3. DEWALT DGL523
57 pockets
Equipped with LED light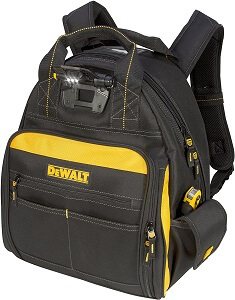 [maxbutton id="1″ url="https://www.amazon.com/gp/product/B00QNTVVOG/ref=as_li_tl?ie=UTF8&camp=1789&creative=9325&creativeASIN=B00QNTVVOG&linkCode=as2&tag=thumbtube-20&linkId=80a6885df113f1c6b0db7c4eab6cbf6c"]
DEWALT tool backpack with 57 pockets in the bag for technicians who are quite busy and have to handle a large number of tools. To keep you well organized they have designed 48 pockets inside and 9 pockets on the outside. The interior pockets are for all types of tools from small screwdrivers to heavy wrenches and drills. The outside pockets are for quickly accessing important stuff you would require as a technician. The thing that sets this bag apart from other bags is the LED light at the front. If you have to work in dark places, this might guide you. And definitely, it will help find your tools.
Like other tool backpacks, you get padded straps for carrying the bag with comfort and pads at the base to save the bag from wear and tear. But this bag has a different design in terms of compartments. There is a front compartment with many pockets for the most frequently used tools. Every time you need to use them you won't have to open the whole bag. The zippers of the bags can be wide opened up to the bottom. It is best for keeping bigger tools without harming the mouth and zippers of the bag.
4. AmazonBasics Tool Laptop Backpack
22 pockets
Made up of polyester
Detachable tool holder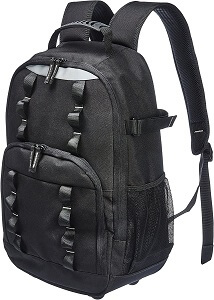 [maxbutton id="1″ url="https://www.amazon.com/gp/product/B079Z2HWVC/ref=as_li_tl?ie=UTF8&camp=1789&creative=9325&creativeASIN=B079Z2HWVC&linkCode=as2&tag=thumbtube-20&linkId=a034d42f6f9c9d88ed99112f3bbe47d3″]
Technicians who need to work with laptops and operate with a limited number of tools should be happy with this tool backpack by Amazonbasics. There are 16 interiors and 6 exterior pockets along with a compartment for your laptop. DIYers will also like this bag as they can put their various craft items in a very organized way.
The bag comes with a reflective safety strip for working in darkness. Like almost every backpack, this one too has a feature that makes it different from others. Amazonbasics tool backpack comes with a removable divider system that has tool holders. It means you can carry your small tools in a separate bag after detaching this holder. Also, after removing this holder, you can use this bag alone for carrying bigger accessories.
5. CLC Custom LeatherCraft 1132 Tool Bag
75 pockets
6 compartments
Multi-compartment plastic parts tray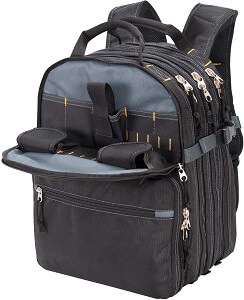 [maxbutton id="1″ url="https://www.amazon.com/gp/product/B0000DYVCY/ref=as_li_tl?ie=UTF8&camp=1789&creative=9325&creativeASIN=B0000DYVCY&linkCode=as2&tag=thumbtube-20&linkId=642dbd40d90b854135e1acfb3b206744″]
Now, this is what you call a beast. Custom LeatherCraft has truly gone out of its way and designed a 75 pockets tool backpack for heavy-duty technicians. There will be hardly any tool that won't fit in it. The sleeves and pockets of this bag can accommodate all kinds of tools like drivers, heavy wrenches, pliers, etc. They have specifically made it for installers and technicians who have big contracts like stadium lighting, shows, and events sound system, etc.
There are 6 nicely padded compartments in this bag with sections of all shapes and sizes that provide you hand-free carrying of your important tools. Two of them are at the front for quick access. The back compartments are well designed to put different category tools in different partitions. Your whole wrench set can come in one compartment and drills in another. One compartment is dedicated to hook and loop sections. Here you can place the items that can't be kept in an open pocket for better safety of your items. The ballistic polyester material used in making this bag is durable and gives safety against normal wear and tear.
6. Revco Industries GB100 BSX Extreme Gear Backpack
Helmet catch
Side pockets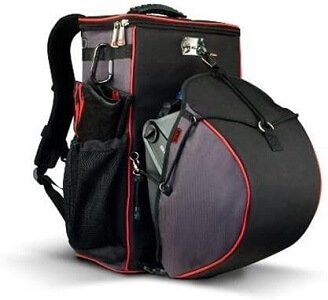 [maxbutton id="1″ url="https://www.amazon.com/gp/product/B004D5T02M/ref=as_li_tl?ie=UTF8&camp=1789&creative=9325&creativeASIN=B004D5T02M&linkCode=as2&tag=thumbtube-20&linkId=0ef97c2b68e10c03d722b445808b55fb"]
Carrying a helmet with you has always been a wearisome task. People tend to forget it somewhere more than often. If your work involves wearing a helmet, this is the tool backpack you are looking for. Revco industries GB100 tool backpack is specifically designed for welders as it has limited pockets but one particular compartment for keeping a helmet. But there is no reason why masons and bricklayers can't use this. Other than the helmet catch, it has got plenty amount of space for storing other tools and accessories. This bag is more like a toolbox, but the padded straps make it very easy to wear and carry everywhere. You can carry it as a toolbox too as it has got a rivet-reinforced handle at the top.
The bag has enough pockets inside that can fit your pliers, hammers, safety glasses, etc. The bag is bigger than most of the tool backpacks in this list. So, it should be easy to carry big brick trowels and aluminum channels. For keeping your gloves and water bottle, there are mesh pockets at the side of the bag. Though the bag is made up of Nylon material, you can rest assured that there is no harm your sparks fly can cause to this bag. The bag is durable but there must have been something at the feet for protection too. This Revco Industries tool backpack is a little on the expensive side.
7. Veto TECH PAC Service Technician Bag
4 storage compartments in 2 storage bays
56 interior pockets
Nylon Material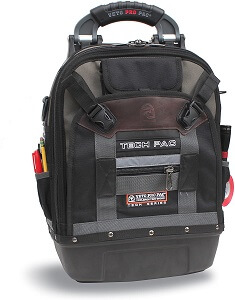 [maxbutton id="1″ url="https://www.amazon.com/gp/product/B00DYQLXHG/ref=as_li_tl?ie=UTF8&camp=1789&creative=9325&creativeASIN=B00DYQLXHG&linkCode=as2&tag=thumbtube-20&linkId=d1910a753b13524c372844d7ef7608a5″]
This is probably one of the most heavy-duty tool backpacks you will find in the market. Tradesmen and technicians who walk for longer distance and climb ladders can use this bag. It is very comfortable to carry as all its straps and padding include EVA form that is used in sports equipment for protection. When placed erected, the bag remains stable because of the non-tipping platform at the bottom. The impregnated denier nylon fabric makes it a tough leather proof tool backpack. It is available in 4 different colors at different prices.
Veto Tech Pac tool bag has got 56 interior pockets ranging from tiny to big size. Even the pockets of this bag are made up of strong neoprene material to save the wear and tear caused by the tools. All your tools like meters, cordless drills, gauges, impact drivers can be accommodated in this bag. The center panel design is its most unique feature that offers two bays on each side of the bag and has a meter storage option. It is also helpful for the stabilization of the bag. The feet of the bags are also very rugged and there are minimal chances of damage to the bag. One thing that might stop you from purchasing this bag is that it is overwhelmingly expensive. But when you look at its build quality and capacity, it is worth the money spent.
8. CLC Custom Leathercraft L255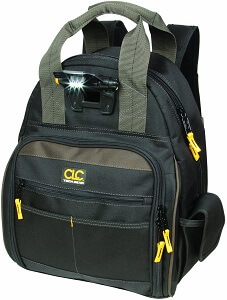 [maxbutton id="1″ url="https://www.amazon.com/gp/product/B00JCCHVRC/ref=as_li_tl?ie=UTF8&camp=1789&creative=9325&creativeASIN=B00JCCHVRC&linkCode=as2&tag=thumbtube-20&linkId=fb7ca6a6e5cdccf46d6b2cf3953a5684″]
L255 is another efficient tool backpack by Custom Leathercraft. It comes with 53 differently sized pockets for organizing all your tools. These pockets come in dual compartments and you can access both simultaneously. There are large-sized side pockets as well for storing frequently use tools and accessories like a pen, screwdrivers, blades, markers, etc. If your job involves working at low lit areas, this is another CLC bag you can look up to. The bag has a 3 levels output LED light that can enlighten dark areas and you can easily find your tools and work without a barrier. You can twist the light in any direction. The thick rubber legs allow the bag to stand upright. But many users complain that with passing time, the bag gets saggy. The back padding and padded shoulder straps make the bag easier to carry for a long duration.
9. Rugged Tools Pro Tool Backpack
40 pockets
Compact size
1680 polyester denier material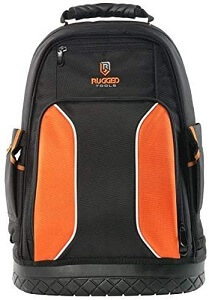 [maxbutton id="1″ url="https://www.amazon.com/gp/product/B074RX5PWH/ref=as_li_tl?ie=UTF8&camp=1789&creative=9325&creativeASIN=B074RX5PWH&linkCode=as2&tag=thumbtube-20&linkId=f941475cb134f19c16353edfd842325c"]
Here is a tool backpack by Rugged Tools suitable for all kind of repairmen. This one has 40 pockets for organizing your tools including 4 exterior and 2 side pockets. Your ratchets, pliers, screwdrivers, batteries, and extensions will find suitable pockets. The bag is made up of 1680 polyester denier that makes it safe from wear and tear due to access use and also safe from some extreme weather conditions. The rugged hard shell bottom of the bag protects the bag and your tools and also the bag stands upright because of it. It is an important feature as the bags that aren't able to stand upright cause the tools to fall from the pockets.
If you do not like bulky bags, this bag will prove to be a very good choice as it is a compact size with a well-padded back and straps. Apart from the heavy-duty construction, the zippers too are of pro-grade and will last long. Some users have complained of the side bags getting shredded too early. The bag can carry 25-30 lbs of weight easily. However, if your tools are bulky or heavier than this, this bag is not for you.
10. VETO PRO PAC Tool HVAC Backpack
46 pockets
Electric tape strap
1200 PVC Impregnated Denier Nylon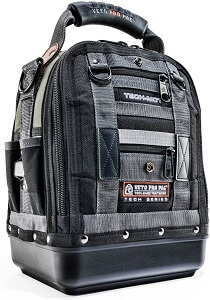 [maxbutton id="1″ url="https://www.amazon.com/gp/product/B01CENNFYS/ref=as_li_tl?ie=UTF8&camp=1789&creative=9325&creativeASIN=B01CENNFYS&linkCode=as2&tag=thumbtube-20&linkId=01753b25a8fade80d530407932a64140″ ]
Another very heavy duty bag by VETO but this one has a more compact size than the last one. The over-molded ergonomic grip makes it restful enough to carry easily for long-distance. The shoulder straps too are well-padded and wide so that the weight is equally divided. The thick propylene base is there to protect the backpack against rough and tough weather and work conditions. The risk of your tools getting affected because of humidity or excessive heat is also very low. That is because of the 1200 PVC impregnated denier nylon used in the construction of the bag.
The D-rings in the bag are made up of powder-coated steel. You can hang up a few tools or even speaker or other gadgets here without fearing any breakup of the ring. The bag is useful for electricians and HVAC tradesmen. Very few users have complaints regarding the bottom but still, this is one of the highest-rated tool backpacks on Amazon.
These were 10 best tool backpacks available online. All these bags have been appreciated by the technicians who have used them. Some of them have distinct features and some lack features that aren't required by the majority of technicians. Not all these bags are suitable for carrying a laptop. So if your work involves carrying such gadgets, do check the ability of the bag. Heavy tools can be transported using these bags without affecting your back and shoulder. We are hopeful that the bag you choose will enhance your job performance and give you the best outcome.
Things To Consider Before Buying Tool Backpacks
Buying a tool backpack is a once in a year or two years of investment for many technicians. There are a few things you should keep in mind before ordering a brand new tool backpack for yourself. The 1st thing you have to do is figure out the requirements of your job profile. You should know how many pockets bag will be sufficient for carrying your accessories. For example, if you work with hundreds of tools every day, the CLC backpacks will be more suitable for you. But if you are just a DIY enthusiast, the AmazonBasics backpack with 22 pockets should suffice your needs. Here are a few other things to consider before buying a tool backpack.
Pockets: The number of pockets will depend on the requirement of your genre of work.
Material: One has to keep in mind that if you are constantly working around the welding machine or other warm surfaces, nylon bag will not be suitable. Likewise, you should cross-check the material of the bag with the type of your work.
Weatherproof: If you work outdoors or in extreme conditions, you must look if your bag will be resistant from water or some heat at times.
Zippers Durability: For opening your bag frequently, the zippers have to be strong enough. But if you need a tool backpack just for storing the tools, normal zippers will be fine.
Shoulder Straps: For someone who keeps very heavy tools, one must ensure that the shoulder and chest straps are well padded for your comfort.
Handles: Some bags have a single handle at the top while some have dual. The heavy-duty technicians should go with the dual one.
Feet: Most of the time, the tool backpacks carry heavy stuff and people tend to drag the bag most of the time. To prevent from wear and tear, the feet have to be made with some special material like rubber or plastic. You can even consider the bag with wheels if it suits you.
Warranty: If you are choosy about the warranty or guarantee, there are bags available with these options too.
Types of Tool Backpacks
Tool backpacks can be classified in lots of ways like in terms of price, durability, size, weight, Handyman type and material used. Here are some Tool backpacks explained in terms of their handyman types.
Electrician
As the electrician needs many tools but usually small ones, the electrician's tool backpack isn't that big. It sure has to have a lot of pockets including quick access pocket to keep screws. The drilling machine is probably the biggest tool an electrician has to carry, so it requires a bigger compartment for that. The bag has to have well-padded straps as the electrician might need to carry the bag for long hours while fixing the cables.
Plumber
A plumber requires few pockets but definitely, the pockets have to be bigger. His working area is mostly wet, so the bag has to be water-resistant. There are times when he has to work in underground tunnels or tube wells, so the bag with LED lights would be perfect.
Carpenter
The carpenter needs a backpack that is tall or wide enough to fit tools like saws, drills and plane. He might not need many pockets but there have to be hook and loop sections to keep nails and screws safely. The zip closure pockets will be more suitable for the same.
Welders
They probably need the most minimal tool backpack as there are not many accessories to operate with. A bag in this list is most suitable for Welders and similar technicians. It has the front section specifically designed for keeping a helmet. Few other pockets are required in a tool bag for welders like measuring tapes, markers, safety glasses, gloves etc.
DIYers 
DIYers deal with a vast range of tools and craft materials. It gets very messy if you pile out your stuff in a simple bag. Even a tool bag with 20-25 pockets is a good choice for DIYers. They just need space for glue guns, scissors, saws or cutters, and things related to your craft. There is no need for padded straps as the bag of DIYers is light most of the times.
Masons/Bricklayers
This is probably one type of bag where you can pile many things in one pocket. Mason's tools aren't small but they are very few in numbers. So more pockets are not required but the material from which the bag is made must be very durable. The sharp and heavy tools of the mason need a heavy-duty bag with some pockets for mason's thread, trowels, hammer, hawk etc
Regular Backpack Vs Tool Backpacks
One might not realize how useful a tool backpack can prove to be until they use it. Tool backpacks are the most efficient way to transport tools for many types of workers and technicians like cable operators, electricians, carpenters, plumbers etc. Here are 5 things that make tool backpacks better than regular backpacks on any given day.
In just a glance one can check if he has kept all his tools and there are minimum chances of misplacing a tool. It's tough to keep a check if you fill all your tools in a regular backpack.
Tool backpacks are more durable as they have special place and fabric used for keeping all types of tool. A regular backpack might be damaged by nails, screwdrivers, heavy machines, etc if you use it regularly. But a tool backpack endures different types of accessories in the pocket designed to keep them.
It is easier to spot a tool in tool backpack but in a regular backpack, you will have to put efforts into finding something like a treasure hunt.
The legs and bottoms of tool backpack are made up of very rigid material to save it from wear and tear and extreme conditions like hot, humid, etc.
Tool backpacks are easier to work with. A technician who has stuffed all his tools in a regular backpack will find it very difficult to access those tools while standing on a ladder. If you have a tool backpack, you can easily open the section where your tool is kept and just put your hand in the respective pocket.
FAQs Regarding Best Tool Backpack
1. Which is the best tool bag for HVAC?
HVAC tool backpacks need rugged material and efficient design. VETO PRO PAC Tool Bag or Klein Tools 55421BP-14 Tool Backpack will do the job for you. But if your job requirements are specific, you should have a look at the other ones as well.
2. What are the pros and cons of Tool Backpack?
Pros:
Fasten work and are efficient
Organize tools
Extreme weather resistant
Durable
Easy to carry
Cons:
3. Are tool backpacks waterproof?
Yes, there are some. But most of the bags claiming to be waterproof are water-resistant. It means they will partially save the tools from getting wet but if you face heavy drizzle or drop the bag in the water, the bag and the tools will be soaked.
4. What types of tools you can carry in a tool backpack?
The types of tools you can carry in a tool backpack depend on the type you get. Some tool backpack can accommodate heavy tools, gadgets like laptops, sharp objects, pliers, drivers, wrenches, cordless drills, trowels, meters, nails, gloves, masks, etc. While some of them are designed to keep even things like helmets or face shields.
5. How to clean a tool backpack?
Tool backpack should not be cleaned regularly. Do it, if it has become inevitable. You should clean your tool backpack with some care. Before washing it, soak it in warm soapy water for a while. After soaking, do not use toxic cleaners. Three are green cleaners available in the market. You can also use normal soap and scrub gently with a medium bristle brush. Now rinse it with clean water a few times and hang it for drying.