Small backpacks are not just trendy but quite easier to carry. No matter you are traveling or going on a short shopping session, using a small backpack keeps you less occupied and leaves enough room for doing other important tasks. You just need to know how to pack your bag minimally and your day will be hassle-free. Like a technician requires a tool backpack to organize the tools similarly a mini backpack is good for your essentials like a water bottle, torch, stationaries, gloves, gadgets, etc. Without compromising on style there are decent backpacks available in the market.
Small bags are suitable for all kinds of lifestyles including adventure. But nowadays you have a lot of good options that will perfectly match with the activity of your choice. A student will like a simple design wheres someone who will use it for travel purposes might demand some feature. These backpacks have some special things to offer within different price ranges. If handled properly, these backpacks are durable enough to save you a lot of costs. So let's look at the best small backpack bags we have reviewed in this article.
Best Small Backpack Reviewed
1. Outlander Backpack For Travel or Hiking
Water-resistant
Rip-Proof
Shrinkable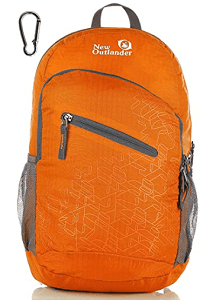 [maxbutton id="1″ url="https://www.amazon.com/gp/product/B00PEULPQO/ref=as_li_tl?ie=UTF8&camp=1789&creative=9325&creativeASIN=B00PEULPQO&linkCode=as2&tag=thumbtube-20&linkId=1eceb9086f76a0ce3d572495e298a26d"]
Outlander packable backpack is one of the best smallest backpack available on Amazon. This ultra-light backpack weighs around only 7 ounces and has the capacity of carrying around 20 liters of weight. It is equally good for carrying your clothes and frequently used items like notebooks, shoes, a camera, perfume, earphones, etc. You can even choose a color just according to your favorable theme as it comes in 11 different colors.
When you are not using the bag, it won't occupy much space. This Outlander backpack can shrink to a size small enough to fit in your pocket. It has got 3 compartments including the pocket on the front. There are also two mesh pockets at the side for keeping things like water bottle, gloves, umbrella, etc. The best thing about the bag is, it is water-resistant and rip-proof. The shoulder straps are designed for your comfort with breathable mesh.
2. JanSport Half Pint Backpack
10.2-liter mini bag
1 compartment and a mini pocket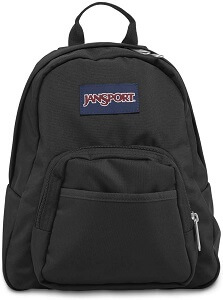 [maxbutton id="1″ url="https://www.amazon.com/gp/product/B07NRJ7P1N/ref=as_li_tl?ie=UTF8&camp=1789&creative=9325&creativeASIN=B07NRJ7P1N&linkCode=as2&tag=thumbtube-20&linkId=a674f0f03ddbc54af5f0614c73478e64″]
This one is a mini and light backpack that is available in almost 40 different colors. Some of the prints are attractive. This bag is made up of 600D polyester material that makes it a little durable. It has a capacity of only 10.2 liters. So, this is perfect for someone who wants to carry a very limited amount of essentials. Apart from the main compartment, there is a zipped pocket at the front and a small utility pocket as well. The bag does not feature side pockets as isn't water-resistant. It has a web haul handle for hanging.
3. HotStyle BESTIE 12″ Small Backpack for Women
10 pockets
Available in 17 colors
Dual handle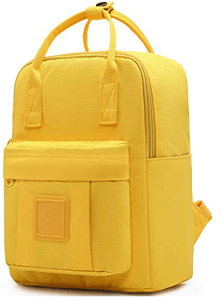 [maxbutton id="1″ url="https://www.amazon.com/gp/product/B01G1F13DU/ref=as_li_tl?ie=UTF8&camp=1789&creative=9325&creativeASIN=B01G1F13DU&linkCode=as2&tag=thumbtube-20&linkId=db9c889fc74590b97302b76b057b9c7a"]
Ladies that are looking for a lightweight backpack for carrying their essentials will find this attractive. This HotStyle BESTIE 12 inches bag comes in 17 single colors and 1 printed color. It looks small but it has got a lot of pockets to help you organize your stuff. There are 6 pockets in the main compartment and 4 pockets outside it.
It is convenient for tasks from trekking and hiking to carrying your books to college. This bag can hold your iPad as well. These things will be protected during extreme weather as it is water-resistant. You can carry it through its shoulder strap or a very well designed dual handle that provide a one-hand carry option. The shoulder straps can be adjusted according to adults and small kids, whoever is wearing. The bag is rated very highly on Amazon because of its durability.
4. adidas Unisex-Adult Core Mini Backpack
Water-Resistant
100% polyester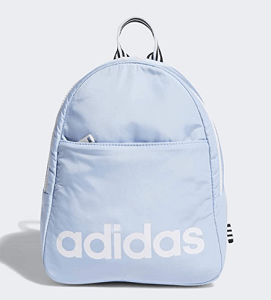 [maxbutton id="1″ url="https://www.amazon.com/gp/product/B07KDR9NWZ/ref=as_li_tl?ie=UTF8&camp=1789&creative=9325&creativeASIN=B07KDR9NWZ&linkCode=as2&tag=thumbtube-20&linkId=392f0236b102e8fac739c17b21ec386a"]
A small and cute backpack for carrying your sports, gym, or classroom essentials. This Adidas bag is made up of 100% polyester material and comes in 10 different colors. It weighs only 8 ounces and perfect for all men and women. One might think this is overpriced but its toughness does justice to its price. People take it to dance and music festivals so their limited stuff can be accommodated in it and they can be hands-free to enjoy the show.
The hidden zippered pocket at the front is suitable for carrying your small expensive items like phone, wallet, etc. Kids will like it as well for carrying their notebooks and Tiffin box. The zippers are durable and hassle-free. Because it is water-resistant and there are mesh pockets inside the bag for organizing stuff, it deserves the high rating it has on Amazon.
5. AOTIAN Mini Nylon Women Backpack
High-quality Nylon
Multiple pockets including one at the back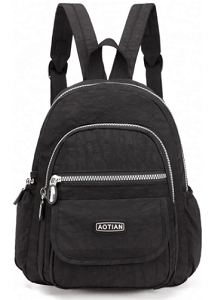 [maxbutton id="1″ url="https://www.amazon.com/gp/product/B01NA08FCT/ref=as_li_tl?ie=UTF8&camp=1789&creative=9325&creativeASIN=B01NA08FCT&linkCode=as2&tag=thumbtube-20&linkId=dcdd13097efc03de334b48829d256bad"]
If you are looking for a small, durable backpack for any women or girl child, you cannot complete your search without considering this bag. It is constructed with good grade nylon with added polyester lining. The deep colors it offers are well suited for students and even lady teachers. They have claimed that the colors won't fade and it's non-toxic and no-odor. AOTIAN mini backpack is very lightweight and the adjustable shoulder straps make it easier to carry around.
The bag has sections for various things like side pockets for a water bottle, two big compartments for books and diaries, and a front pocket for quickly accessing small essentials. For keeping your valuables like wallets and phones, there is a deep zipper pocket at the backside. This back pocket won't be visible when you are wearing the bag. Few hiking essentials can also fit in the bag very easily.
6. Herschel Nova Backpack
9 liter
Polyester material with polyethylene foam lining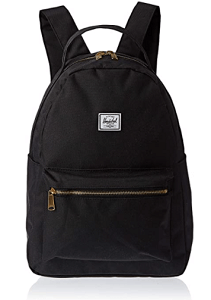 [maxbutton id="1″ url="https://www.amazon.com/gp/product/B078J2CJPN/ref=as_li_tl?ie=UTF8&camp=1789&creative=9325&creativeASIN=B078J2CJPN&linkCode=as2&tag=thumbtube-20&linkId=7cec67475596fcef4515eb17b64783ba"]
This small backpack looks a little bigger than most backpacks on the list but it is equally lightweight. The bag comes from an expensive products brand Herschel and one thing they offer for sure is the durability of the bag. You can choose many eye-catching colors and very attractive prints that match your style or theme of work. People have loved this bag as it is available in their favorite colors like Alaskan blue, blue mirage crosshatch, and many pastel colors.
This bag caters to almost all types of lifestyles from students to hikers to offices going workers. The day trips will be productive as your usual stuff will be accommodated by this bag and your hands will be free. The durable polyester fabric makes sure that you can use this bag on your adventurous trips as well. If you like the design and durability, you can purchase the bigger size of this bag as well.
7. LCFUN Mini Leather Backpack Purse
Fashionable trendy design
Leather with polyester lining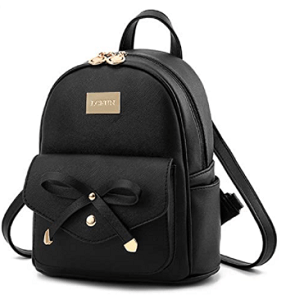 [maxbutton id="1″ url="https://www.amazon.com/gp/product/B072MGHC1D/ref=as_li_tl?ie=UTF8&camp=1789&creative=9325&creativeASIN=B072MGHC1D&linkCode=as2&tag=thumbtube-20&linkId=265775951c967fd712cee83c0710d4fb"]
Here is another cute mini bag for ladies by LCFUN. It is available in 7 bright colors to match with your bright dresses. These bags are for day to day work but they are fashionable enough to carry to the party or other special events. It is made up of faux leather that makes it long-lasting and the price is also reasonable. The design of the bag is also catchy and the bowknot at the front makes it cuter.
This is also a perfect backpack to gift your female friends. The metal used in the bag is also of good quality and they have promised its durability as well. LCFUN bag has 1 main zipped compartment with 2 internal pockets and 1 flap pocket at the outside. They have provided one pocket at the rear side as well for putting expensive items more safely.
8. Himawari School Backpack for Student
iPad compartment
Durable nylon fabric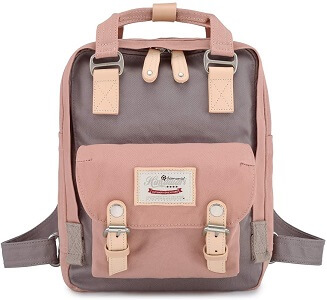 [maxbutton id="1″ url="https://www.amazon.com/gp/product/B07TCDQQ5H/ref=as_li_tl?ie=UTF8&camp=1789&creative=9325&creativeASIN=B07TCDQQ5H&linkCode=as2&tag=thumbtube-20&linkId=3ab5d75bd06c06c878b7f3b8ac0c85f7″]
Himawari school backpack is water and scratch-resistant designed for little kids and students. However, if you are someone who likes to keep it funky when it comes to fashion, you can choose a bag with a suitable color. It is made up of great quality nylon fabric with some leather decoration and a metal zipper. The looks of the bag are great but the interior is also one of the best in this segment. There is a padded laptop compartment where you can put your laptop and iPad as well. Then they have given lots of pockets for keeping your stuff very well organized.
There is a flap pocket at the front with a zipper. The design of the bag ensures efficiency and comfort at the same time. The dual padded shoulder straps and the dual handle makes it easy to carry.
9. NIKE Brasilia JDI Kids Mini Backpack
Polyester fabric
Spacious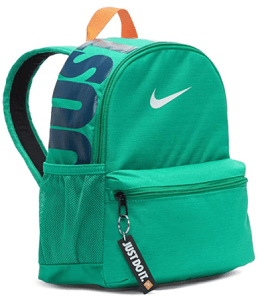 [maxbutton id="1″ url="https://www.amazon.com/gp/product/B08DT8FGGF/ref=as_li_tl?ie=UTF8&camp=1789&creative=9325&creativeASIN=B08DT8FGGF&linkCode=as2&tag=thumbtube-20&linkId=5084d20799349e9c207601783b153b87″]
This is another trusted brand's small backpack which is available in 5 soothing colors. Nike 'Just Do It' mini backpack is more spacious than most of the small backpacks here. The looks of the bag are sporty and classy at the same time. Of course, this one is perfect for kids. However, it is suitable for college students and as well people who want to carry their running, jogging, and gym essentials.
There is one main zippered compartment in the bag along with the front pocket for small essentials like phone and pen-pencils. The polyester fabric makes this bag durable and water-resistant. The shoulder straps are lightly padded and adjustable for convenience. They have also cushioned the back panel for ease in carrying. There are mesh pockets for additional space for your water bottles. The price is a little high but if you are looking for a durable and stylish bag, Nike JDI mini backpack is a considerable option.
10. American Shield Girls Mini Backpack
PU Leather
Water-Resistant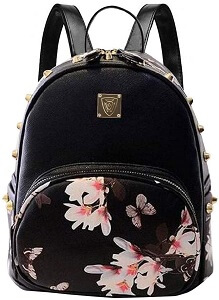 [maxbutton id="1″ url="https://www.amazon.com/gp/product/B01F8ELPD8/ref=as_li_tl?ie=UTF8&camp=1789&creative=9325&creativeASIN=B01F8ELPD8&linkCode=as2&tag=thumbtube-20&linkId=460aebb5a5aa1b434b423013e23834e7″]
If you are running low on budget and still want a fashionable bag, here is a beautiful bag by American Shield for girls. This bag comes in two very attractive and well-decorated colors/prints. The design is trendy among girls and the detailing is just the cherry on top. You get 6 pockets including the 2 side pockets. These pockets make the bag easy to organize and for shopping and daily use as well. The best use of this bag will be in the events where you want to register your fashionable presence.
American Shield mini backpack is made up of good quality PU leather. It is durable as well as tear-resistant. Minor scrapes can cause no harm to the bag. The shoulder straps are adjustable according to your convenience. The capacity of this bag is also good as there is ample room to fit your gadgets and some apparel. There is a zippered pocket on the inside as well to add extra safety for your phone, wallet, or cards. Few people complained about the threads getting loose with time but overall, this is practical in comparatively less budget. The smooth zippers add the value for money in this small backpack.
We hope now you are sure about choosing the best small backpack, we hope the list helped you out. It had all the details about durability and usability. But still, it gets confusing at times as most of the bags look similar. You should choose the bag that caters to your requirements. We have also provided a list of things you should inspect before purchasing a mini backpack.
Things To Look For While Buying  A Mini Backpack
Purchasing a good backpack that is no less than other bags in the same price range is a complicated task. There are only a few things from which you can differentiate good backpacks. But for some people, just one feature is enough to make a choice. For example, hikers would love to have a side pocket in their backpack for keeping a water bottle. So, it gets important to choose a bag that can fully entertain your requirements with its usability. Here are a few things you might want to consider in a small backpack before purchasing it:
Comfortability: Though you do not put enough weight in small backpacks, carrying it for long hours can get troublesome. You do not want your back and shoulders to hurt and ruin your perfect trip. So, one should always look for the right fit and adjustable shoulder straps. If you want a backpack for a little heavy-duty, make sure it is padded at the shoulders as well at the back.
Weight: If you want a backpack to ease the load, getting a heavy backpack will defeat your purpose. There are many small light-weight backpacks provided in this list that will occupy very little space without adding any weight to your traveling essentials.
Size: It is pretty obvious that one will expect the size of small backpacks to be small. But there are many variations of small and your options are manifold. The backpack should be small enough to fit your essentials and also not become bulky and stop you from enjoying the moment freely.
Water-resistant: For people who want to use the bag under extreme conditions or for adventure, it has to have this feature. There are nylon and polyester bags available that protect your stuff from small drizzles. It is especially important if you want to carry electronic gadgets like a camera and phone in your backpack.
Durability: This is the most common thing we look for in almost all products. But if you are a daily user, you should be very sure that your bag is rip-proof. Not only on the outside but the lining of the backpack should also be constructed with durable material.
Safety: Most of these bags have zippered pockets that make them safer than other non-zippered backpacks. But you can look for other features like a rear side pocket and dual zip for putting a lock. If you are planning to purchase a small backpack for your iPad or laptop, make sure it has a padded laptop compartment at the back for safety against damage.
Color: A backpack becomes a fashion statement at times. If you want your bag to stand out, you have options to choose the most suitable color according to your lifestyle. The prints of some mini backpacks are catchy and even good enough to carry to a party or show.
Material: The material of the backpack should be considered not just because of the durability but for your health as well. Few people are allergic to leather and other fabric. If you are going to use your bag more than often, you need to choose the fabric that causes you no harm.
FAQs Regarding Best Small Backpack
1. What all things you can fit in a small backpack?
All the small backpacks are not of the same size so it depends on their capacity what they can carry. But these bags should be able to accommodate one or more of these things like iPad, notebooks, water bottle, umbrella, phone, batteries, charger, wallet, few apparels, etc. Other than that, you can keep your keys, watch, pen, plate, glass, spoon, socks, gloves, shoes, etc.
2. How to carry a mini backpack
Mini backpacks have shoulder and chest straps for carrying it. Most of them are cushioned for your comfort. There are many mini-backpacks available that provide handle for a one-hand-carry option and for that, the dual handle is the best. For traveling on buses, trains you can look for a handle loop for hanging it.
3. What is the best way to clean a small backpack?
For this, you need to first look at the instructions of the particular backpack whether it allows wet cleaning or dry cleaning. You can wash your small backpack by hand or in the washing machine.
Washing your small backpack needs to be more cautious. Firstly, for washing your backpack in a machine you should be sure about its material. Some backpacks do come with warnings to not be washed in machines.
Remove detachable parts from your bag and also check if there is anything inside the backpack.
Put the bag inside a laundry bag or a pillowcase to stay safe from the zippers getting stuck.
Dip the bag in cold water in the machine and put the non-toxic or green detergent.
Place the command for a gentle cycle and 5 minutes should be enough for a moderately dirty bag.
You can check-in between and when it looks clean put it for line drying. Drying the bag in the washing machine is not recommended at all as it can cause damage to the backpack. While hanging for drying, unzip all the zips and if the bag is padded from inside, you should hang it inside out.