Have you got time for fun game sessions at home? Carrom is one of the most popular indoor games in South Asia. This board game can be enjoyed among 2, 3, or 4 players and there is a lot of thrill involved in this game. If you don't want your kid to turn into a video game zombie, the best thing you can do is to gift them one of these best carrom boards which are available under Rs 2000.
At a very limited price, Carrom boards provide wholesome entertainment. Unlike video games, people of all ages learn this quickly and it's a great way for the family to spend time with one another. It also enhances the competitive spirit of your child and helps him become a better game player. After a tiring day at work, playing carrom is very refreshing and a good mood enabler. It is kind of tough to find a good carrom board these days, but we are here to help again. This list of best carrom boards under ₹ 2000 lists impressive boards in all standard sizes.
Best Carrom Boards Under Rs 2000 In India
1. KORNERS Wooden Carrom Board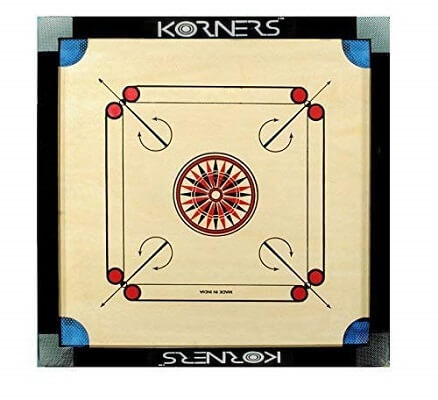 [maxbutton id="1″ url="https://www.amazon.in/gp/product/B07841Y8F8/ref=as_li_tl?ie=UTF8&camp=3638&creative=24630&creativeASIN=B07841Y8F8&linkCode=as2&tag=thumbtubein-21&linkId=1e04072fc3835190329851188edfebff"]
If you are looking for a carrom board that is a little smaller in comparison to standard sizes, KORNERS wooden carrom board is a good option to consider. Small size boards are ideal for children and people who just play carrom for fun. The smooth playing surface of the board improves your gameplay and you can have a healthy competition.
The sides also offer good rebound as the wood used here is better than most boards you find in India. The reinforcement on the back of KORNERS Wooden Carrom Board makes sure that the plainness of the wood remains intact. It also remains in very good shape for an ideal time duration. Though KORNERS is not a big name in the sports industry, it is considered by people who do not play that regularly. Apart from the carrom board, you will get a set of coins, a striker, and a packet of powder which is 20gm. Mind you, the coins are wooden and they nonetheless look attractive.
KORNERS carrom's borders are also average in size and you do not get much space for wresting your wrist. They sell the same carrom board in different sizes like 32 inches, 35 inches, etc. This carrom weighs around 6 kg.
2. GSI Wood Gloss Finish Carrom Board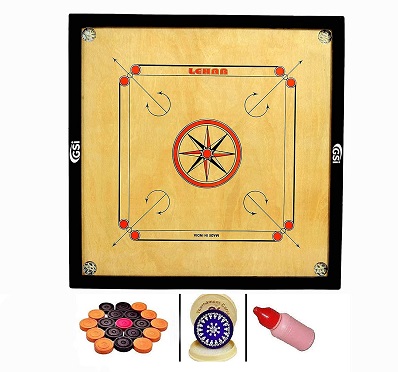 [maxbutton id="1″ url="https://www.amazon.in/gp/product/B07BBQ5JNG/ref=as_li_tl?ie=UTF8&camp=3638&creative=24630&creativeASIN=B07BBQ5JNG&linkCode=as2&tag=thumbtubein-21&linkId=4a6c1b8d5ab853702058caab4e359871″]
GSI is a known name when it comes to products related to sports and training. GSI Khel mandir carrom comes in 3 different sizes and this is the largest among them. The shiny gloss finish carrom board offers a swift platform for the coins. This too comes with a set of wooden coins and a nice striker. These carroms are in large demands in schools and sometimes small competitions as well.
The powder provided by them adds smoothness on the board and the rebound is also pretty likable. Initially, the surface won't be up to mark but after 10-12 games, you will find the competition level surface on the board. Borders of GSI Khel Mandir Engineered carrom board is not thick enough just like the last KORNERS carrom board. But the playing area which is 29''x29" is the standard size used by professional organizers and players all over the world.
The gloss polish on the board provides a unique finish which is helpful for the board's life. The finish doesn't let the board get spoiled due to drops of water we might splash by mistake. If we look at the cost, this board can be a good choice for you. However, if you are a 'heavy use' player that consumes many hours every day playing and practicing moves, you can have a look at the other options.
3. Surco Vintage Carrom Board With Coins and Striker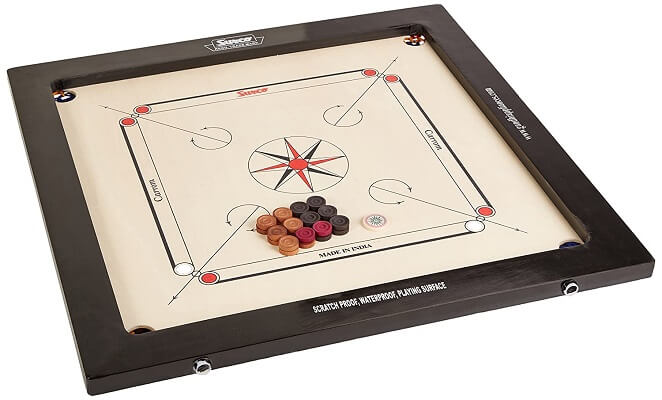 [maxbutton id="1″ url="https://www.amazon.in/gp/product/B004LYPT1Q/ref=as_li_tl?ie=UTF8&camp=3638&creative=24630&creativeASIN=B004LYPT1Q&linkCode=as2&tag=thumbtubein-21&linkId=c3ca8ff7dec4f0b97ed71a2013a3d7ee"]
Surco Vintage Carrom Board is one of the best carrom boards on this list. You won't have much to complain about this carrom. Though it is not the standard size board with which the professionals play, it provides good gameplay to enjoy with friends and family. Instead of the playing area, the borders are comparatively bigger on this carrom board. You are provided with a board, a coin set, and a striker.
There is no powder given with the pack. You can find the boric powder at your nearby sports shop. Surco has made sure the surface and playing experience satisfies the customers, which is pretty evident from the reviews given on Amazon. You will not find any warp of the wood for a long time if you put this in average usage.
Though there are wooden coins provided by them, the extra smoothness of the surface is impressive enough for a standard play. From kids to adults, all will be comfortable playing on this size of the board. If you are someone who puts quality over anything, you are going to like this. The back of the board is also well bound and supported so that there is no bent after some time.
4. KORNERS Full Size Matte Finish Carrom Board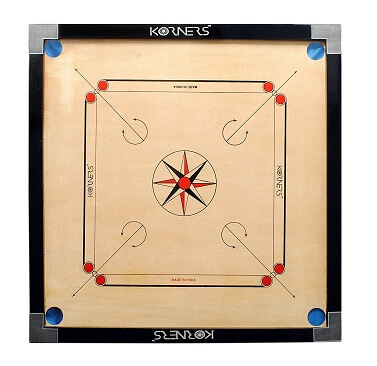 [maxbutton id="1″ url="https://www.amazon.in/gp/product/B07FMHS7TS/ref=as_li_tl?ie=UTF8&camp=3638&creative=24630&creativeASIN=B07FMHS7TS&linkCode=as2&tag=thumbtubein-21&linkId=f7999e48dc52ae3585282ac8e8b4e730″]
Here is another good full-size carrom board by KORNERS. This higher on the quality and the budget than the first KORNERS carrom board we discussed. It is available in two types of pocket holes i.e round and cut pockets. There is no difference in the price and it just depends on your preference. However, in the professional matches, the rounds pocket carrom boards are used, so you should go for that one. A family gathering can easily enjoy this board for a long duration without any damage.
The matte finish makes playing seamless with an easy passage to the coins. You won't be bored because of how the carrom board's surface behaves at times. You will get the coins with the pack along with a good striker and powder. You get one more thing with this carrom i.e the cover with a pocket. This cover is useful in storing the carrom as well as the coins.
Reinforcement on the back is what makes the carrom, durable and prevent it from bending and interrupting the play. KORNERS assures that the painted design on the product and its color might vary from the image on Amazon but the material is genuine. If you are looking to play more rationally and in full spirit, you can also order a carrom board stand by KORNERS.
5. GSI Superior Matte Finish Full Size Carrom Board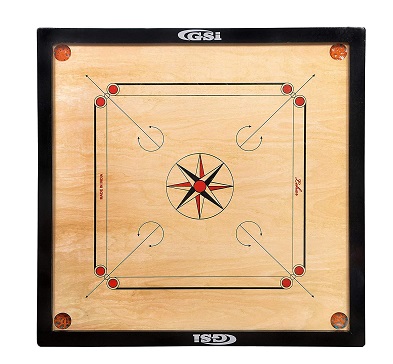 [maxbutton id="1″ url="https://www.amazon.in/gp/product/B07XLC9WYM/ref=as_li_tl?ie=UTF8&camp=3638&creative=24630&creativeASIN=B07XLC9WYM&linkCode=as2&tag=thumbtubein-21&linkId=9ac38877e2e9f6b054504559c3d40f4b"]
This is another carrom board in this list by GSI. This one is not from the Khel Mandir model of theirs. If your budget is ₹2000, this is probably the most expensive you can buy in this range. The superior matte finish makes it very ideal for matches of standard organizations. It comes with wooden coins but because of the matte finish, the surface stands apart in terms of gameplay after a few games only.
The boundaries of the board are of pretty average size i.e 1.5"x1.25". But if you are looking for broader borders, you can choose another variant of this same model. Though you will have to pay a little more for the same model.
Apart from the good finish, this carrom has provided excellent boundaries from an amazing rebound. The flatness will remain on the board for a long time because of the promising reinforcement at the back. The pockets are round with well intact cotton for holding the coins. The matte polish finish helps prevent harm from the water splashes on the board. The durable ply is made up of Assam plywood and the kikar wood has been used to make the borders.
6. SMT Wood Round Pocket Carrom Board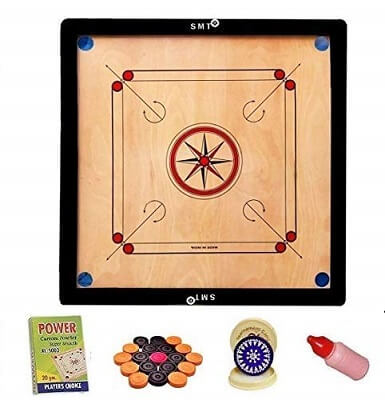 [maxbutton id="1″ url="https://www.amazon.in/gp/product/B07S3HJBJR/ref=as_li_tl?ie=UTF8&camp=3638&creative=24630&creativeASIN=B07S3HJBJR&linkCode=as2&tag=thumbtubein-21&linkId=d6e3e3f3a1b31f65375d154496904c21″]
There are very few companies that make good standard sized carrom boards in India on a limited budget. SMT is one of them and it should be considered when you are looking for the best carrom boards under Rs 2000. There is no matte or gloss finish in this product but the surface is as better as it can get in this price range. For medium usage with your friends and family, SMT wooden carrom board looks promising.
The borders are of very average size which is 1.5-inches. The material used in making the corners as well as the board is the same as the GSI carrom boards but this one costs you less than them. But yes, matte finish is the key and SMT would be less water-resistant than the other boards on this list. SMT is a perceived brand for small sports equipment as well and you can purchase the SMT carrom boards in other sizes.
Conclusion
Carrom is one of the easiest games to learn but still proves to be very fun. The good thing about this sport is that you can play individually and even as a team. This list includes the best carrom boards under Rs 2000 and we have selected the most ideal ones available online. The GSI carroms with a superior matte finish are in some ways more promising than the others but you can go by your own choice. All these carrom boards are good if you are not a professional player. You can look for factors listed below to keep in mind when you go to purchase a carrom board.
Factors That Will Help You To Choose Best Carrom Board
Not all boards available in your preferred price range can impress you. It is not easy to know which one will be fun to play with and which one is going to disappoint you. We are here with factors to look for before buying your board. These tips will help you find the right one based on your preferences.
Usage and Budget: You can go for average quality and budget carrom board if you are not into professional carrom playing. For a family and friends who will play carrom for few hours a week, all the boards in this list are considerable. For heavy usage and competitions, you will require special ones.
Size: For someone who is looking to experience the original spirit of carrom, they should always go for the standard size i.e 32-inches with 29 inches playing surface. But if you are searching carrom just for fun and involve children, then 26 inches carrom will be very convenient. You can even go for smaller than this for small kids. The size of the border is also important. Many people prefer broad borders for resting your arm while playing and aiming. But if you want to go easy on your pocket, even the small size border has no big shortcomings.
Build Material: The ply should be hard enough to stay durable and the finish has to be there otherwise your carrom will be damaged by water or moisture. Also, it would be great if you can check the rebound of the borders before buying a carrom board. They need to be made up of strong wood with a good finish.
The coins/carrom men: Wooden carrom men are used the most in tournaments but if you are buying a carrom board, make sure that no coins are missing and all well finished and equal in size. You can check the sizes of the coin by placing them together, one above another.
Powder: Mostly boric powder is used in playing a carrom board game. It minimizes the friction and gives your carrom board surface a longer life. If a carrom board offers powder with it, great, otherwise you need to buy it separately.
Other accessories: Before buying a carrom board offline, you should check the built of the pockets as well. You would hate to collect the coins every time they fall from the pocket. Also, if they provide a bag for keeping the board and the coins, it definitely a plus. If you have decided for getting a full-fledged experience of playing carrom, you can consider buying carrom stand as well.
FAQs
1. What is the standard size of a carrom board?
The standard playing surface area accepted by organizations and players across the world is 29''x29". It is the playing area, the size of the borders may vary.
2. Which powder is used in playing carrom?
For smoothness of the surface that enhances durability, boric carrom powder is used mostly.
3. How many rebounds should be there ideally?
It all depends on the smoothness of the surface and quality of the powder but without hitting any coin there should be 3-4 rebounds in a good carrom board.