Have you got some travel plans for any time soon? When you plan a long journey, you need to listen to music, click lot of pictures and navigate the places on the Google map. To make sure your fun is uninterrupted because of the battery, you should carry a power bank that's why we are here with the list of best power banks under 1000.
Not just for travels but for power shortages too, power banks are required. Students who are away for a whole day due to obvious reasons too need them. Power banks are also useful to charge your other gadgets as well. They are handy and their utility skyrockets if you take your Bluetooth devices and other small chargeable equipment on your journey.
One can find hundreds of power banks in the ₹1000 price range. But people are not satisfied most of the time as those power banks don't last long. They usually stop storing power or their jacks start getting corrupted. Some power banks take too long to charge your device which gets pretty annoying sometimes. But not all budget power banks will disappoint you. This list of power banks includes devices that have been tried and tested by many people in India. We have included the pros and cons of each product so that you have clear knowledge about the product.
Best Power Banks Under 1000 In India
1. Mi 10000mAh 3i with 18W Fast Charging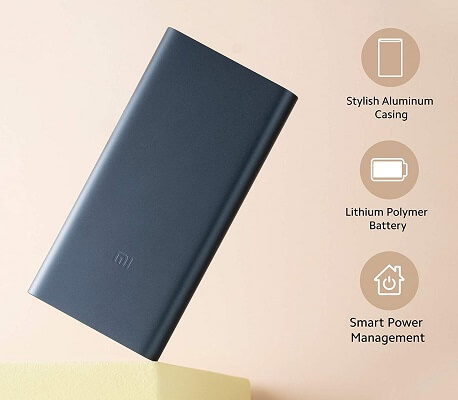 [maxbutton id="1″ url="https://www.amazon.in/gp/product/B08HVL8QN3/ref=as_li_tl?ie=UTF8&camp=3638&creative=24630&creativeASIN=B08HVL8QN3&linkCode=as2&tag=thumbtubein-21&linkId=f1d39ec1e4e3c4b734cd70f7822a0a70″]
This Mi 3i 10000mAH power bank is one of the latest power banks in India with a promising performance. It comes with 2 USB slots to power up your 2 phones at once. The output is also pretty good for charging your 3000mAH and 4000mAH capacity phones quickly. The charging is quick because of its 18W two ways fast charging.
If you have a type-C charging port on your phone, you don't have to worry about keeping different chargers for your phone and power bank. Mi 3i power bank comes with micro USB and type-C charging point. The design of the power bank is also stylish and far from redundant like other power banks, you find in the market. It is light and you can carry it in your pocket. The aluminum alloy material makes it impact resistant. Mi 3i is the best-rated phone on Amazon in this price segment.
If your devices don't need high power, there is a smart option to enable low charging mode. The protection design of the power bank is such that your phone will be safe from short circuits and oversupply of current. These features along with the attractive price make Mi 3i one of the best budget power banks in India.
Pros
Attractive design
Type-C charging slot
LED charging indicator
Cons
Slightly heavier than other power banks
2. Ambrane Capsule 10k Li-Polymer Powerbank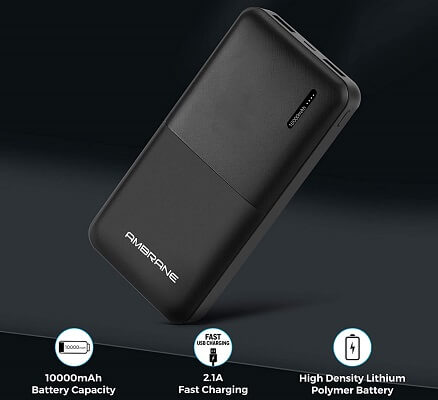 [maxbutton id="1″ url="https://www.amazon.in/gp/product/B07S88FHN6/ref=as_li_tl?ie=UTF8&camp=3638&creative=24630&creativeASIN=B07S88FHN6&linkCode=as2&tag=thumbtubein-21&linkId=a8513449a773a26ece0e30a5bd41c108″]
Equipped with a high-efficiency 10000mAh Li-Polymer battery, this Ambrane power bank is one of the most purchased power banks in India. They claim the power bank to last for a long time and relatively safer than other brands. The capsule 10k power bank is durable from the outside as well.
Ambrane 10000mAh power bank's body is made up of ABS plastic which is scratch resistant. The look is also stylish and will remain so for a long time. Its capsule shape also adds attractiveness and makes it easily carriable in your pocket. You get 2 USB charging ports for charging 2 devices at once. Unlike the above Mi 3i power bank that offers 12 layer protection, this one offers 9 layer protection from overheating and overcharging. This is possible due to its well designed integrated circuits.
Pros
Affordable
Pocket Size
LED charging indicator
Cons
Little slower charging
Can be charged with only a micro USB cable
3. Redmi 10000mAh Fast Charging Power Bank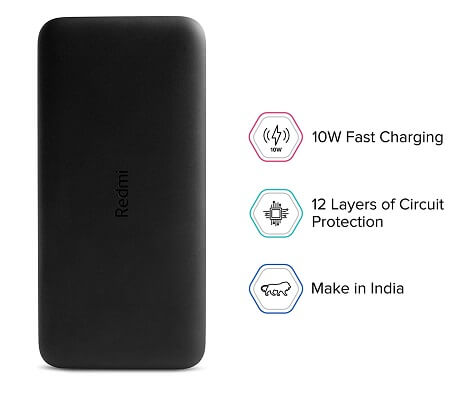 [maxbutton id="1″ url="https://www.amazon.in/gp/product/B0851WMSDS/ref=as_li_tl?ie=UTF8&camp=3638&creative=24630&creativeASIN=B0851WMSDS&linkCode=as2&tag=thumbtubein-21&linkId=44b3c8f099f0e792afdf48c9a2c94693″]
Here is another good-rated power bank, suitable for your phone as well as your pocket. Redmi 10000mAh power bank is a promising product with 10W fast charging. The fast charging is accompanied by intelligent power output here. The slim design is also commendable with an added anti-slip edge texture to protect it from falling often. It will be adjusted in your pocket or small pockets in your back easily.
The dual USB ports are there as most of the power banks these days. However, this one has a type-C port so that you can charge this power bank with the cable of your phone as well. If you want to charge small devices like Mi bands, Bluetooth earphones, etc, you can enable the low power mode.
When you charge your phone with this device, you don't have to worry about the safety of the phone. This Redmi power bank features 12 layer circuit chip protection. This is not only great for the charging efficiency but you get protection from lots of hazards as well. Input and output overcharge protection, temperature resistance, electrostatic protection, protection from the short circuit are some of the essential features you get in this 12 layer protection. This power bank comes in 2 different colors i.e. black and white.
Pros
Type-C charging port
Anti-slip Edge Texture
12 layers of protection
Cons
4. Syska Power Pocket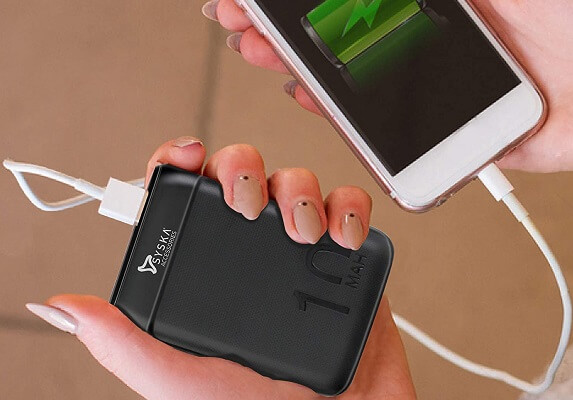 [maxbutton id="1″ url="https://www.amazon.in/gp/product/B07TL5PNCW/ref=as_li_tl?ie=UTF8&camp=3638&creative=24630&creativeASIN=B07TL5PNCW&linkCode=as2&tag=thumbtubein-21&linkId=da43613098959d3f30e4d7f589933bca"]
Syska is continuously doing innovations on small electronic items. This 10000mAh highly compact power bank comes in 4 different colors. If you want a power bank that can easily fit in your pocket and you are low on budget, this is the one you can consider. Like Mi and Redmi power banks, this too features an intelligent multi-protection circuit. In this power bank it works in such a way that when the current output goes beyond the safety levels, the protection circuit disables the current output.
When you charge your power bank, the power bank reduces its power consumption. It is useful for the long life of the battery. The high-density Li-polymer battery provides efficient charging to your device. You can charge two devices at a time with its Dual USB outputs. You get Type-C input as well which is very rare in this price range. The LED indicators at the top are there to know the battery left on the device.
Pros
Very pocket-friendly
Type-C port for charging
Very compact
LED Indicators
Cons
5. URBN 10000mAh Ultra-Compact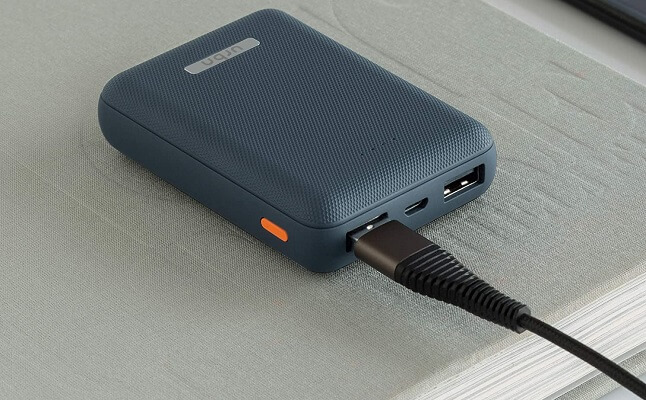 [maxbutton id="1″ url="https://www.amazon.in/gp/product/B07X963JNS/ref=as_li_tl?ie=UTF8&camp=3638&creative=24630&creativeASIN=B07X963JNS&linkCode=as2&tag=thumbtubein-21&linkId=8869ae525f30065ec0aea815771a43c1″]
If there is a power bank that gives tough completion to Redmi and Mi 3i power bank, that has to be URBN 10000mAh power bank. Like the Ambrane one, this too is made in India. The design of this power bank is better than any other power bank on this list. It is highly compact and the body looks like a mini speaker. This power bank is available in 5 cool colors.
The charging speed of the power bank is one of the best in this price range as it features a 2.1 Amp fast charge feature. The dual USB port is here to juice up your 2 devices at once.  Its size also makes it the perfect power bank for traveling. URBN power bank automatically adjusts the charge to safe mode to prevent form any harm to the charging device. It is possible because of its 4 level protection.
Pros
Stylish, Premium look
Extra-compact
Good power backup
Fast Charging
Cons
The USB cable length is too short
6. Ambrane PP150 15000mAh Power Bank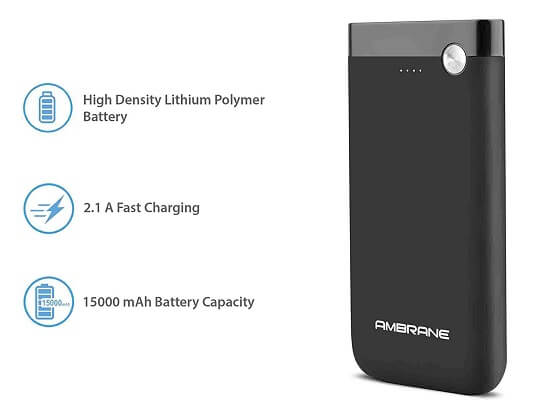 [maxbutton id="1″ url="https://www.amazon.in/gp/product/B07MHMKSXZ/ref=as_li_tl?ie=UTF8&camp=3638&creative=24630&creativeASIN=B07MHMKSXZ&linkCode=as2&tag=thumbtubein-21&linkId=424313bec561c1f4bb5be10689adf6a0″]
This is another very hit and pocket-friendly product by Indian company Ambrane. With 15000mAh, this power bank has the highest battery capacity in this list of best power banks under Rs 1000. It comes in 2 simple colors but a different u-shaped design, just like old flip-style phones. The premium rubberized finish is there for protection from falling on the ground and scratches.
Unlike the 10000mAh version, this one has a type-C charging port. You don't need another data cable for the power bank if your phone is charged through a type-C cable. Just like all the power banks, here you get 2 USB ports as well for simultaneously charging your 2 mobile phones. There are minimal chances of damage while charging because of the 9 different layers of chipset protection. You get safety from overcharge, over-discharge, reset mechanism, over current, etc.
Pros
Stylish look
High battery capacity
Type C charging port
Cons
7. Philips DLP1710CW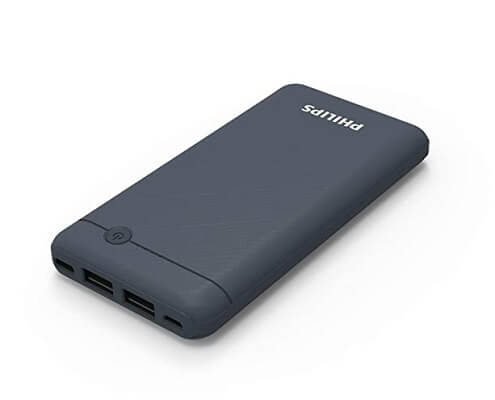 [maxbutton id="1″ url="https://www.amazon.in/gp/product/B082HRZZFC/ref=as_li_tl?ie=UTF8&camp=3638&creative=24630&creativeASIN=B082HRZZFC&linkCode=as2&tag=thumbtubein-21&linkId=0141e2eb4074ccacf86a02f0b523fd51″]
After being a trusted name in electronic devices, Phillips came up with this power bank last year. It is a decent looking power bank that comes in 3 different colors. The battery capacity of this Phillips power bank is 10000mAh which is enough for charging your mobile phone 2-3 times. The Type-C port is best for keeping one charger for both, your phone and this power bank.
The 2.1 Amp charging capacity makes it a good option against Mi 3i, Redmi, and URBN power bank. However, if you charge the second device, it will receive a charge of 1 Amp only. For optimized charging efficiency, this too comes with a lithium polymer battery. The power bank also protects against the overflow of current. The power status of this power bank is indicated by small LEDs at the front.
Pros
Type-C charging port
LED Indicator
Cons
Complaints about the heating of the device
Conclusion
After months of work from home and spending a ton of leisure time on your bed, it's finally time for some long journies. Traveling with a power bank is very advisable so that you don't lose the fun in the middle of your route. As phones these days have got enough battery life, you need power banks for rare situations. So, you don't need to spend much on these. Any good budget power bank under ₹1000 from this list will serve your purpose.
Have A Look: Top 6 Carrom Boards Available Under Rs 2000
Things To Consider Before Buying A Power Bank
As we have mentioned earlier that a lot of poor quality power banks have flooded the market, you need to be cautious before buying one. Here is a quick guide to help you get the product that is best for your phones and other electronic devices.
Check Battery Life Cycle: A huge number of power banks become useless after a few days of use. And even if they charge, the charging speed gets very low. You need to check whether the power bank will be durable and how many charging cycles can it complete without getting slow.
Check Capacity: Most 10000 mAh power banks will charge your phones once or twice. If you think you can use more than that, you should go for the bigger one.
Price – As the power banks are not required so often, it is not advisable to spend a lot of money on one. You can buy a good budget power bank and it will still be very useful for you on occasions.
Original Product: There are a lot of rip-offs of big companies like Samsung, Mi, etc. They badly harm the device and get corrupted very soon. Before buying a power bank you should make sure that your device is original and authentic.
Check Input and Output frequency: Any charging capacity below 2.1 Amp will be slow and your device will take a lot of time to charge. So make sure that at least one port of the power bank has 2.1 Amp/5v output capacity. And the most important thing is not to buy a power bank that has a higher output capacity than your phone's input capacity.
Check for LED Indicator: You can't keep guessing how much charge is stored on your device. LED indicator that shows the energy remaining is a must in power banks.
FAQs
1. What is the safest power bank for your phone?
If we talk from this list, the Mi 3i 10000mAh power bank and the Redmi power bank is safer than others. These power banks offer 12 layers of circuit protection which is best in this price range. Your device gets protection from overheating, overcharging, short circuits, etc.
2. What is mAh?
mAh stands for milliampere hours. It is the measurement of the charge stored on your electronic device. The more the mAh, the more is your battery capacity.
3. Which devices can be charged with a power bank?
It depends on the power bank's capacity and the type of charging port your device has. A good power bank can charge from small devices like hand bands, smartwatches, Bluetooth earphones, mp3 players to slightly bigger devices like mobile phones and small Bluetooth speakers. If you have the respective data cable, a power bank can charge your Android as well and iOS devices.
4. How long does it take to charge a power bank?
It depends on the mAh storage capacity and input charging rate of the power bank and output of the charger. Charging time in hours is calculated by dividing the mAh capacity of the power bank by the charging rate. So if a 10000 mAh power bank is being charged with 2.1 Amp output and input, it will take around 5 hours to get fully charged.