Long gone are the days of ugly, purely functional websites with monochromatic rectangles and dull fonts. Today, it is all about capturing your audience's attention in the shortest time possible. Users are constantly exposed to too many websites to handle, so they have to make a selective choice.
You can make that choice easier by making your WordPress site stand out with its visual appearance, which is the first thing most users notice on a website. You can find, customize or create the perfect theme, find great visual media to post, but something might still be missing, but you aren't sure what it is.
Well, many people don't take fonts and typography into consideration as a serious factor in the overall presentation of their website. If your carefully designed site has a dull, uninspiring font, it won't fit in with the rest of the page, and the whole appearance will be off. We don't want that, so let's check out some plugins that can help us solve our typography problems.
1. WP Google Fonts

One of the most popular font plugins on the market today is WP Google Fonts, and looking at its name, it is pretty obvious why that is so. This plugin is perfect for users who don't have much technical knowledge or don't want to customize their WP code. It makes it quite easy to add high-quality good looking fonts to your WordPress website.
Besides offering hundreds of different fonts for you to chose from, WP Google Fonts also allows you to target the font from your theme's style sheet. An excellent option for a consistent appearance.
2. AGP Font Awesome

Just like with the aforementioned plugin, this one's name speaks for itself. AGP Font Awesome allows you to integrate all of the nice icons from Font Awesome into your WordPress site. Why just use words when you can sometimes convey the same message quickly and more effectively using graphical tools.
You'll be able to use various icons, buttons, and more visually distinct decorations for your website. Besides all of that good stuff, AGP Font Awesome also has font-specific customizations such as font color, size, and background colors.
3. Styleguide

Now we've come to a slightly more specific typography plugin. Styleguide is special due to the fact that it relies on the customizer feature. Besides allowing you easy and quick customization of fonts, colors, and other text-related settings, you also have a live preview option that will save you time by not needing to save the website every time you want to see the changes.
Styleguide is supported by all of the default WordPress themes.
4. Zeno Font Resizer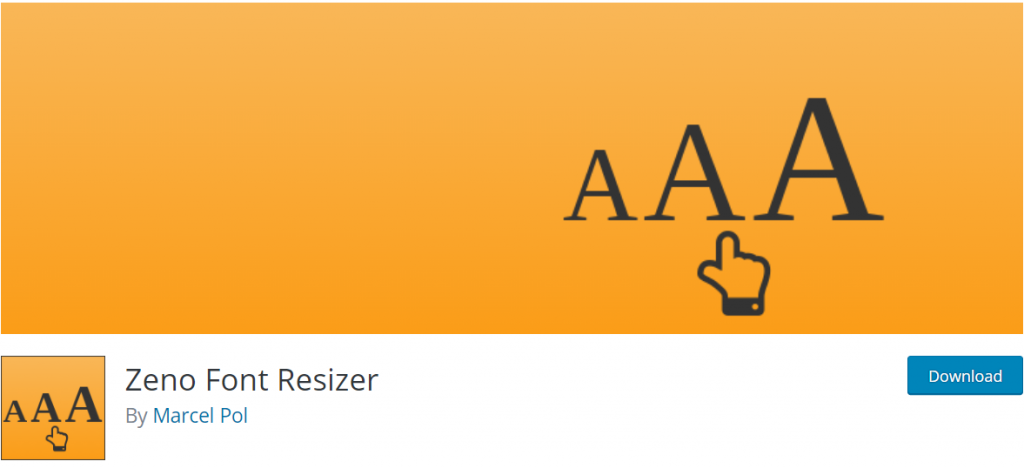 Here is a slight departure from the intuitively named plugins whose function you can guess straight from their name. Your first thought might be that Zeno Font Resizer allows you to resize any text and fonts in your WordPress site, and you would be partially right. Zeno Font Resizer offers the resize option, but to the user instead.
This means that all of the users who visit your website have the ability to scale the font to their liking. It does so by integrating a resize widget into the sidebar. The best thing about this is that Zeno Font uses jQuery, so there is no need to reload the website for the chance to take effect.
5. Better Font Awesome

We have another plugin that uses Font Awesome to improve the appearance of your website. Using this plugin allows you to automatically integrate the latest version of Font Awesome and all of the features that come with it.
Besides that, Better Font Awesome includes all of the CSS that comes with the Font Awesome, shortcodes, and even an icon shortcode generator. All of the font icons will be exportable as either shortcodes or code snippets, allowing them to be used directly inside the WordPress content editor.
6. Use Any Font

Another great option for typography customization is Use Any Font. Instead of tackling the difficulty of using direct CSS to customize your WordPress content, this plugin allows even people with limited coding knowledge to make their own design.
Use Any Font plugin provides you with the tools to easily design and make your own font. Just upload your own font, and it will be made web-friendly.
7. WP Web Fonts

From those plugins that require almost no technical knowledge, we come to the ones that do require a certain level of CSS and HTML understanding. WP Web Fonts is super easy to set up and works great with Google Web Fonts.
However, it does require you to edit your theme's CSS for the best possible integration and option selection. All you need to do is find a font you like and then copy the code into the WP Web Fonts options. The plugin will then include said fonts into your site's HTML and CSS.
8. Typekit

Typekit is a different kind of typography plugin mainly because it also includes paid plans besides the free plan. This plugin allows you to access quite a large library of Typekit fonts that are guaranteed to make your site more visually appealing and boost your page views.
After finding the desired font, you will need to either tweak some Typekit settings or create your own CSS rules if you are skilled enough.
9. Fontific

Fontific is another user-friendly plugin that is easy to use. All you need to do to set it up is install it and activate it. You will also be required to set up font rules in the Fonts panel in the WordPress menu. Fontific allows the usage of fonts from the Google Web Fonts library. The plugin provides an important live preview option and has a lot of options for customization.
Conclusion
Whether you are a tech-savvy person who knows the ins and outs of CSS and HTML or someone with limited technical knowledge, the list above will surely have a plugin that will make your fonts pop out and be on par with the rest of your page.