Twitter has always been a popular social media platform, where people can come and share whatever content they´d like. If you are looking to incorporate your Tweets on your website, we would like to give you a few, in our opinion, the best tools out there.
There are many reasons you would want to include Tweets on your site, one of the most famous ones being: wanting to showcase other people´s opinions on certain topics, products, or services. This also allows your site´s viewers to visit your Twitter account and grow the number of your followers. This creates a sort of a loop where it all comes together.
A person goes and views your site to be redirected to your Twitter account and also visits your Twitter only to be directed to your site. If you're ready, let us take a look at some of the best Twitter plugins we think would be a perfect fit for most sites.
1. Smash Balloon Custom Twitter Feeds Pro

Smash Ballon Custom Twitter Feeds Pro makes incorporating Tweets onto your site as easy as possible. The setup but also its use is really simple and easy to figure out, even for those of you who might not have that much experience with social media integrations.
Thanks to its features, the Tweets can be completely edited and customized. In addition, it's also possible to display as many tweets as you want. The tweets can be pulled from any Twitter user out there, including an unlimited amount of hashtags. All of the tweets can also be viewed from mobile devices, thanks to the mobile optimization feature.
They can also be displayed in a multi-column layout, where you can create grids and display your tweets in them. If this is not your cup of tea, and you think it will overflow your site, you can always create a slideshow of the selected tweets. Many other features are available in this plugin, and you can check their website for more details.
2. Feed them Social

Another great plugin that you can use when you want to create not only Twitter but also other social media feeds. Just like the one above, Feed Them Social is effortless to use, the number of feeds is not limited, and you can customize them any way you´d like.
A really cool thing is you can add like and follow buttons around your feeds so people who view them from your site can directly like the Tweet or follow your account without having to leave the site. It does not differ that much from the first plugin we recommended, but we wanted to give you this option, too, in case the first one wasn't your cup of tea.
When it comes to other features, feel free to check them out on WordPress's plugin repository, where you can also see its reviews.
3. Jetpack

Jetpack is another great plugin when it comes to connecting your site to your Twitter account. Even though we are mentioning this plugin as a social media asset, we want to say that this is not its main purpose. It has tons of great features for backing up your site, speed optimization, and more.
Now you are probably wondering, what does this plugin have to do with Twitter? Well, it allows you to add sharing buttons anywhere on your site. You can completely edit the button, so it fits your site´s appearance. It can also be used with Facebook, LinkedIn, Instagram, and other popular social media platforms.
4. Rotating Tweets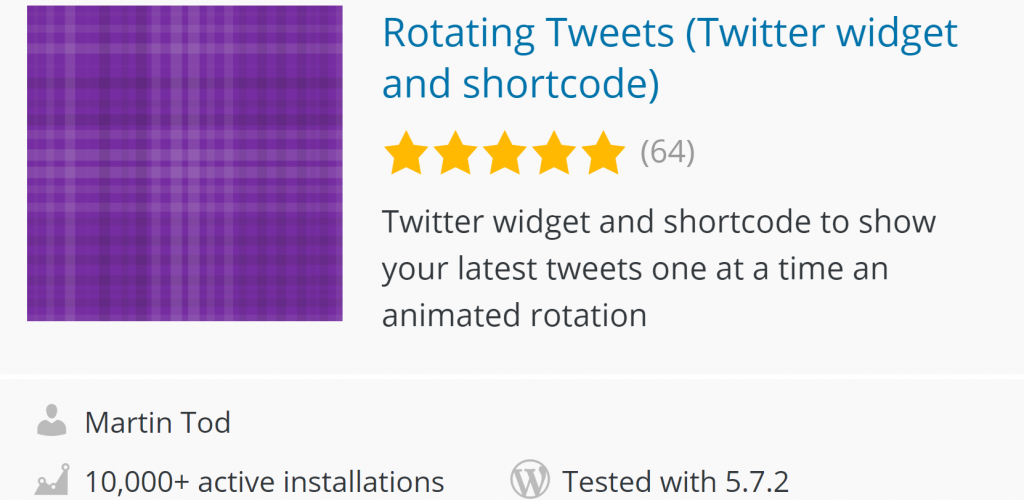 Perfect for keeping your site clean and visually appealing. Instead of putting together tons of tweets simultaneously, Rotating Tweets creates loop-like slideshows that perfectly present the tweets. This is one of the best ways to display the feed so since it'll be functional even if Twitter is down.
No matter what device you are using, this plugin will recognize it and fit the tweets according to the site´s appearance. It also has follow buttons right next to the tweets, so the people viewing your site do not have to leave it just to follow your account. It is multilingual, so the follow button will match your site's language.
5. Social Stream Designer

Social Stream Designer is perfect for gathering content from your social media platforms like Instagram, Facebook, Twitter, or others. It does not have to be used only for Twitter, but what you can edit when it comes to it: user feed, userlist, like feed, hashtag feed, and home timeline.
You can list out all of your social media accounts instead of creating individual places. To make your feed look good, there are tons of layout ideas and also cool designs to inspire you.
With tons of possibilities to layout your tweets and other commercials, the plugin offers tons of customization tools, which you can use even to edit the themes, making your site unique compared to the competition.
Conclusion
We hope you've enjoyed today´s article, and also, we hope to hear your feedback on the plugins we recommended today. And remember, social media integration is important for the success of any site out there.