With over 3.6 billion social media users globally, social media marketing is unavoidable. Savvy marketers understand that social media is an essential component of every marketing effort. Every social media platform provides a chance for companies to interact with their target audience.
Even marketing superstars understand that planning and maintaining even a few social networks may be daunting without the proper social media management tools in place.
How are you supposed to keep up with your Twitter account when you haven't even checked Facebook, Instagram, or TikTok today? What about all the new social media sites that seem to spring up every other day? How do you determine which ones to target and which to avoid for your brand?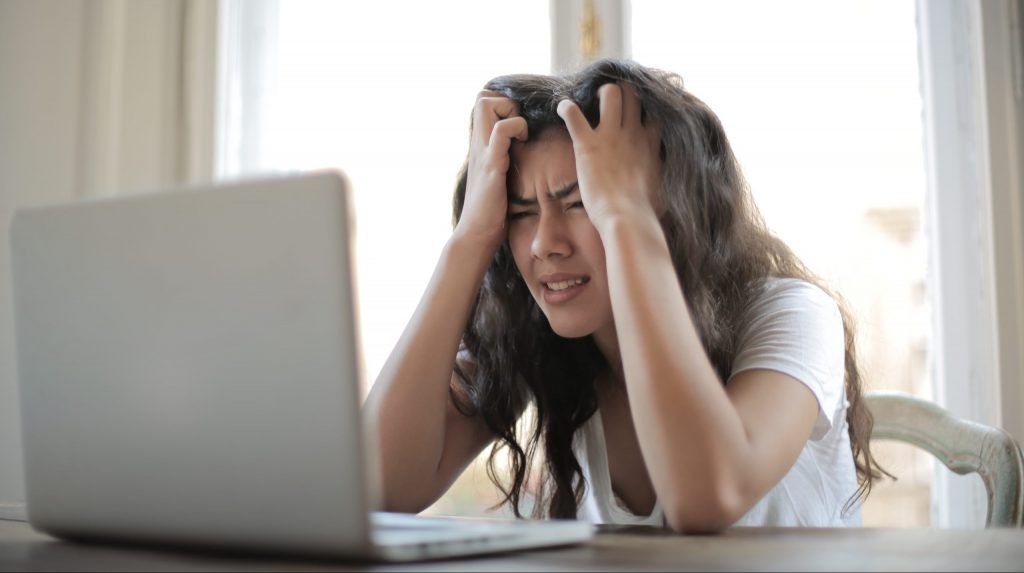 Managing your social media should not be difficult, and social networking tools can be useful for :
Saving time by having someone else post, do social listening, and perform hashtag research for you.
You can save money by allocating resources to other activities.
Perhaps you can even rescue your brand's image by detecting a negative post in time for you to intervene and rapidly address the situation.
Determining the most profitable niche just as in https://diggitymarketing.com/profitable-niches/.
I did the research for you, and I will talk about the best social media marketing tools. Are you ready to become a productive social media marketer, optimize your social media marketing, and become an experienced social media marketer? Let's begin!
1. ADYOUNEED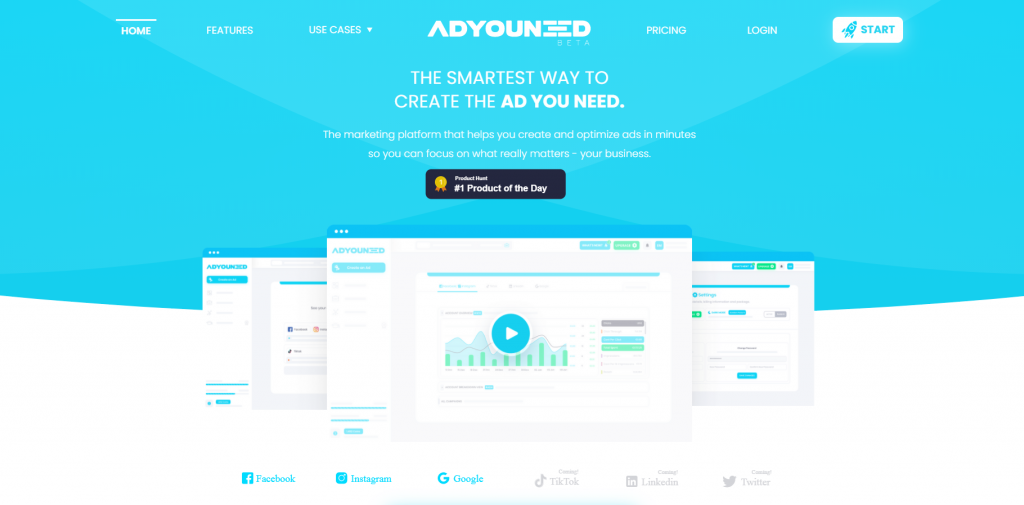 ADYOUNEED is a social media and search advertising platform that allows you to design and optimize advertisements in minutes while automating ad procedures. This tool makes it simple to produce high-quality advertisements fast and easily, without the tears and screams.
The technology integrates key ad channels—Facebook, Instagram, and Google—into a single application for a seamless workflow. You'll be well equipped to create a successful ad in just a few minutes using Guided Creation or Smart Creation, no matter your previous experience in ad creation.
ADYOUNEED makes it easy to discover the perfect audience by utilizing artificial intelligence to build several ad audiences based on just two target interests.
Managing your social media advertisements is one of the many tasks you never imagined you'd have while you were tweeting kitten pictures on Twitter in 2008. However, with ADYOUNEED, you will be able to improve the way you produce advertisements, discover target audiences, perform split testing, and much more.
2. WordStream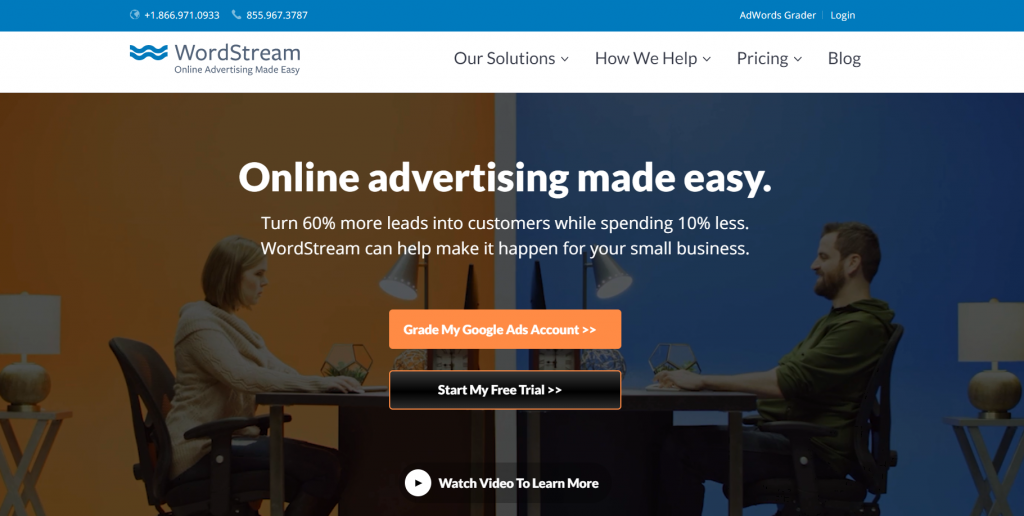 WordStream Advisor is a software solution for online advertising management provided by WordStream, Inc. It is the only software solution of its kind that lets marketers manage their Google AdWords, Bing Ads, and Facebook Ads campaigns from a single dashboard.
WordStream Advisor promises to make every part of internet advertising easier to understand, from ad design to continuous campaign monitoring. The 20-Minute Work Week is at the heart of WordStream Advisor, allowing advertisers to make adjustments to their PPC and paid social campaigns based on intelligent, tailored recommendations based on customers' specific account data.
This allows users to make adjustments throughout their whole account without wasting hours combing through unnecessary data, as well as making it simpler for marketers to discover sections of their account that may be improved for quick profits. Simply go over the advice provided by the 20-Minute PPC Work Week, implement the changes, and go back to operating your business.
3. Smartly.IO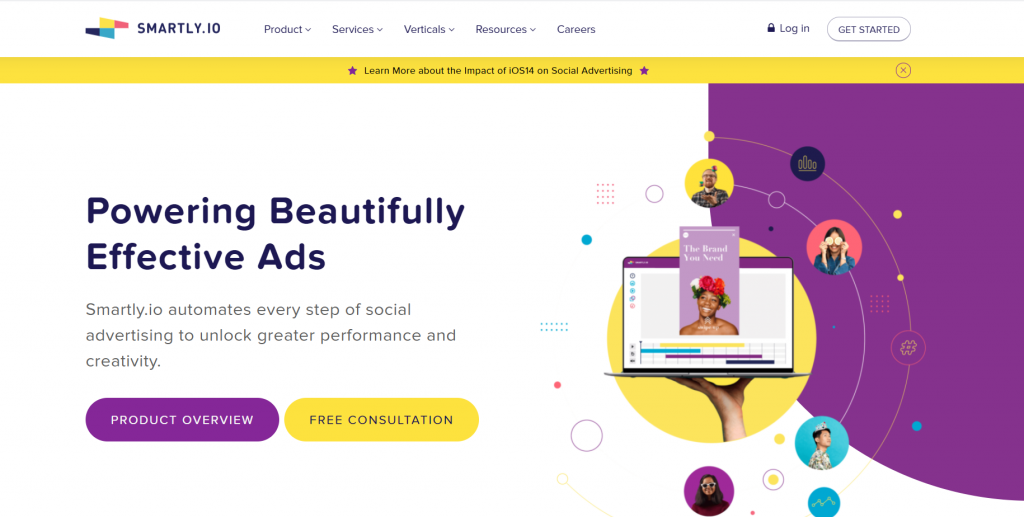 Smartly.io automates every stage of social advertising to maximize performance and originality. Consumer behavior is always changing. And, in order to thrive, brands must reach customers where they are. Did you know that today's customers use an average of eight social media platforms?
As a result, customization to that audience is critical, but it may be difficult and costly to scale. You may achieve your most ambitious goals with the customization and stunning, scalable creatives across social networks. Smartly.io blends advertising purchasing with creative automation to help you automate your manual labor and increase your ROI.
4. AdEspresso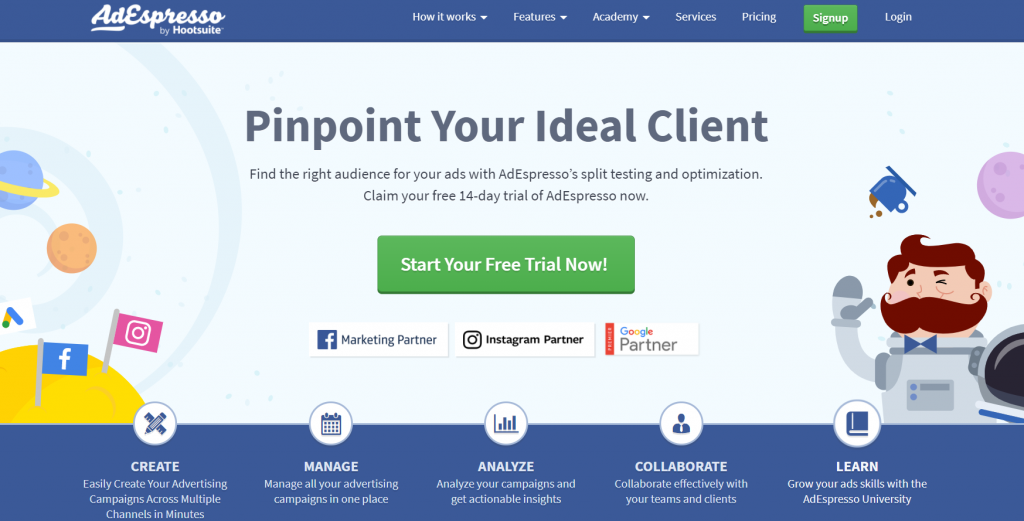 AdEspresso allows the construction of Facebook, Instagram, and Google Ads campaigns – generating all of your ads in one location has never been easier. One solution, all the advertising channels you require – less time hopping between Ads Managers, more time earning money. With the most reliable materials at your disposal, you can take your marketing abilities to the next level.
5. SocialPilot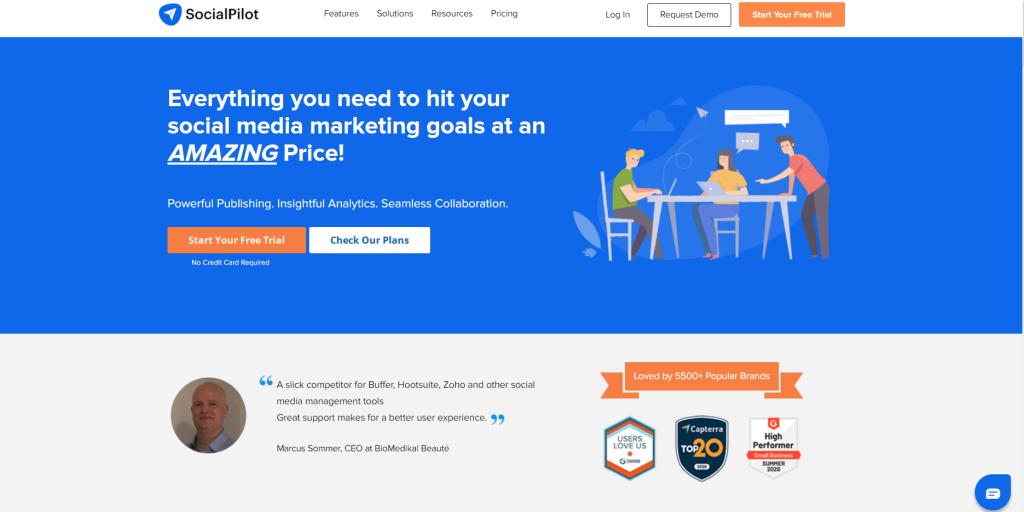 SocialPilot is a fully integrated social media management solution designed for digital agencies or medium-sized enterprises with many customers or accounts to monitor. If your team is primarily interested in developing processes for clients with authorization settings, collaboration features, and custom reports, SocialPilot is worth a look.
While SocialPilot covers the fundamentals, their platform also includes a complete social inbox function that allows them to connect with their audience in addition to auto-publishing.
6. Sendible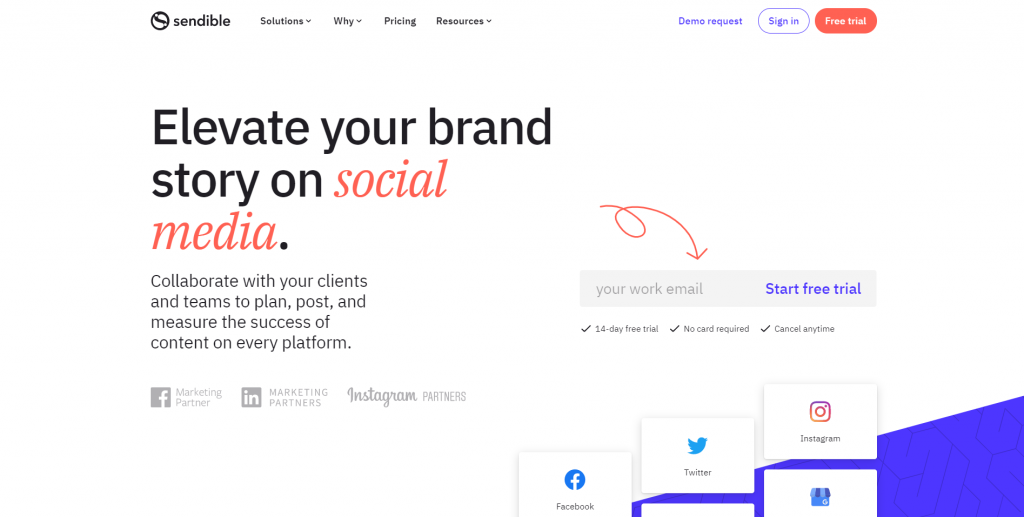 Sendible is a social media management platform aimed at digital agencies seeking an all-in-one solution that incorporates a CRM. Sendible offers a Smart Queue function that allows social media administrators to repurpose material. Monitor keywords, rivals, and brand mentions with their Social Inbox and social listening tools.
While there is no influencer search, Sendible does offer a CRM system that allows users to engage with influencers and speak with them in real-time.
7. Buffer
Buffer is a fully-rounded and simple-to-use social media platform that allows you to publish social media items with a single queue, as well as engage, analyze, and collaborate with others. Buffer is a user-friendly, simplified social media management tool that companies, organizations, agencies, and people rely on to create meaningful interaction and outcomes on social media platforms.
While you cannot upload and recycle hundreds of posts, it does integrate with an RSS feed, allowing you to publish content from blogs. Buffer integrates with a platform called Reply, which provides users with access to a Social Inbox.
8. Later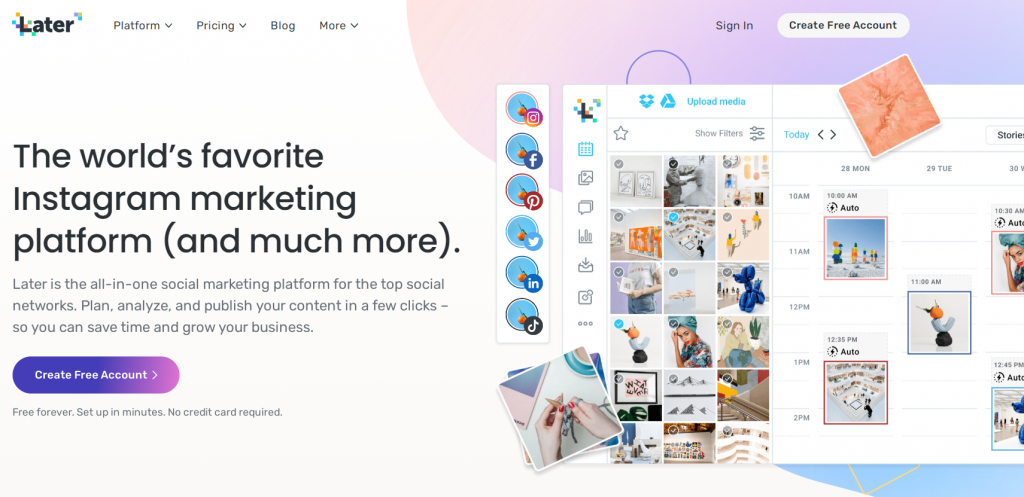 Later's social media management software functions best as a visual content calendar and scheduler. Later began as a social media posting tool, with Instagram as the primary social platform. It first featured content planning to maximize the look of the Instagram feed but has now grown into a visual calendar that includes most social media outlets.
Their product focuses mostly on visual planning. It does not have a social inbox or RSS integration, but it does offer analytics. However, the platform for these Facebook and Twitter is restricted.
9. Loomly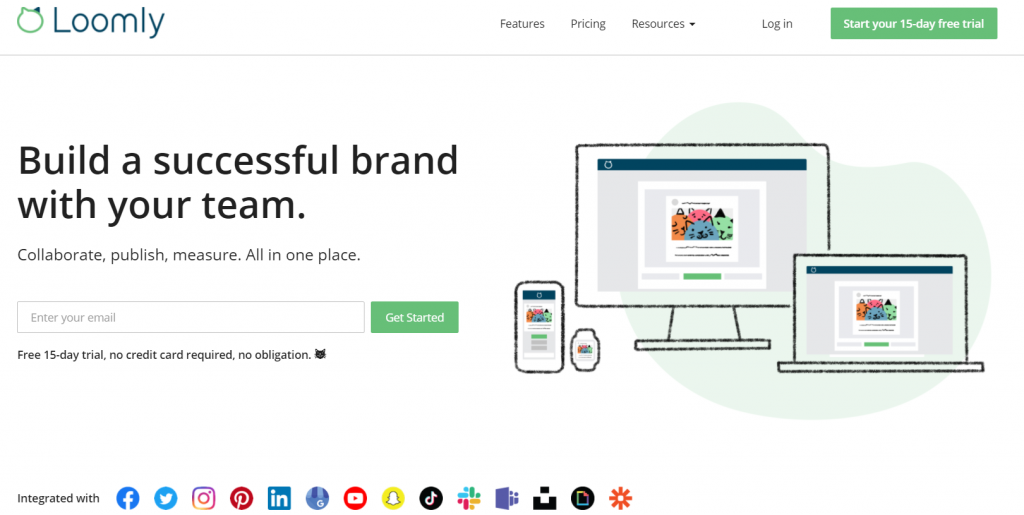 Loomly is a social media management and content production tool. Loomly is not yet a fully integrated solution when compared to other social suites. Because of their primary focus on content production, they sadly lack capabilities that larger organizations value, such as listening and monitoring.
To help social media managers with their curation approach, Loomly has a visual calendar and content recommendation function. While they do not yet have a social inbox, they do provide social monitoring and client management tools.
10. Agorapulse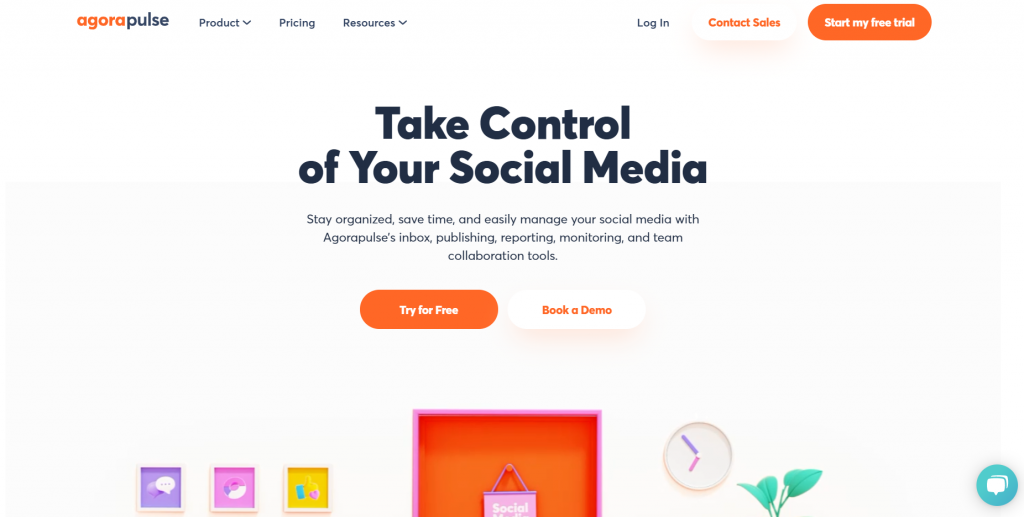 Agorapulse, like the fully integrated social media management solutions mentioned above, has all of the essential functions of scheduling, visual calendar, social inbox, and analytics, as well as team communication features you would find in software solutions like Basecamp.
Agorapulse gives a competition analysis and allows for boosted Facebook posts to truly captivate your audience. Unfortunately, they lack an influencer function, so you won't be able to stalk your favorite business leaders. Regardless, Agorapulse has a cult following of niche customers that find this social network management software useful. Don't dismiss them!
Conclusion
The reality is that we live in an impulse-driven society, with various forms of artificial intelligence at the forefront of technological innovation. This is true in the realm of social media management services as well. Your specific business objectives, budget, and preferences will determine which sort of social media management platform is ideal for you.
With different pricing points serving the market and a multitude of features offered by social media management solutions, we propose you select a partner that will save you and your team significant time automating social media marketing procedures, collaborative workflows, and actionable insights. But, if you are doing a big social media project, do keep in mind that you will also need a tool in the same category as Wrike to help you keep track of everything.
Examine all tools above again to determine which platform is most suited for your company and supports all of the social media channels you require.
Are you looking for social media proxies? Powerful APIs that enable you to send social media posts effortlessly. For developers and businesses of all sizes.