Is Dripify or Octopus CRM better for LinkedIn automation? Which automation tool is suitable for your company? In this article, we'll help you decide which of these popular automation tools is best for your business.
Like other social media platforms, keeping an active profile on LinkedIn requires a lot of time and hard work. If you're like most marketers, time spent on social media can easily be put to waste if you're not gaining followers or messaging potential leads. So, what can you do?
Introducing automation tools. Automation tools are basically technologies that are designed to carry out activities a human can do but in a faster and more efficient way.
If you're planning on getting a LinkedIn automation tool, you'll actually get a software that can:
Run campaigns on LinkedIn (while on autopilot)
Collect data for analysis of performance
Integrate other marketing tools for maximum efficiency
With the surge in popularity of these automation tools, LinkedIn automation has become a critical part of marketing and sales strategy. Today, automation tools are a must-have if you want to improve your business processes.
If you're a marketer or social media strategist, you've probably heard of automation tools such as Dripify and Octopus CRM. They're the two most popular automation tools for LinkedIn right now.
About Dripify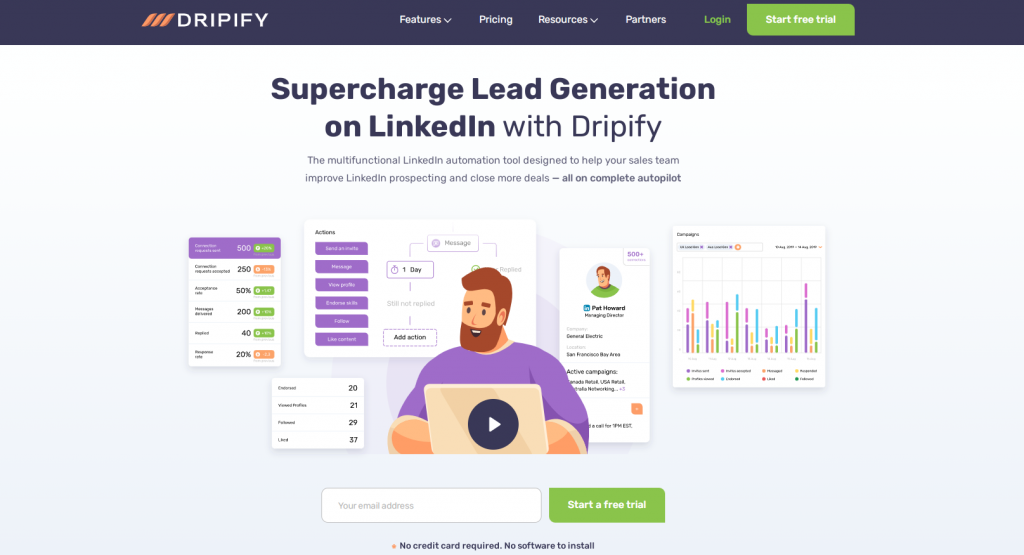 Dripify is a LinkedIn automation tool for advanced lead generation tasks. It allows customers to set up their own sales funnel within minutes and is designed primarily to improve LinkedIn prospecting.
With Dripify you can get more potential leads and close more deals faster. Dripify is designed mainly for salespeople, digital marketers, and entrepreneurs who want to use their LinkedIn presence to their advantage. Businesses who've used Dripify praise the software for increasing their revenue and lead generation efforts.
About Octopus CRM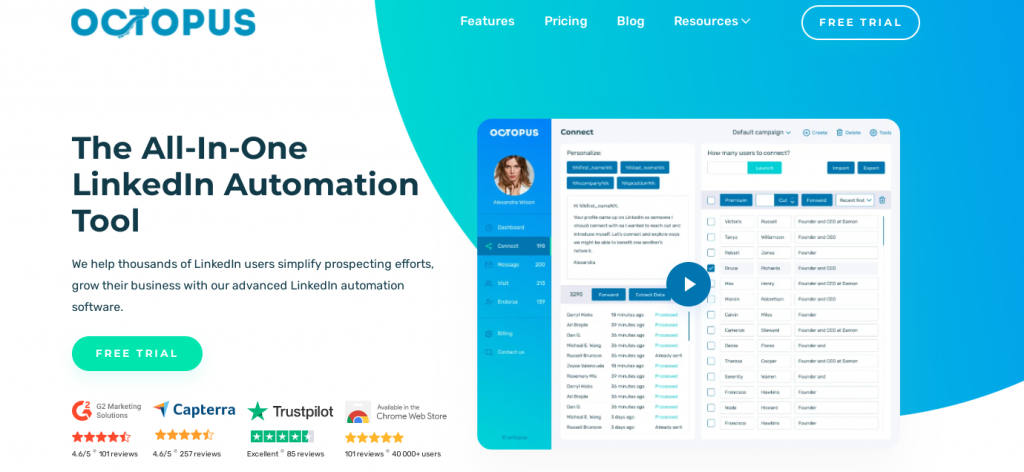 Octopus CRM is a LinkedIn automation tool for prospecting. It has several features, including automated connection requests, automated endorsement, profile visits, and more. With Octopus CRM, you can automate almost all LinkedIn tasks with ease and have 10x more engagements in the platform.
Octopus CRM is best for nurturing relationships in LinkedIn in order to sell your product or service.
Feature Comparison of Dripify and Octopus CRM
Both Dripify and Octopus CRM offer a complete solution for automating your LinkedIn efforts. They also allow you to do other important tasks such as contact management, team collaboration, and data analytics. Here's an overview of what each platform has to offer:
Automation
When it comes to automation, both Dripify and Octopus CRM offer helpful task automation features. They are undoubtedly capable of smartly automating routine workflows. Octopus CRM's automated tasks help you increase your leads and prospects. It automates sending connection requests, profile views, and even messages. This saves you a whole lot of time.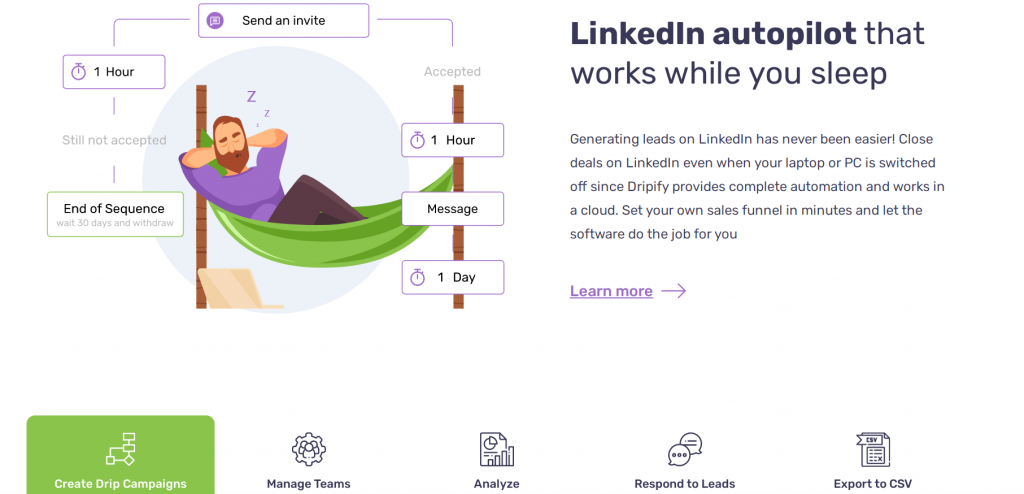 Dripify's automation is focused on a more specific goal: closing leads and automating your lead generations. However, Dripify's automation benefits are gated behind its more expensive plans. If you're willing to spend more money, you can unlock its best features. Otherwise, you will only have to work with the drip campaigns and analytics (which is also good – but could be better)
Ease of Use
Both Dripify and Octopus CRM offer great customization options, but when it comes to the user interface, there's one that's slightly better than the other. In this case, our vote goes to Dripify. Dripify's overall interface is smooth and intuitive. They also provide easy data migration. Plus, all processes are streamlined and organized, from contacts to closed deals. It's great for both beginners and veterans in automation.
While Octopus CRM's UI is also good, it lacks the intuitiveness of Dripify. Also, it doesn't help that their tutorial videos cover only the basic use of the software.
Lead and Deal Management
The whole point of automating your LinkedIn is so that you can find, nurture, and stay connected with your LinkedIn leads. Both Dripify and Octopus helps you do that. They can help you generate leads and increase your bottom line. But when it comes to lead management, Dripify does it better.
Octopus CRM helps with basic lead generation tasks such as sending connection requests, messaging contacts, and browsing profiles. These tasks normally would take your hours to do, but with the help of Octopus CRM, you can now automate it and do it faster.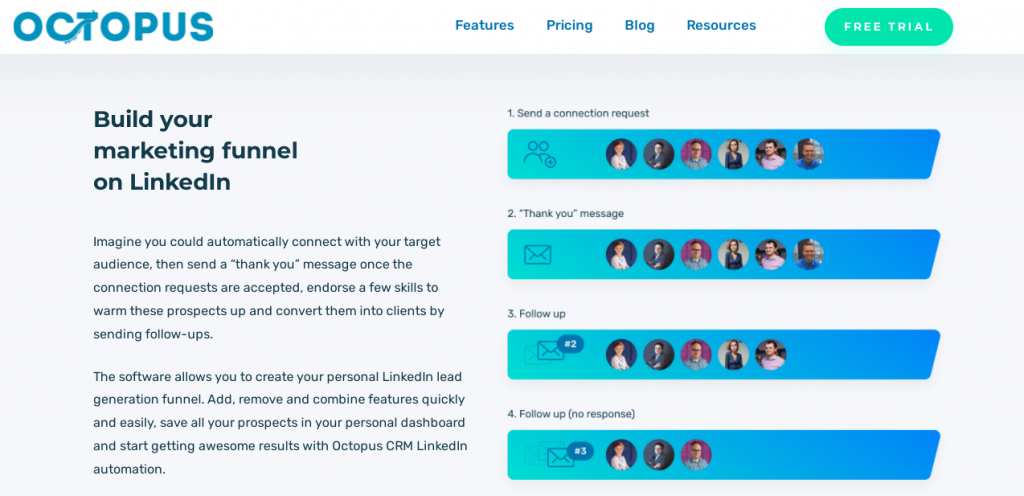 Dripify's smart inbox makes it effortless to reply to leads. You even get instant updates for unread lead texts and profile views. You don't have to sift through your inbox to find these messages. This saves you a whole lot of time and effort. You can also export data to CSV about your leads, including their LinkedIn URL to profile.
Reporting and Analytics
Both Dripify and Octopus have a dashboard where you can get a complete view of your team's performance. In Octopus CRM's dashboard, you can see the number of profile views, search appearances, and your social selling index. You can also see stats related to your campaigns.
Dripify has a more advanced analytic system than Octopus CRM. You can see your profile views, connection requests sent, endorsed, messages sent, and more. It also has a 'recent activity' tracker that helps you review the timeline of your recent LinkedIn actions. Lastly, it can also track your campaign performance. You can see your watch invitation acceptance rate, response rate, and other important metrics.
Pricing
When it comes to pricing, Octopus CRM has a more affordable overall cost. In today's highly competitive automation industry, the frontrunners are the ones that can create value for money.
Octopus CRM enables you to start automating your tasks at the lowest prices! Even their unlimited plan, which is $24.99, costs less than Dripify's starter plan. Dripify's pricing starts at $39 per month.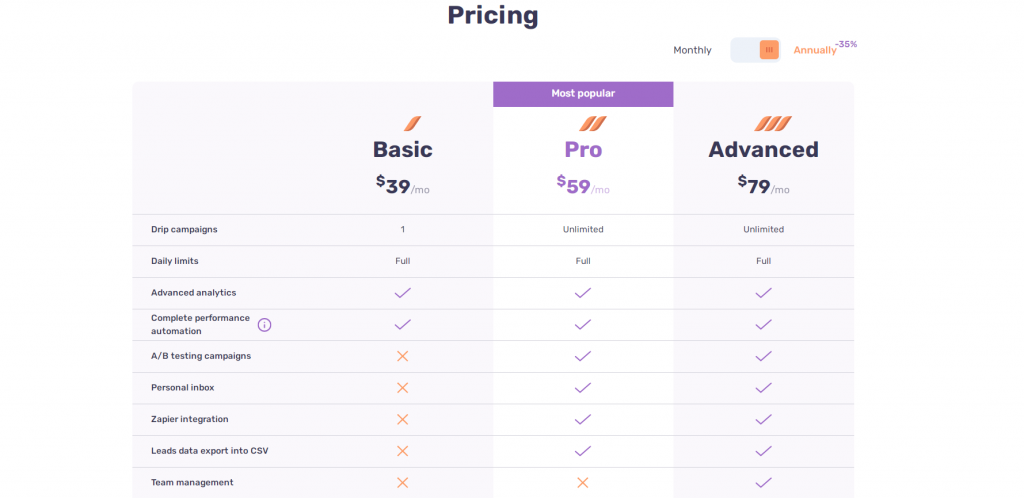 So if you have a lower budget for your automation, Octopus CRM is the best choice for you.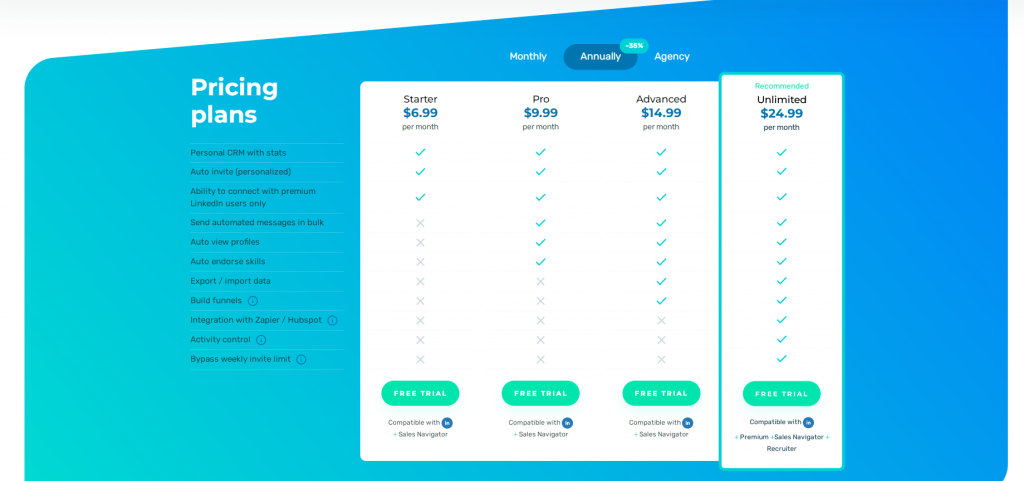 However, if you're serious about your automation and want more features, it's obvious that Dripify is the better choice. Dripify's starter plan is a worthwhile investment. It gives you access to drip campaigns, full daily limits, advanced analytics, and complete performance automation (run your campaign on autopilot!).
Customer Support
Both Octopus CRM and Dripify offer support through email only. They both have a resource base of guides, webinars, and FAQs that can answer almost all questions you have. When it comes to customer support, Octopus CRM doesn't offer many tutorials. However, they do have active support, which you can email easily.
When To Choose Octopus CRM?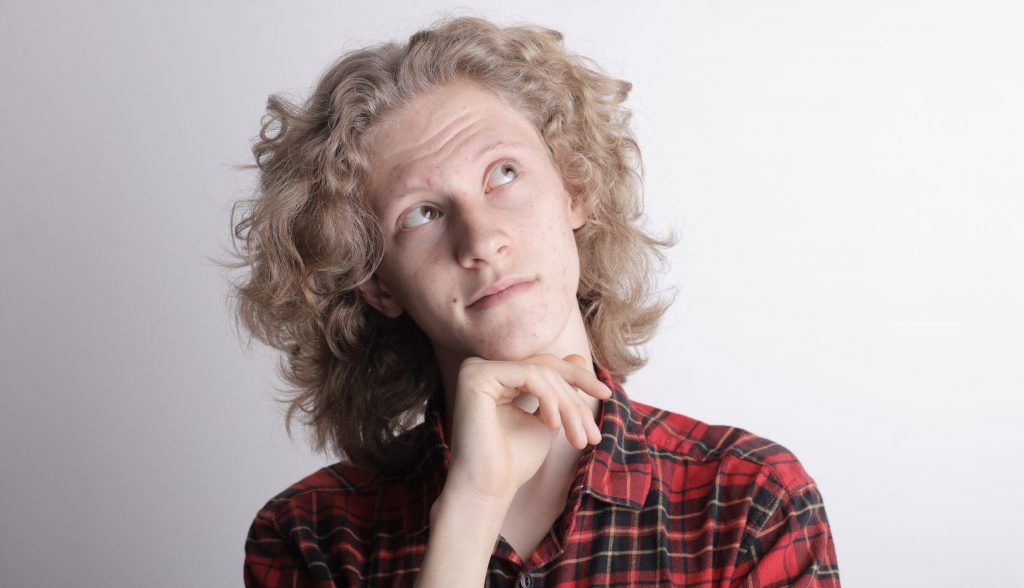 Octopus CRM is one of the most powerful basic automation tools today. It's built mainly for:
Small businesses and entrepreneurs who need help in simple automation tasks.
Growing teams who need an easy-to-use and reliable all-in-one automation tool for their organization.
Basically, it's best to choose Octopus CRM as starting point for your automation needs. It gives you the basic features you need to simply get started. Its easy-to-use design makes it a great tool for everyone on your team. However, it's worth noting that Octopus CRM is not a CRM.
You can't use it to manage complex tasks for your business. Think of Octopus CRM as simply your LinkedIn assistant. It tracks everything for you and does the simple tasks you don't have the time to do. If the sky's the limit for your business, you need an affordable automation tool that can support you as you expand.
When To Choose Dripify?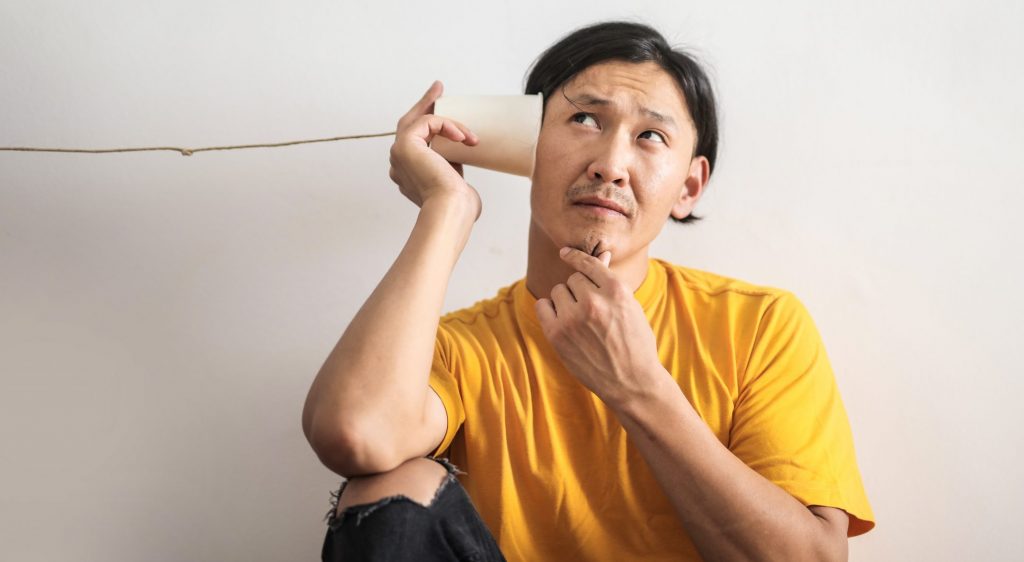 Dripify is an advanced automation tool for businesses with large sales teams who want to focus on generating leads.
Here are people who will most benefit from Dripify:
Businesses who have strict budgets and need specific tasks done through automation
Teams who want to have a smooth and effective automation process
Businesses who want to have an organized lead management
Dripify offers amazing automation tools which you can access at higher price points. It stands out from other automation tools because it offers complete performance automation, meaning you can run campaigns on autopilot easily.
Unlike Octopus CRM, which allows only one method and process, Dripify gives you choices and lots of customization. Overall, Dripify is a great value for money. Its versatility and functionality make it one of the best automation tools to use.
Key Takeaways
Octopus CRM is great for newbie marketers and beginners in automation. It's easier and simpler to use. Dripify is designed for the sales team. It provides better functionality and compatibility in LinkedIn and other app integrations.
When it comes to lead and contacts management, Dripify is better. It has a smooth workflow process that is suitable for larger teams. Octopus CRM is all about generating and nurturing leads, while Dripify is focused on better overall process and sales. It keeps you connected only on relationships and connections that matter most.
Dripify's autopilot system is also more advanced than Octopus CRM's. This explains its higher-priced plans. Dripify is a process-specific system. It has features you need at a price that's fair. Octopus CRM is an all-around affordable automation tool designed to get you started in automation.