Everyone sometimes feels like they're missing out, late, and stuck with different tasks they can't finish. And nobody loves going over mountains of notes and details without any chance of actually moving toward the goal. It takes a lot of time and leads you nowhere.
Furthermore, hand-written notes can sometimes be entirely pointless and leave you stressed and confused.
Boosting overall productivity should improve your general well-being and flexibility with tasks. To help you improve, you should use as many tools as possible that can take care of some problems for you. One of the most useful tools for summarizing and analyzing meetings is Instaminutes.
What is Instaminutes?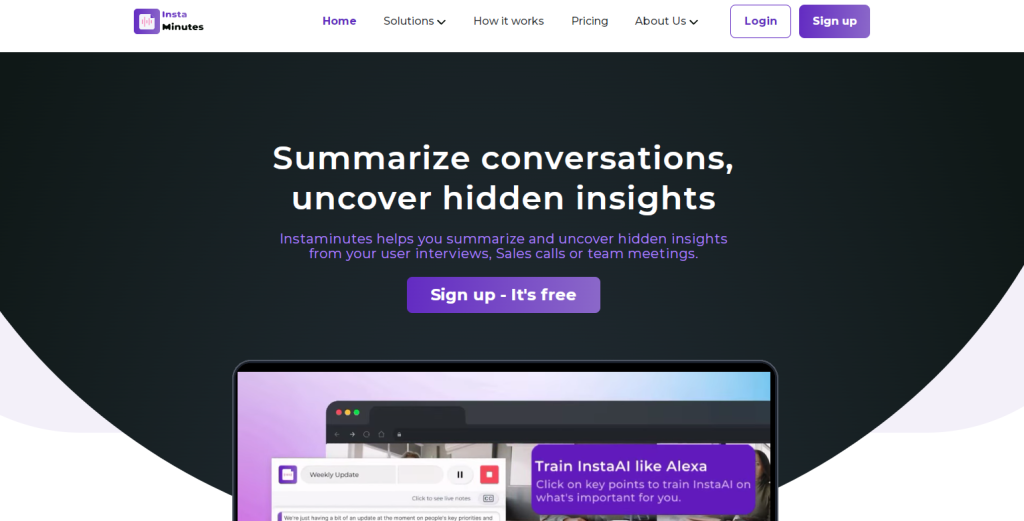 Instaminutes is a simple tool that does wonders! It is a personal AI assistant that helps during meetings, takes notes for you, and analyzes everything said and written in chats. It has many useful features that can boost your productivity and make you better prepared for your next meeting, conference, or interview.
Since it does a lot for you, it saves time and boosts team collaboration. It is the best choice for startups that have many details to share and a lot of work to do in the beginning.
How does it work?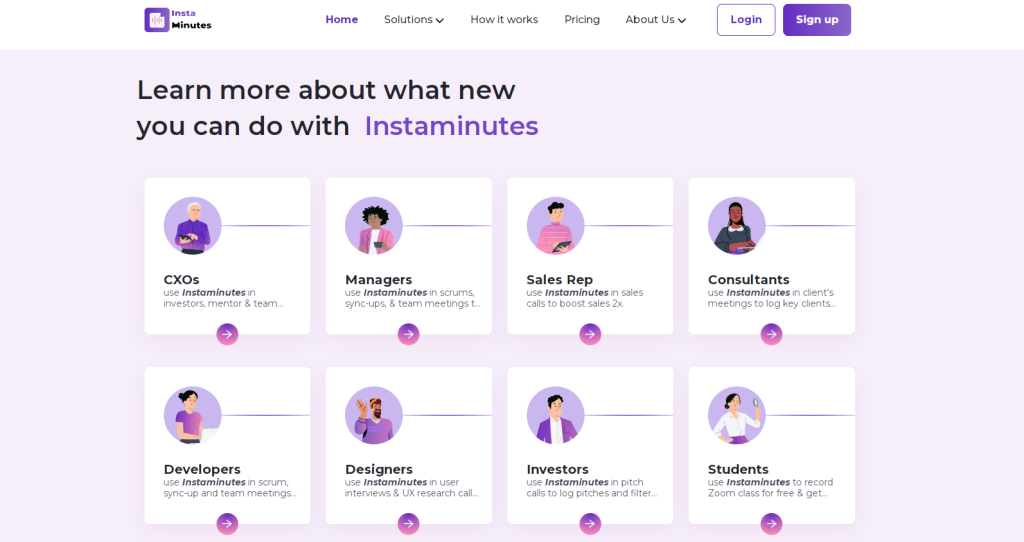 Instaminutes is an extension to the Chrome browser or integration to meeting platforms such as Google Meet or Zoom. Right when the meeting starts, it begins recording and tracking your meeting. It also has an Intelligence Dashboard, which transcribes notes from the meetings.
When the meeting and recording are finished, this AI assistant starts to analyze chats and recordings. It emphasizes only the most important bits of the meeting and does not leave you with another chunk of mixed details.
After the meeting, you can visit the Intelligence Dashboard and see a complete summary with bullet points and names of a speaker with keywords and timestamps. Furthermore, this dashboard offers a deep search of notes to underline topics for future meetings.
This tool helps as a productivity booster. It details the information that a person might miss during the meeting. With this, you can reread something you might have skipped since a person can't focus on everything simultaneously.
Also, it serves as a coworker analyzer since it shows who said what and when. This way, you can see who understands the topic better or needs more time and encouragement.
Pricing plans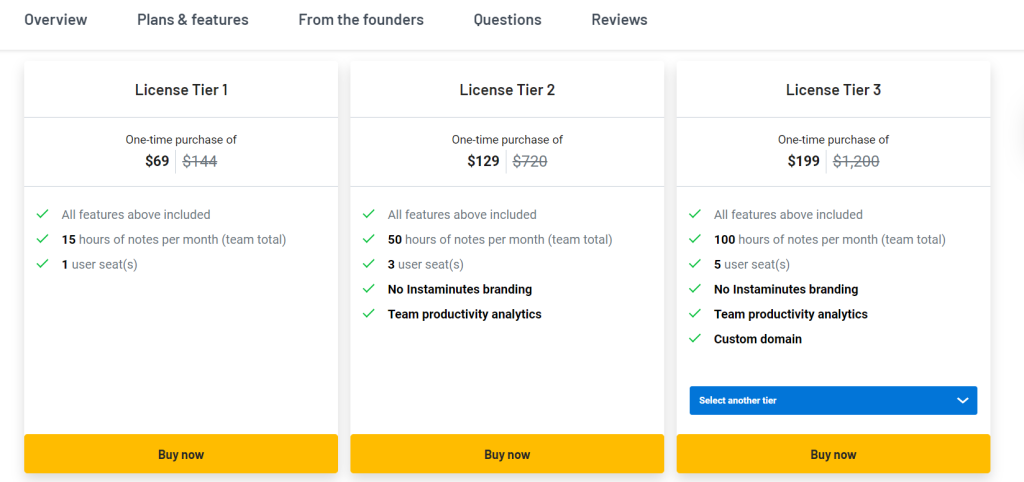 When you think about artificial intelligence, you think about something expensive and unreachable. However, that is not the case here. Instaminutes is an affordable tool for everyone who wants to stay organized and productive. It has three different pricing plans in the form of a one-time purchase.
All features are included, but the price depends on the number of recorded hours and monthly users. The first tier costs $69 with one user and 15 hours of notes available. The second tier is $129 with three users, 50 hours, and team analytics. The last tier offers 100 hours of recording for five users, with team analytics and a custom domain.
Final thoughts
Everyone sometimes feels stuck and overwhelmed with notes, tasks, and dates. Too many details from the meeting and online conversations with coworkers can be counter-productive. Luckily, there are productivity tools and AI meeting assistants to help you act faster, be more organized, and always be well-prepared.
Instaminutes is the best option for you if you struggle with productivity because it summarizes and analyzes meetings. It also saves time and helps your team move toward the end goal. With its easy installation, setup, and use, the Instaminutes application is recommended for everyone.