Firstly let us ask you a question, did you know that embedded videos can increase your traffic up to 55%? Or that they can increase landing page conversions to almost 80%? No matter the answers to these questions, what is essential is that you decided to insert video galleries for whatever reason. But it is fun to know the statistics, right?
These galleries will be a great personal touch and help you connect with your audience on more platforms than initially thought.
They are also great for sharing information in a more exciting way, and we all know that people prefer visual mediums to reading. That's because people have an easier time understanding information when they can hear and see it.
So without further ado, let us show you some tools that will help you put a video gallery on your site.
1. Modula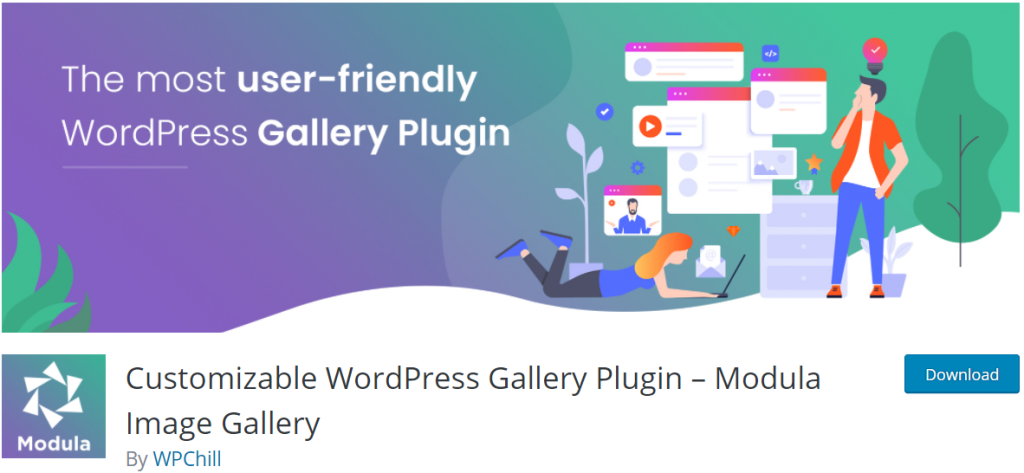 The first tool on this list is Modula. It will help you create a video gallery without having to know how to code a single line. It was initially an image gallery plugin, but now it has more than just that. One of the options it provides is to put a video gallery on your site.
Modula's video gallery options let you fully customize it so that you can match it to your brand. There is no point in having a tool that does not allow for customization. It has a drag and drop builder that lets you quickly edit the gallery how you want it, plus it is mobile-friendly. Meaning, your mobile visitors can enjoy your gallery the same as visitors using a  PC.
The albums can be arranged however you want, and it has a great set of features like a lightbox gallery, hover, and image effects.  It also offers different grid types such as custom, creative, masonry, and slider. Overall, it is an excellent plugin for anybody, whether you are a beginner or experienced.
2. EmbedPlus for Youtube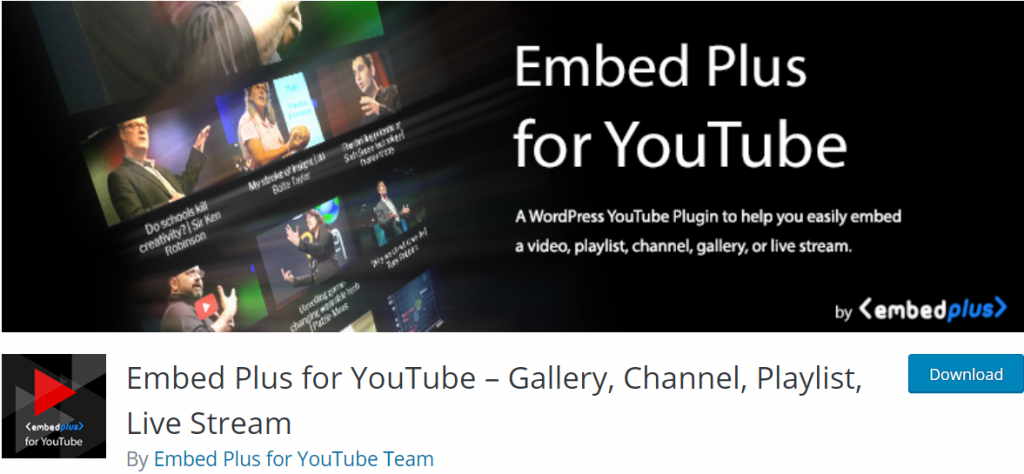 On the second spot, we have EmbedPlus for Youtube. This is a plugin that lets you embed and customize playlists, videos, galleries, and even live streams on your site.
This one has a significant number of features in its catalog that will help you show all kinds of videos. And it lets you customize the height and width of the video, making it very unique. You can also enable features that you want, such as loop or autoplay.
One more cool thing is that you can choose when you want a video to start and finish. So if you have a tutorial that is 15 minutes long but only need to showcase a particular snippet, with this tool, you can do it with ease.
3. Video Gallery by YotuWP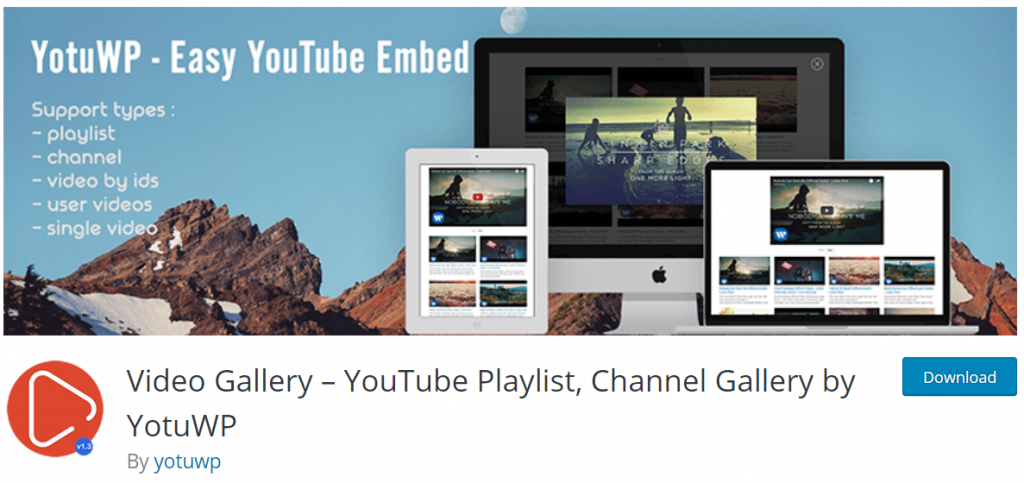 Video Gallery by YotuWP is another tool worth mentioning. This little helper will allow you to create stunning video galleries with a lot of styling options. You can play around with settings, color, buttons, and style. That way, you will make your videos unique and brand-image appropriate.
It has options that let you embed videos from YouTube channels by username, or playlists as well as the option to embed a video with the URL.  These videos can have different layouts like; grid, mix, masonry, flip, carousel, and list. See what works the best with your site and choose that option.
The video gallery is responsive, but it also has four different player modes – modal, popup, large, and lightbox.  Besides, this tool also has a shortcode generator. That option alone lets you generate a shortcode that you can use on widgets, product descriptions, and page builders.
4. Envira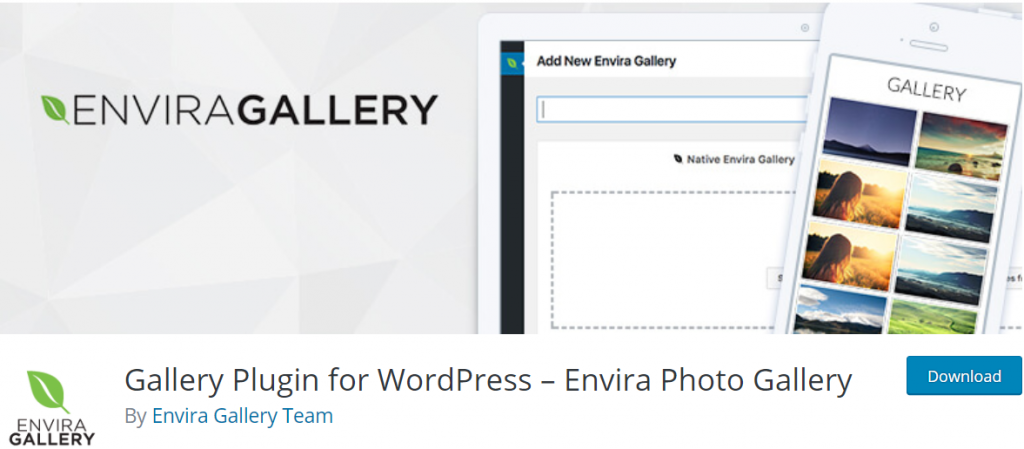 The fourth spot goes to Envira. Like our first pick, Envira started as an image gallery plugin but has fantastic video gallery features. It has a drag and drop builder for galleries which means it's effortless to use if you are a beginner. With a little bit of snooping around and getting the hang of it, you are not going to be a beginner anymore.
In regards to video galleries, you can add a wide variety of videos from different platforms such as YouTube, Wistia, Vimeo, to name a few. So, if you, for some reason, can't upload your video to YouTube, you have quite a few options left. And don't worry, you can easily organize the galleries any way you want.
Envira also has a slideshow feature and social sharing buttons to allow your visitors to share those clips and generate more traffic for your site.
And if you do not like to see 50 videos on one page, and to be honest, it looks crowded. You can use pagination and split the gallery into multiple pages. That way, it' eye-catching, and it improves your page speed.
5. All-in-One Video Gallery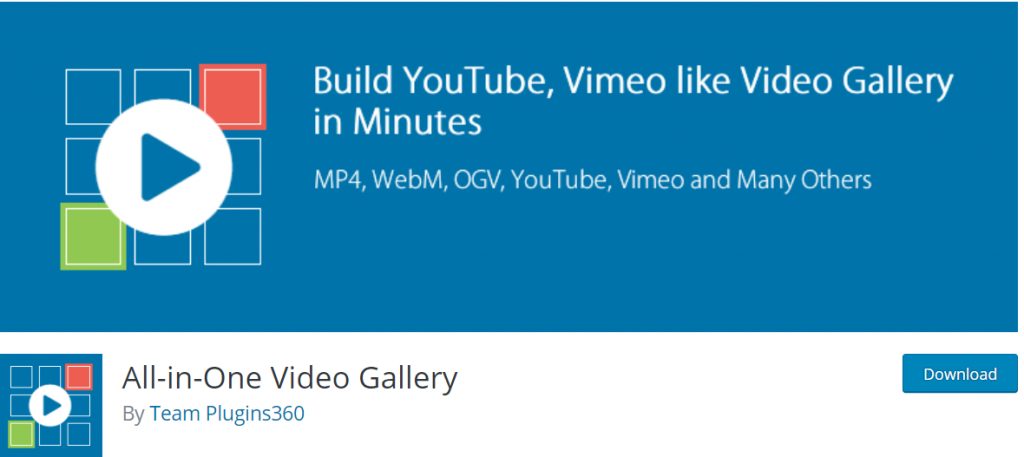 The fifth and final tool on our list is the All-in-One Video Gallery plugin. It is a lightweight plugin that lets you add videos as posts that are searchable and SEO-friendly. And no, you don't have to code anything. It is suitable for all kinds of users that are in need of a video gallery.
They support various videos such as WebM, YouTube, MP4, Vimeo, Facebook, and DailyMotion. So pick and choose from where you want your videos. It has great player and playback options as well. Some of them are, play and pause buttons, progress bar, volume button, subtitles, muted, autoplay, preload, and loop.
Plus, the developers did not forget to put the social sharing buttons so you can get those extra views. And just like the previous tool, it has a pagination option so that you can split the gallery into two or more pages.
Conclusion
In the end, we need to say that videos are a great way to keep visitors on the site for a longer period of time. They are also more interesting than just plain text and some screenshots, so why not use a video gallery plugin to boost your game. We listed five tools. There is for sure one that stuck out to you the most, so try it, and see it for yourself.