A website is your home on the internet. It is, therefore, quite logical that businesses need to invest well in this area to make sure they leave a professional impression. For example, a consultant needs to present their experience and expertise, and corporate-looking website projects just that trust.
An accountant must offer a complete overview of their services, and a website with modern service widgets does just that. This is also true for those creating websites. Sometimes your client will want a website similar to the one they've already seen. To find out what the other website is using, you'll need a WP theme detector.
But to create and sell websites, you'll also need an all-in-solution. WPMU DEV's all-in-one platform makes it easy for anyone to create, manage, and sell websites. Get 20% off any of their plans. Free trial included.
Regardless of whether you need it for a corporate purpose or just want to pluck inspiration from other websites, you'll need to find a good one. Here are the best WordPress theme detectors to find a site's theme.
WPThemeDetector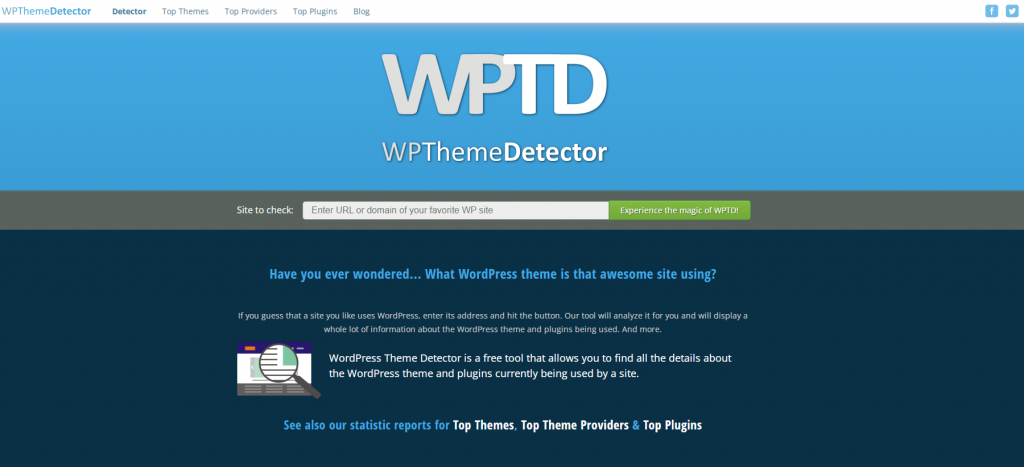 You can utilize the WPThemeDetector software to learn more about a website's design and add-ons. However, analyzing every part of a website and providing useful information will take some time. You'll find a wealth of information on the theme and also hyperlinks to the designer's website.
This theme checker will also list all of the plugins used on the website, as well as the corresponding URLs.
Gochyu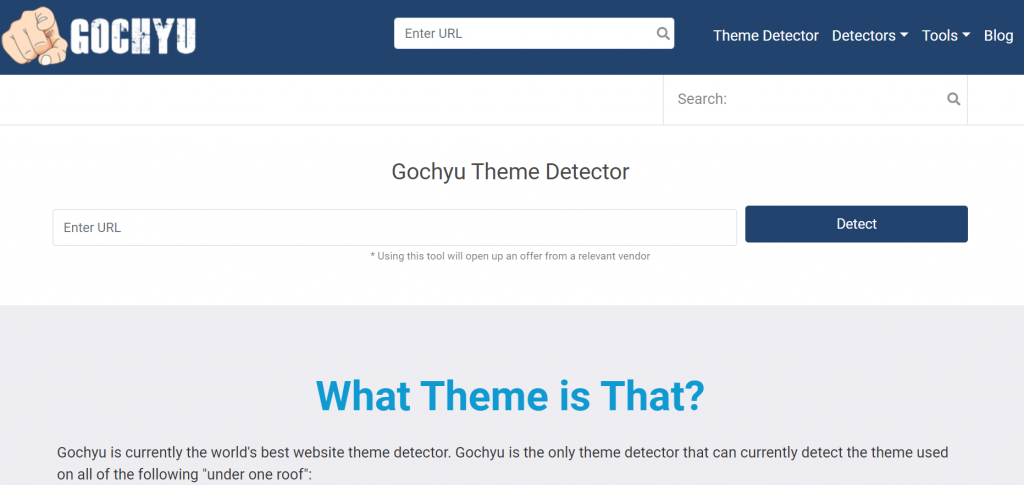 The Gochyu theme scanner is an excellent tool for learning anything about every website. It will assist you in determining the system upon which the website is developed. It identifies sites built with WordPress and other platforms. You may utilize their online theme detecting program as well. This is one of the easiest ways to find the WordPress theme that suits your brand.
CodeinWP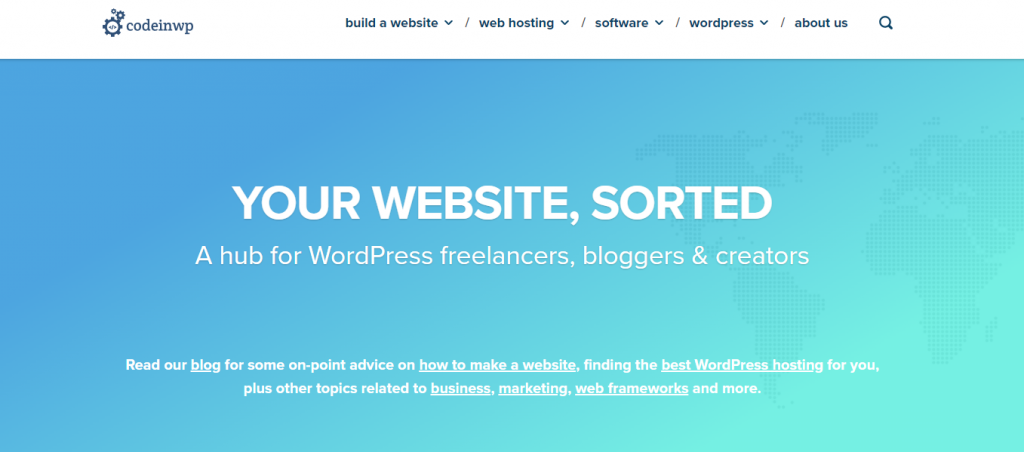 When it comes to everything you need to know about WordPress, CodeinWP is one of the most popular sites on the internet. They've built a name for themselves in the industry by producing high-quality material and developing distinctive and useful solutions for business owners.
This is a more complex tool within theme detectors, as it provides more detailed information about a website. You'll also find several tutorials and guides to assist you in selecting the best theme for your webpage.
WPSniffer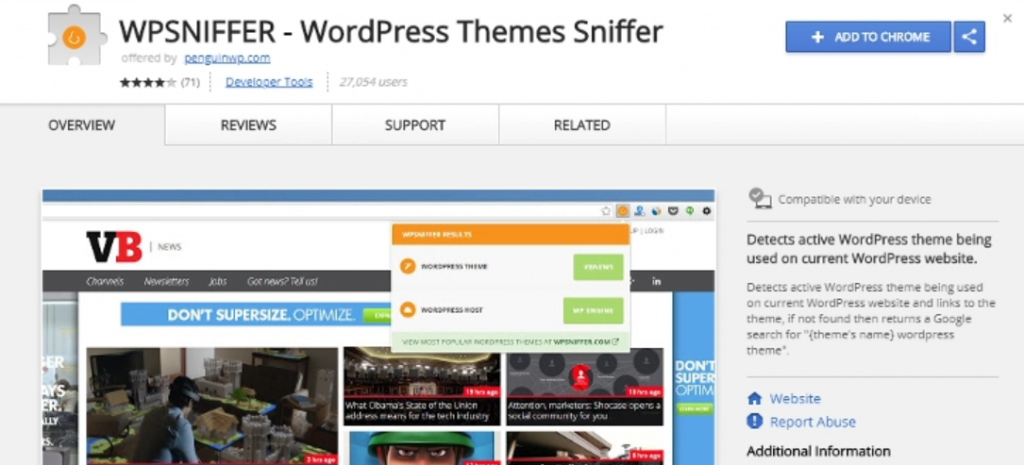 Another excellent extension for identifying themes used by WordPress sites is WPSniffer. It will provide you with information regarding the current theme on the website. A link to the theme's website will also be included in the extension.
If no data on the theme is available, it will show an Internet search with the meta tags title. This Chrome plugin, according to its users, gives credible information about WordPress themes.
Scan WP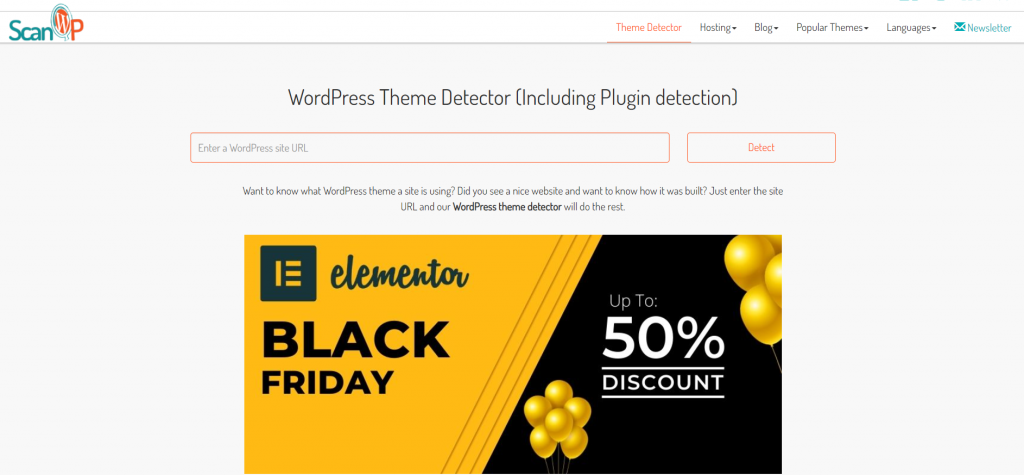 Scan WP is a great tool for detecting the theme used on a WordPress website as well as the plugins accessible. It's simple to use and connects with your desktop seamlessly. The online program created by the same team may be more beneficial because it provides other information about a site, such as a hosting provider and registration.
You'll also receive information about the ranking keyword, links, and competitors. This is a simple site analysis tool that is available for everyone.
BuiltWith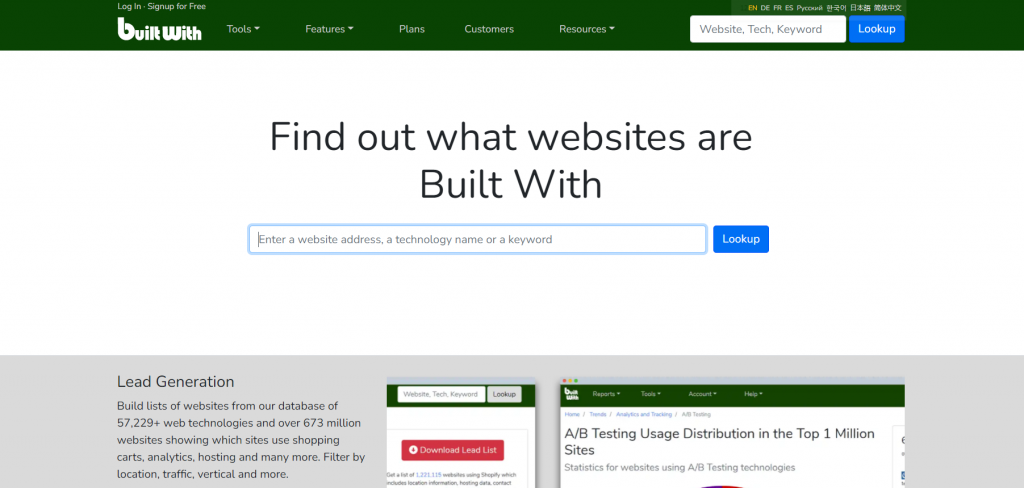 BuiltWith, as the name suggests, provides information about the technologies used to create various websites. This theme detector gives a comprehensive collection of reports about different websites. The software also provides a list of the many tools and connections that are used on the site.
It is also an established source of obtaining a wealth of information about web latest innovations. There are a plethora of surveys and studies available to assist you in comprehending usage data for various platforms. You can also receive support with consumer analysis, consumer work, and additional tasks.
Final Thoughts
Lastly, when adding different elements or styling your theme and customizing it, it's important to be consistent in the way you present your company's brand. Use a professional logo and header design. Create an engaging WordPress website and be transparent in disclosing your offers. The theme detectors mentioned in this article can help you find your perfect theme faster.