You have an amazing new product and would like to sell it online, but before you do, you would like to have a certain number of visitors first. With the coming soon page, you can do that. Coming soon is a page that uses a timer countdown option, and that lets visitors know that you have something big coming soon. By applying this, you will provoke curiosity, impatience, and excitement from visitors.
With this method, you usually give a sneak peek at what you have planned. And by the end of the countdown, you will have built an audience before even launching a site.
Maintenance means you're working on your page, upgrading it, making it better. By using a maintenance plugin, you're giving your visitors a heads up that your site is currently not available.
Advantages of using these plugins are better and faster-growing subscriptions and a countdown timer that will cause anticipation. By adding these elements to your site, it'll be more successful, look appealing, and professional.
The Best Coming Soon and Maintenance Plugins for WordPress
1. UnderConstructionPage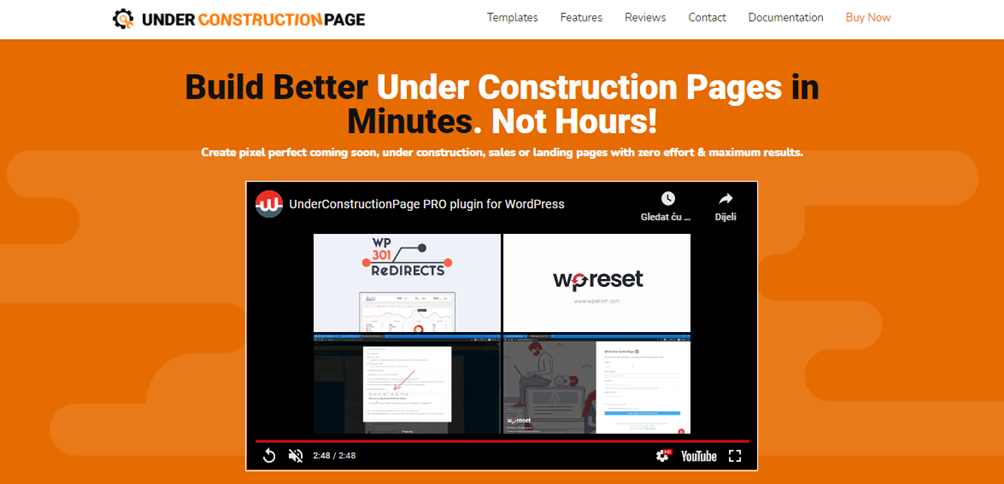 The UnderConstructionPage plugin will help you create a coming soon page, a custom landing page, an under construction, or a sales page. Anybody with a WordPress-powered site, whether a business owner or a blogger, can make use of this plugin. Plus, this plugin already powers over 150,00 sites which is only a further testament to its quality.
This plugin comes in different versions.
The PRO version features a drag and drop builder (this feature allows you to drag any element you want and drop it anywhere on your website), more than 400,000 free images, 100+ templates, Google Analytics, Universal autoresponder support(t his plugin supports any custom autoresponder), and customer support(friendly support that will guide you through any issue step by step).
As if all that wasn't enough, it also provides integration with Zapier that allows you to connect to over 1,000 services, and MailChimp can help you collect leads right from the beginning.
Some of the key features of the FREE version:
Automatic stop on the selected date (it's self-explanatory, it stops on a date you selected)
Basic Google Analytics integration (track your stats)
25+ unique UCP styled templates (it provides you over 25 templates to use for free)
Whitelisted users(allows you to add users to a whitelist)
There is no need to mess with code. There are plenty of features to help you use this plugin without you writing the code. The best way to show you how it operates is by you using it, just click this demo link, and you'll be able to see how it works first hand.
2. Coming Soon & Maintenance Mode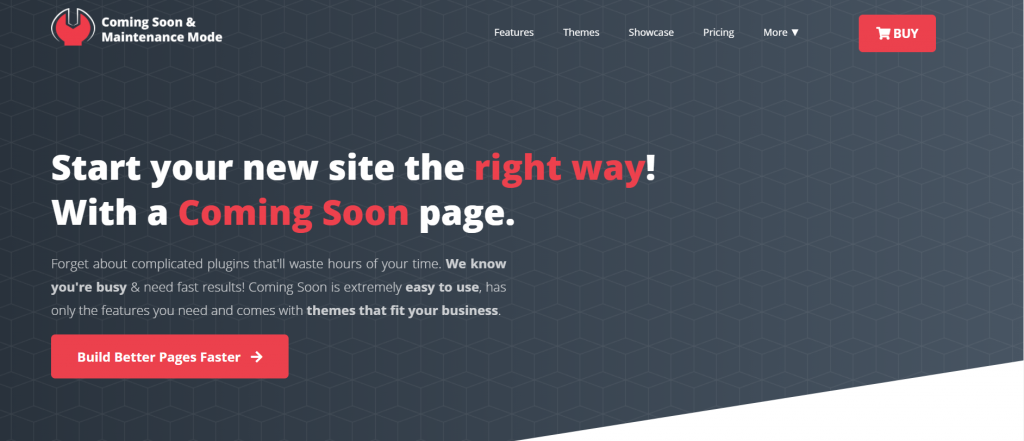 Whether you want to put your page under maintenance or create excitement by setting up a coming soon page, Coming Soon & Maintenance Mode is the best way to do it. It is equipped with amazing features, which will save you time, and make working on a website, look easy.
Just the design options that come with this plugin are incredible. You can easily customize the layout with a drag-and-drop builder, use a custom page, design a background using one of the 400,000+ free images and even add your own logo. It's also possible to create your own header, add a video or a map, a subscriber form, social icons, a countdown, or a progress bar.
Plus, if you like to tweak the code (this is optional), you can even create custom HTML and CSS.
Other relevant features: 
License Manager (making sure your clients don't have any issues with licenses)
Branding (rebrand the plugin to your liking)
Remotely Control all Sites
SEO (rank your site as high as possible)
Themes (choose any theme, modify it any way you like before, and after activation as well)
Divider (customize the dividers height, color, margin-top, and margin-bottom)
Autoresponder & Emailing Services (adjustable email settings)
Access Rules (choose who can and can't see your website)
Support (friendly and instant response)
3. Maintenance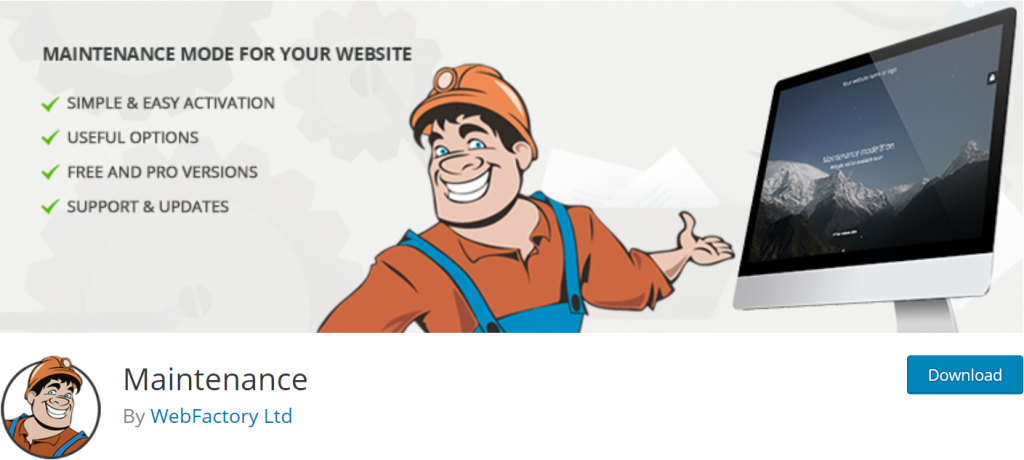 The Maintenance plugin helps you with closing the website for maintenance. Add anything from a logo to a background image to make it look good even though it's under maintenance. You'll have over 200 themes for better design, and SecurityNinja for better security, at your disposal. It supports 24 languages and has over 500,000 active installations.
Most notable features:
Retina ready HTML/CSS layout
Full-screen background (choose any image to set up as a background)
Upload your own logo (upload a logo and customize it)
Configurable colors: fonts, icons, background (customize colors to match your web design)
Customize title, headline, text
503 error on/off (add "503 Service temporarily unavailable" message anytime on your website)
Google Analytics support (track website activity)
Exclude selected pages from maintenance mode (choose which pages to include and which to exclude from maintenance mode)
Support for all popular caching plugins
Here's what your page can look like if you opt for this plugin.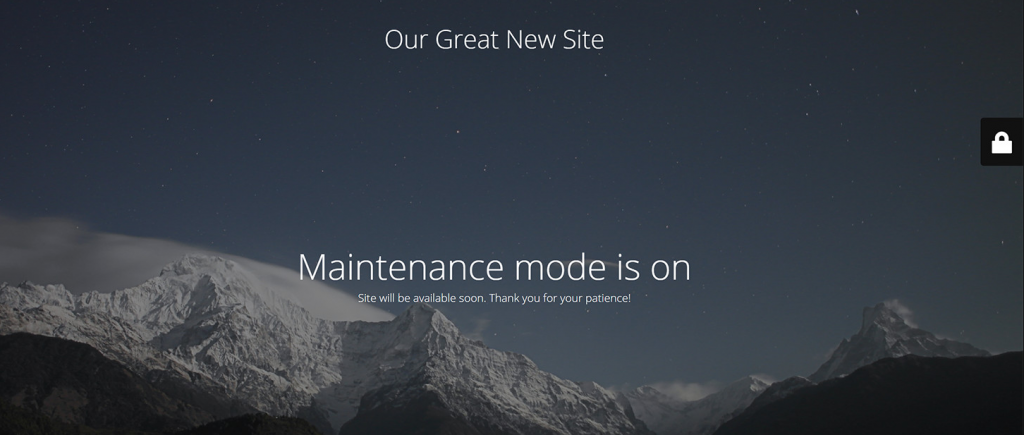 This popular plugin was designed by WebFactory Ltd, and with their customer support, no issue will be unresolved.
4. Colorlib Coming Soon & Maintenance Mode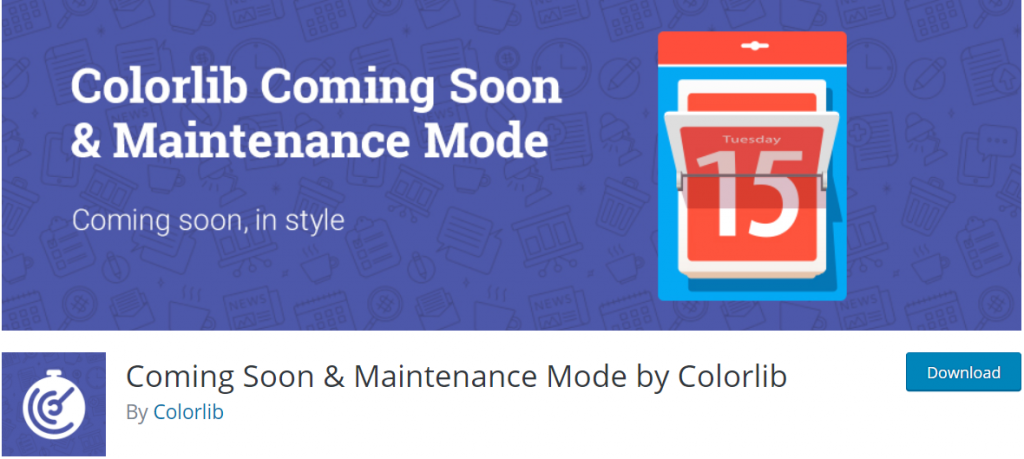 An easy way to create a coming soon and maintenance page is by using Coming Soon & Maintenance Mode by Colorlib. This plugin is easy to use and helps you save time by doing all the heavy lifting for you. The design options it offers are beautiful and eye-catching, plus it worked with any WordPress theme, so you don't have to worry about incompatibility.
Main features:
MailChimp Integration (autoresponder and email services are supported by this plugin)
Social media buttons (Facebook, Twitter, email, Pinterest, YouTube, and Instagram)
Custom CSS area
Disable/Enable under construction mode (choose when to activate the construction mode)
Timer countdown option
Logo and background images (upload both with ease)
Option to add heading and footer text
15 pre-built unique and responsive templates
This plugin has more than 10.000 active installations and supports 4.8 or higher WordPress versions.
5. Coming soon and Maintenance mode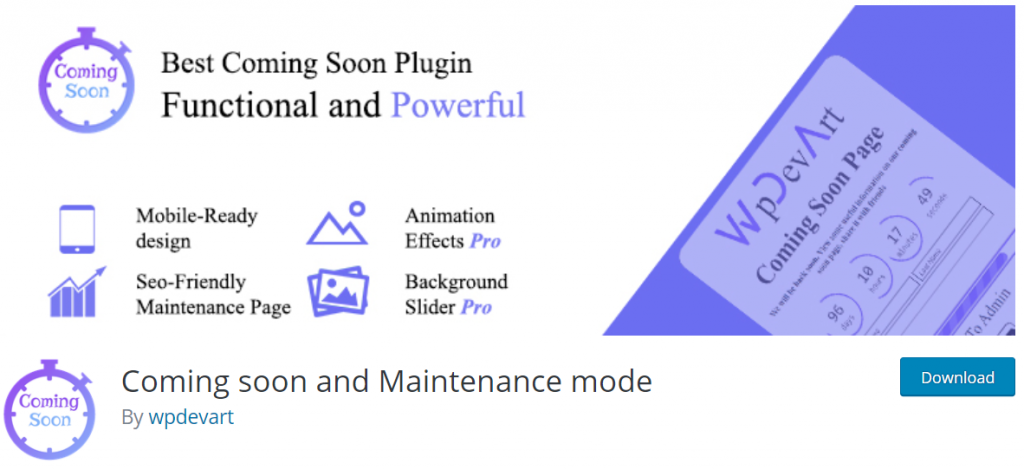 Need to create a new coming soon page; no need to worry. Coming soon, and Maintenance mode by wpdevart will help you with that. This way, you can show visitors that your website is under construction, and by upgrading it, you're making it better and more user-friendly.
This plugin comes in free and PRO versions. Depending on your current needs, you can choose which one you want. Here are the main features of both versions, to make that decision a bit easier.
The free version works well with all versions of WordPress. You can add your own custom logo to the page. It's social media ready and SEO-friendly.
Main features of the PRO:
Functional Subscribe Form
3 different Countdown designs
Ability to set Animation waiting time for all elements
Customizable Subscribe Form
Adjustable Logo position and distance
Adjust the Progress bar
Upload your own images for Social Buttons
Set Favicon
Link To Admin Section
Drag and drop editor
FAQs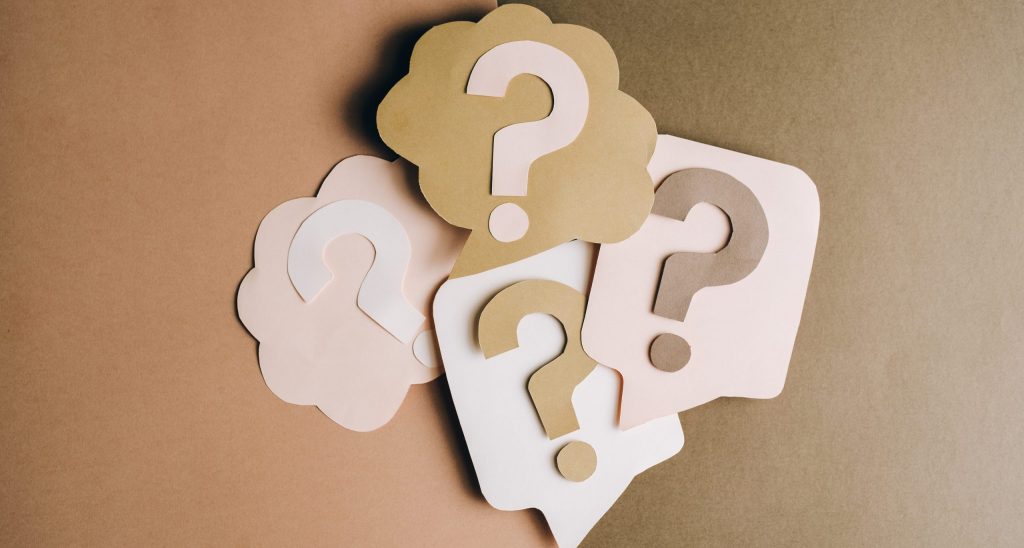 Who are these plugins for?
For anyone who wants to display an under construction/maintenance page while they're doing work on their site.
Do I really need one of these?
In essence, no, you don't. But it makes your site more professional, and in many cases, it can also help you raise hype and collect emails before the site is even live.
Is one of the free ones enough?
Sure, it can be. If you're really looking for something simple, you don't need a lot of features, and you plan on having it on for a short time. The PRO versions are just more well-rounded and provide a greater number of options to choose from. Plus, they usually tend to be better optimized for SEO as well.
Conclusion
There are a lot of options for you to choose from, but we have summed it up to five. All of the options presented above are good, but considering that UnderConstructionPage and Coming Soon & Maintenance Mode have over 600.000 active installations together makes them truly tried and tested. So, we'd recommend you opt for one of the two. No matter which one you choose, you'll end up working less but creating more.