There is nothing worse than not being able to find the fitting soundtrack for your video. It is nerve-wracking trying to find the right fit but to be limited by a tight budget. You probably regret dropping out of those piano lessons now, right? Oh, to have a time machine and do just that.
Having the right music for your video is crucial. It can elevate it and bring it to a whole another level. No matter if you are a YouTuber, filmmaker, or film student. Every video deserves the right tunes. Since Artilist is one of the most popular providers out there, today we'll present you with some of its best alternatives.
1. Filmstro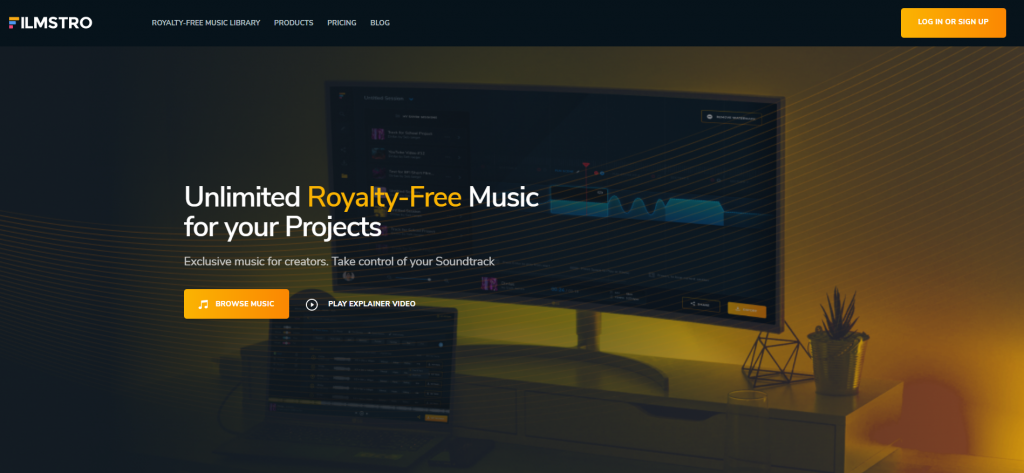 The first place goes to Filmstro. It is a great stock music platform that provides you with some exclusive royalty-free music.  This little gem has over 60 albums of professionally composed soundtracks. And those soundtracks are exclusive to Filmstro Pro, meaning no one else has these sounds. All of those beats are created by their very professional and talented composers.
It has sounds that can fit any theme, from a horror theme to a quirky YouTube video. And we all know how important sound is in horror movies.  You can search up the library that is divided into sections. Depending on what is you are looking for, there's an option to explore the collections by mood, films & video genre, music genre, instrumental, and more.
Once you find the right sound, you can customize it to fit your vibe. You can play around with power, depth, and momentum.  Momentum will give more complexity to your sound, depth will make the sound richer, and power will increase instruments and the intensity of the music.  It will give you the freedom to emphasize the moments that need to stand out. And you will create a soundtrack that is unique, fresh, and fitting.
Besides that, you can add your video, add the sound, mix it up, and see what works the best. Suppose you are already working with some non-linear editing system, don't worry. You can bring FilmstroPro directly to your NLE software and work with both.
2. Shutterstock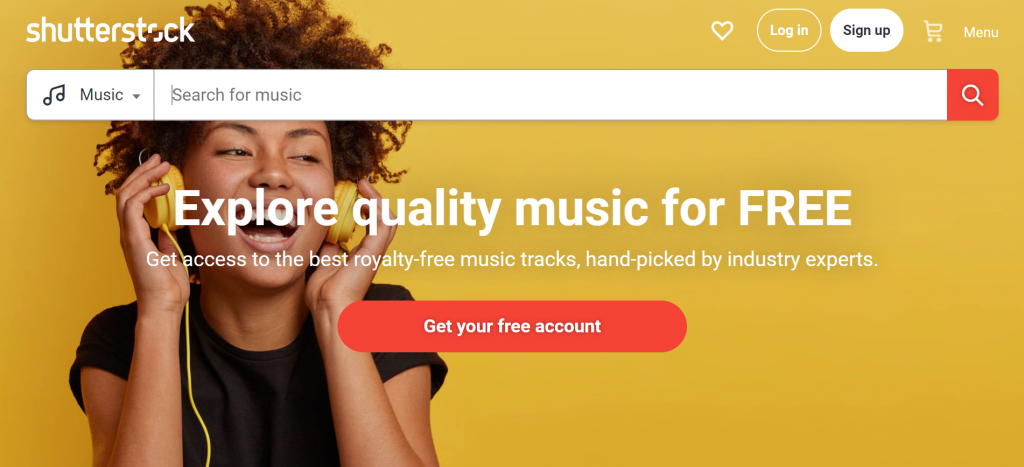 The second tool on our list is Shutterstock. Maybe you are already familiar with Shutterstock since it is a home for not only royalty-free music but for pictures as well.
On this platform, you can easily explore quality music for your projects. It has a great library of royalty-free music that is hand-picked by experts.
There are four main categories to choose from – most popular, most recent, genres, and mood. In the first two, you can find the most used tracks and the new ones. The genres group has over 30+ genres for you to explore.
With that much variety, there's no way you won't be able to find the perfect audio. If you are the type of person to search for music based on their mood, then the mood category is for you. This category also provides over 20+ moods from action, dark, comedy to weddings.
With this one, you get an exclusive look at some popular tunes, as well as fresh new music every day.
3. Epidemic Sound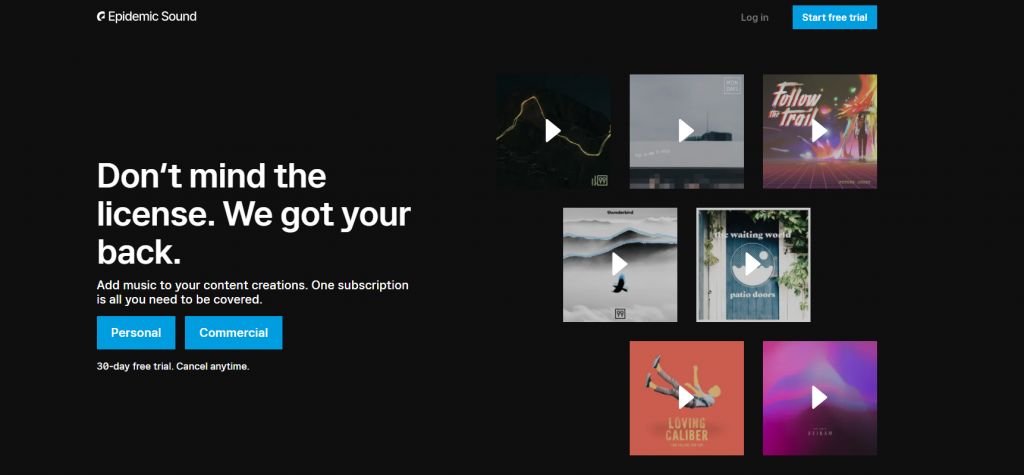 Epidemic Sound is our third platform on this list. This tool, just like any of these, will provide you with a great set of royalty-free audio files. It has a database of over 35,000 tracks and 90,000 sound effects waiting for you. With that many at hand, you're bound to find whatever your projects require.
Their website lists the most popular genres such as beats, small emotions, pop, acoustic on the front page. Meaning those are the genres people search the most, but of course, there are more. They have 18 categories for sound effects, from footsteps to weather; everything is there. So, if you need to add a little bit of a rainy mood, this will be your go-to place.
It's just so easy to explore all of these different categories to find the audio that fits your project. Once you get on their platform, you will have the freedom to download as many tracks as you want. There is no limit.
4. Joystock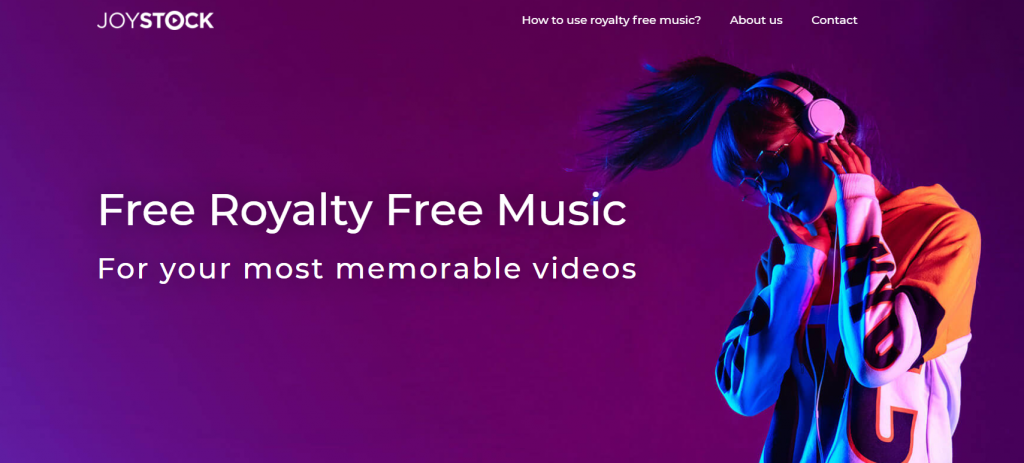 The fourth spot goes to Joystock. It is a platform that will provide you with royalty-free music and make your videos memorable.
The great thing about this one is that you don't need to have an account to download files. It is entirely free. All there is to do is visit the site, and that's the place where the magic begins. You can find tunes, listen to them, and download them at the spot.
All of those tracks can be used for free on any streaming platform you prefer, from YouTube to TikTok. Everything on it is free because every single beat on there is produced by Joystock. Plus, Joystock provides you with all the rights that you need.
Of course, they have categories so that you can browse easier and faster.
5. Soundstripe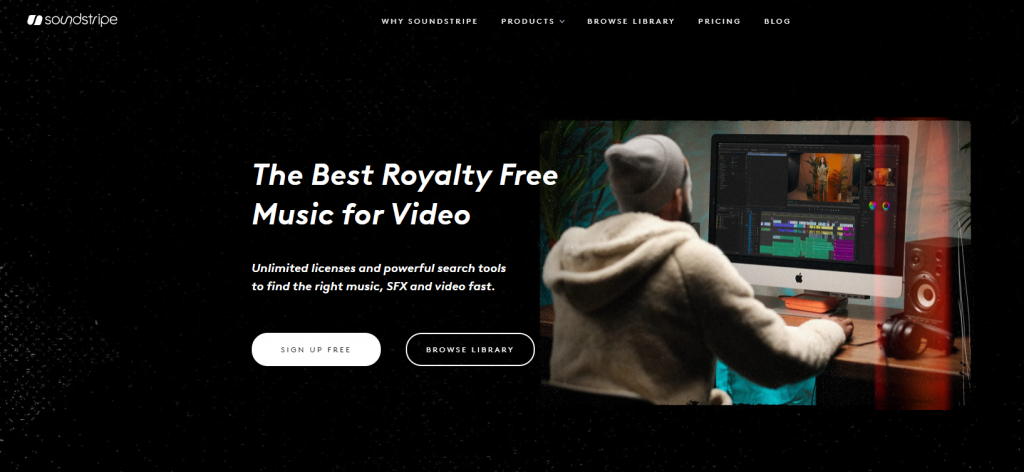 The 5th and last platform on this list is Soundstripe. It is a platform with a great library of quality royalty-free music.
It has over 6,000 radio-quality songs in its library already. But the thing is, they offer great filters to browse the catalog so that you can find the right tune for your video. Some of the music on their platform is from Grammy-winning artists. And you know how prestigious that is.
Besides this, they also have over 50,000 sound effects that will help you enhance the scenes of your videos by a mile. Whatever mood you are going for, you will find a good effect for it.
6. Videvo.net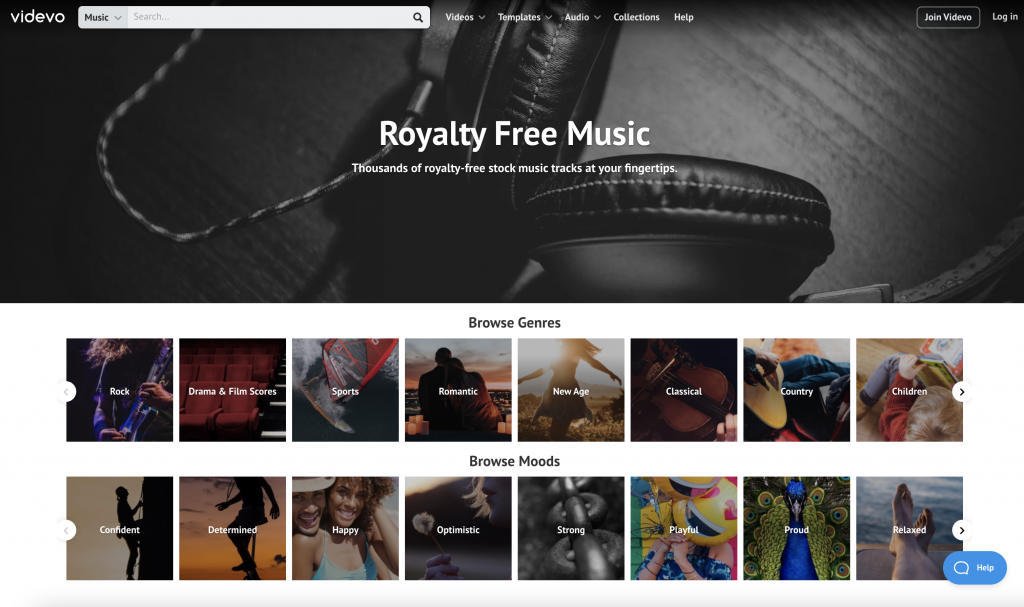 Videvo is a stock library offering both free and affordable Premium assets. This includes a comprehensive collection of stock music and SFX. Their library boasts 12K music tracks and 175K sound effects, out of which hundreds are offered free of cost. All tracks come with a Royalty Free license, so whatever you download is yours to keep and use in as many projects as you like. You can use the easy-to-navigate categories and filters to find exactly what you need for your professional and personal projects.
As mentioned, this library is a one-stop place for your multimedia needs: you will also find stock videos, motion graphics, and video-editing templates, most categories also offering free options!
Conclusion
In the end, we can say that there are some great alternatives for Artlist. Especially if you are new in the game, having an excellent overview of platforms before jumping in is everything. The one that stands out is, of course, the number one on this list – Filmstro. Its talented composers are creating fresh and interesting tunes every day. Plus, you can play around with the sound and truly make it your own.