In the last couple of years, WooCommerce has become one of the most popular, and widely used WordPress plugins. It is simple, easy to use, and most importantly this tool completely transforms your webpage into a functional online store.
But before you decide to create your eCommerce site via the WooCommerce plugin, there are some things you have to take into consideration if you want to build a successful business. Most importantly, you have to choose a good WooCommerce theme, to begin with.
Not every WooCommerce theme gives the same effect, and if you install the wrong one, your store might not function the way you hoped it would. and that's crucial for a successful business. Picking a perfect WooCommerce theme for your business is important for several reasons, first, it helps you to "sell" your site to visitors as with a perfect theme your site will look visually appealing and you leave a good impression on visitors, securing a good start. Surely, good themes almost always go with good plugins. When talking about e-commerce, our top plugin picks include WooCommerce Order Export and WooCommerce Table Rate Shipping.
WooCommerce Order Export is a plugin that lets you export WooCommerce orders and product data. You can use filters to narrow down your search results to only show you what you want to see. Many additional features can be found in the pro version. In order to make shipping more efficient, the WooCommerce Table Rate Shipping uses a rule-based approach to calculate the final shipping charge. In order to keep track of all the different parts of the order, the pricing is broken down into categories and can be personalized.
Secondly, depending on the type of your business, you need a specific theme that fits well with the rest of your site's details, like your products, site buttons, and many other options. Also, it is really important for the theme you choose to be mobile-friendly so that your site can be easily accessible from all devices.
Themes can significantly improve the user experience on your website, and it is not always easy to find the right ones. That is why in this article we will show you the best free WooCommerce themes that you can install right now.
1. eStore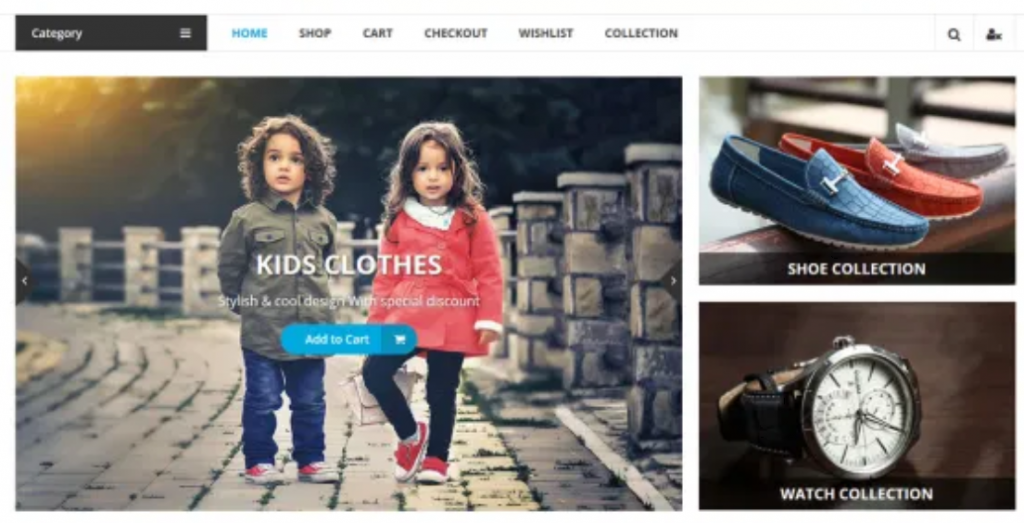 This is a customizable and fully responsive WooCommerce theme for your WordPress site. With eStore, you can count on many effective features combined with custom widgets that will help you to make your online store professional and appealing.
eStore also comes with the WooCommerce Wishlist plugins, which is another feature worth your attention, especially if you want to gradually expand your business.
This theme also provides you with easy access to all contact details, plus there's plenty of ad space and multiple slots that help you to promote different sales and hot deals on your products. Themes like eStore will help you to maximize your profit and expand your business via your website significantly.
2. VW Ecommerce Store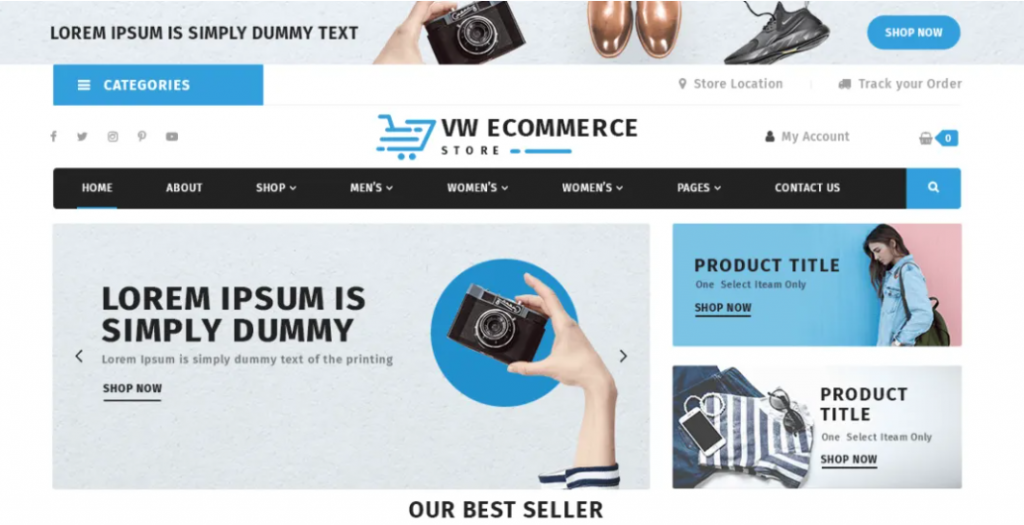 This theme functions as a multipurpose category store, meaning that you can apply this theme to various eCommerce store types, ranging from apparel and fashion accessories, all the way to a sports equipment shop, cosmetics shop, and many more.
VW Ecommerce Store will be a good solution for you if you are planning to start a business in categories like supermarket, grocery store, jewelry store, online food delivery, clothes shop, barbershop, fashion design, etc.
This theme provides you with many features that will make your eCommerce site fully customizable, easy to use, SEO friendly, and feature-rich. VW Ecommerce Store is a theme with a clean design combined with minimalistic details, making it perfect for any modern online store.
3. ShoppingCart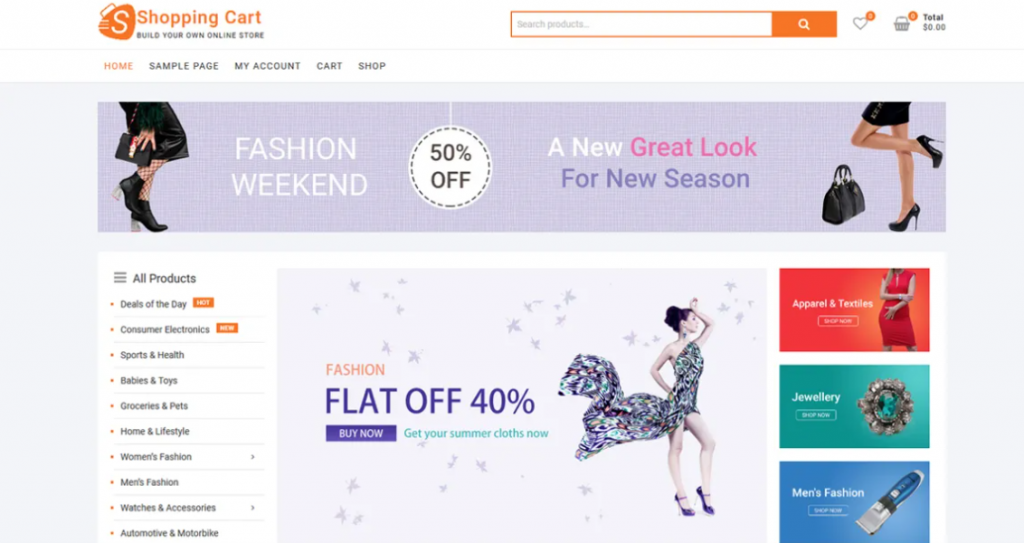 ShoppingCart is a theme characterized by a beautiful and elegant design that is created specifically for eStore and Shop businesses. Thanks to this theme, you will be provided with all the features necessary to create a great eCommerce site. You can count on many easy-to-use components and almost unlimited customization that aids you in creating a stunning website.
One important feature of this theme is its reliable search bar on the top of the site that helps users to easily look for your products. You can also rotate the brand names in a carousel, so all your users will immediately know what type of products you are offering to them.
Also, you can easily adjust all fonts, colors, size, buttons, you can upload your logo on the page as well, etc. You also get a few inner pages helping you to create all the important pages of your store. This theme supports other plugins, meaning that you can easily combine it with other tools to get more options and better functionality.
4. OceanWP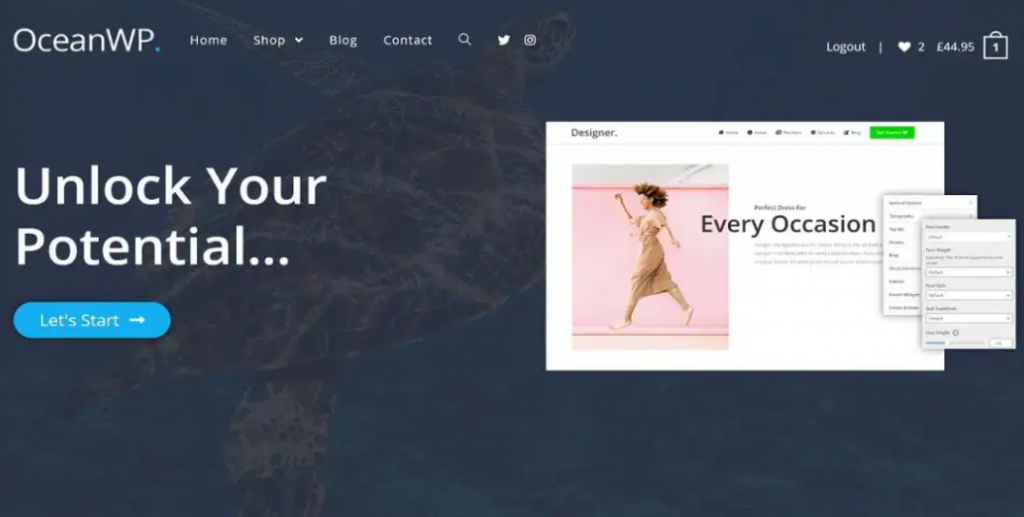 OceanWP is a light and easy-to-use theme that is perfect for almost any type of website. It works really well with the WooCommerce plugin, since it is fast and responsive, as well as translation ready.
It uses the best SEO practices combined with truly unique WooCommerce features, making it possible to increase conversion rates and generate more leads. This is a mobile-friendly theme that also allows you to edit your shop via a tablet or a phone.
It is highly customizable thanks to its large codebase, making it easier to extend the theme and further improve it. It goes well with all-important page builders like Elementor, Brizy, Visual Composer, Divi, etc. So, if you are looking for something really special, then OceanWP is a theme for you.
5. eCommerce Star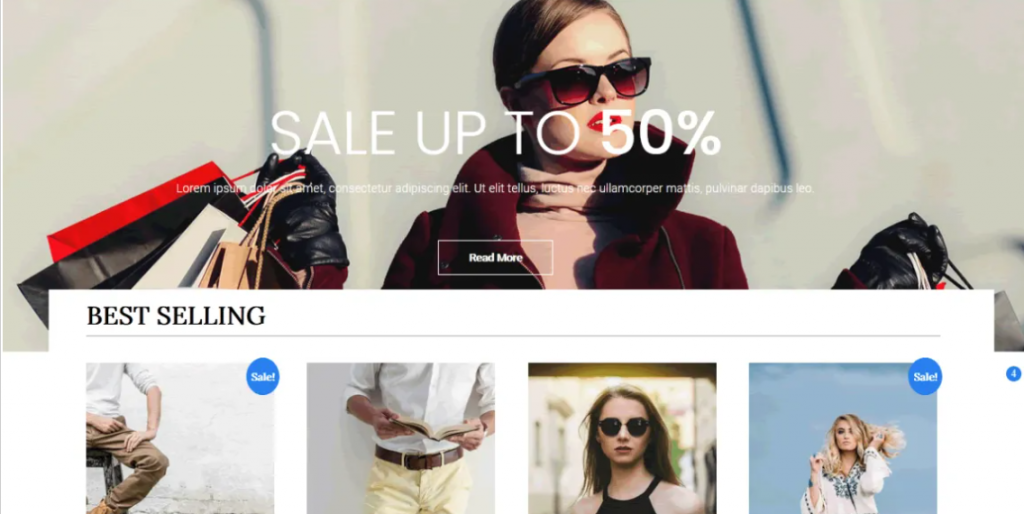 eCommerce Star is a theme that you will love once you install it. It is a fast, easy to use, and clean theme with a modern design that offers various features that are bound to make your store look stunning. This theme goes well with many other plugins as well with different free add-ons like WooCommerce Wishlist, WooCommerce Variation Swatches, etc.
It is also completely compatible with all important page builders like Elementor, Beaver Builder, SiteOrigin, Thrive, Architect, Divi, Brizy, Visual Composer, and many more.
eCommerce Star provides you with features that you cannot find too often on many similar free themes. For example, the cart popup feature allows your users to see the products they have picked without a need to go on another page, and the "Add to Cart" button allows customers to select items with minimal scrolling. It's a great all-rounder, so if you like the way it looks make sure to try it out.
Conclusion
Picking a good and reliable WooCommerce theme can be challenging and you certainly don't want to make the wrong choice. Themes can have a significant influence on your eCommerce business so you need to pay close attention to every feature in each theme, as well as on overall design and options.
Luckily, you can find many great free themes like these on our list here, they will certainly help your business start off on the right foot and soar high.