For those of you who are unfamiliar with the term SEM or you know just the bare minimum, buckle up because, in this article, you will learn the basic principles of search engine marketing. The first question that will pop up in your head is, what is SEM, and why is it important for me?
Well, search engine marketing or, in short SEM, is a strategy used to increase the visibility of a website on search engine result pages. Why is SEM considered to be the best online marketing strategy? Because it brings traffic to a website in the fastest way possible. Because the market has become so over-saturated, it has never been more important to advertise online.
But why are marketing agencies important, you may ask? Because marketing agencies help you manage and implement campaigns. Based on this quick intro, let's jump right into the top 5 SEM agencies.
1. SmartSites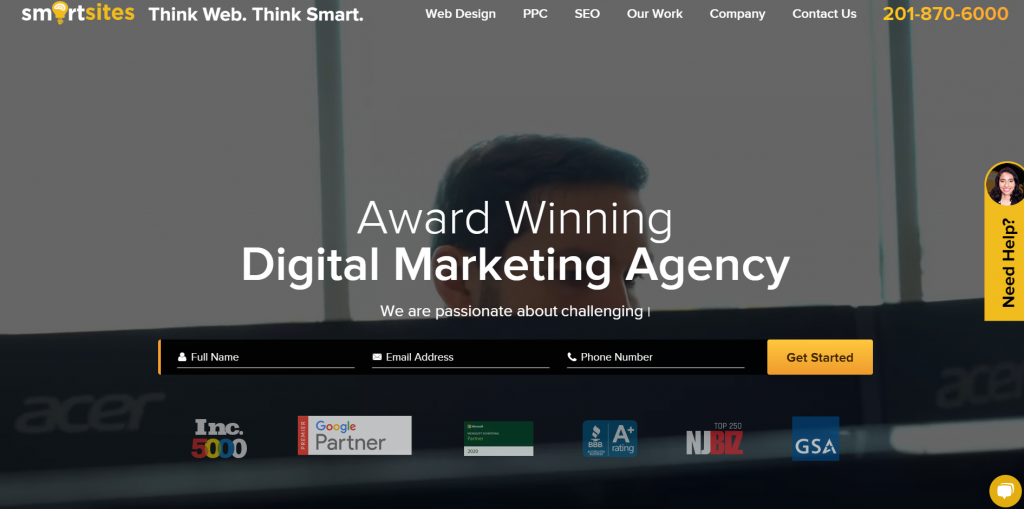 SmartSites is by far the most representable agency. I mean, when you hear that some of their clients include Harvard University and Porsche, you know that they bring quality to the table. This agency was found by two brothers Alex and Michael, who have a special bond with the digital world.
They can get more organic traffic to your site, which means more customers, and the end equals more sales. They are a team of 100+ hardworking people. Their hard work is reflected in the 175+ amazing Google reviews. They also are rated in the top 3 rated advertising agencies by Upcity (they measure real credibility indicators).
SmartSites headquarters is located in Paramus, New Jersey. They were founded in 2011, and since then, they have established over 900+ successful websites and over $100M client revenues. They bring happiness to their client, and this can be proved through the 100 5-star reviews they got. Their pricing is based on which type of services you need.
For their PPC Management, it is a $500+ monthly investment and in organic SEO is a $2000+ Monthly investment. So, in fact, not that much, based on what they bring to the table.
2. Ignite Visibility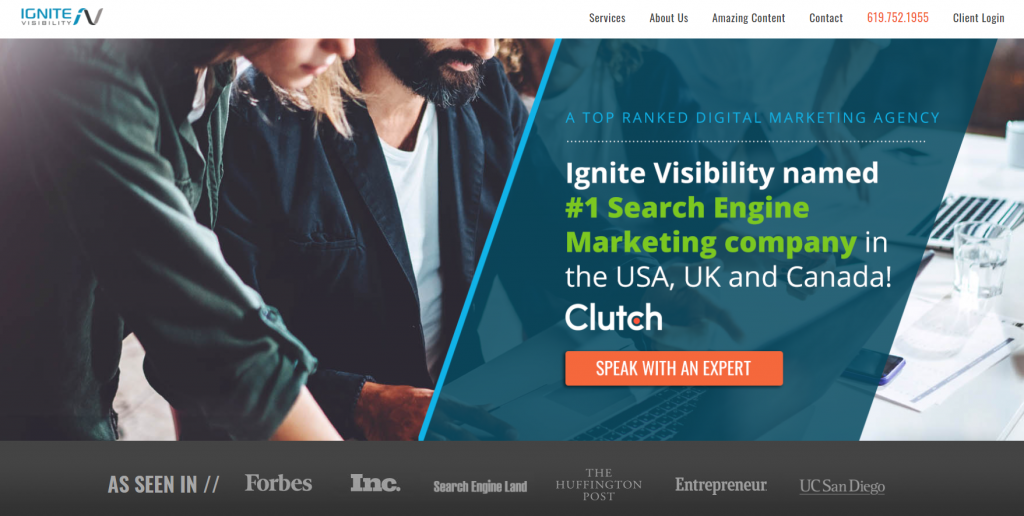 They consider themselves as the #1 search marketing agency because of their establishing work, concluding best-selling books, and two courses at the University of California. They are essentially very similar to SmartSites considering that Ignite Visibility's overall rating stands at a stable 4.8, which is only 0,1 points lower than the former.
As you can see, they provide results in conversions, traffic, and revenue. When you check out their site, you can see their team. All of the team members are experts in this field. You can get a free consultation, and their pricing starts at 6,000$ per month for their full-on services. Ignite Visibility's estimated revenue is currently $31.5M in one year.
3. Straight North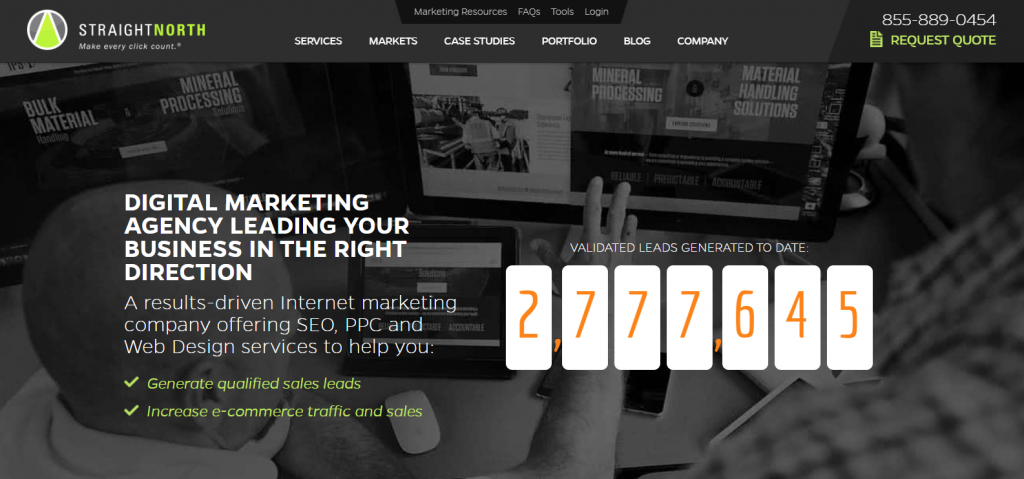 This company was formed in 1997 and from these 3 companies is the oldest. Straight North offers SEO, PPC, and web design services, leading you to an instant increase in sales and your e-commerce traffic. They state that they are the only marketing agency that reports sales lead in real-time.
They promise a 1,105% increase in SEO traffic within a month and an estimated 58% increase in SEO traffic year-over-year. 50.000+ sales lead generated since 2012. They have a team of over 100+ experts. Their offices are located in the USA, but you can link up with them through a call. Their overall rating is 4.7 stars.
4. SocialSEO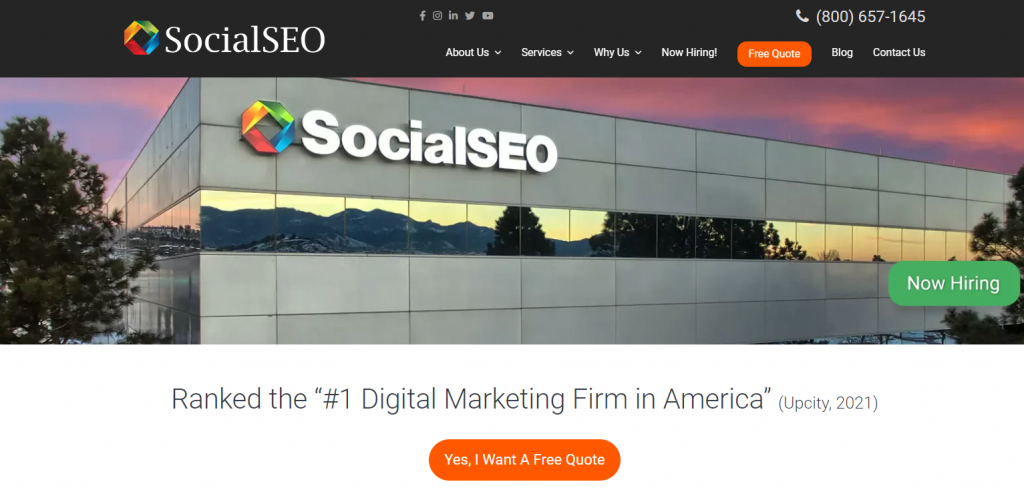 This agency has the perfect score of 5.0 in reviews. They first opened in 1996, and now they have a team of nearly 100 people. They provide help with the things they specialize in, referring to SEO, CEO, social media, videos, email marketing, and many more. If you want to learn more, you should definitely check out their site.
They drive organic traffic to your site. SocialSEO has 4 offices in total, and all of them are located in the USA. They have enjoyed a 1,000% growth in the past 5 years. They have been voted by Upcity as the number one digital marketing firm in America in 2020. You can get a free consultation; just check their site!
5. SEO Brand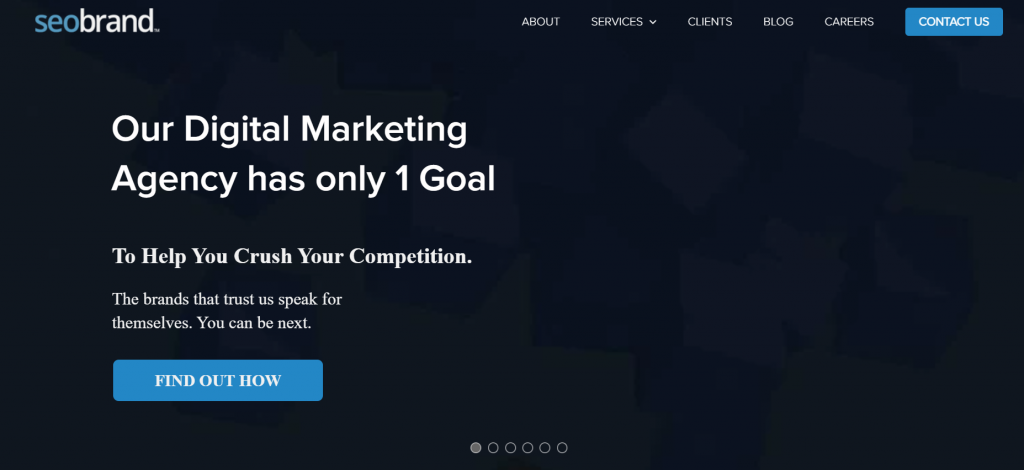 Just like the previous agencies' SEO Brand specializes in practically the same thing, with minor differences. This agency has existed for the past 15 years, and they have had remarkable results. Their experts will drive organic traffic growth to your site. They will ensure that your pay-per-click is at its lowest possible cost. Also, they write custom software solutions.
They were once one of the biggest sellers on Amazon, meaning they quite know a few things, so they have the Amazon ranking algorithm in their pinky finger; their management will create a campaign that will keep the sales ongoing. Some of the brands that they are working with are LG, BMW, Mont Blanc, Sotheby's, WillsEye Hospital, and many more.
Conclusion
I think that we learned a lot from this single article; we went through what SEM is and why it is important. But it never hurts to revise. Search Engine Marketing is a strategy used to increase the visibility of a website on search engine result pages. We listed 5 agencies that can help you do that as well.
Everyone doing business online knows the importance of ranking well, but not everyone has the time or knowledge to optimize it themselves. Because of this, the best way to succeed is to invest in a good agency, and they will bring you more traffic and more sales. In that way, what you invested in SEM will come back to you in the form of revenue. So keep going.