There are a lot of websites where you can find different content, from news to blogs. Among this wealth of information is a large amount of additional educational content. Every time you learn something new by reading a website, you get educated. However, finding information on the Internet can be a tedious task. In doing so, searching for content can easily take up valuable time.
Gathering information in such a way does not have the necessary structure in which to navigate easily. Therefore, systems have been devised for creating educational content and presenting it to students through a web service – that is, a website.
Users, through such systems, can find different educational content in one place and attend them according to their interests. The unique name for all such systems is LMS – Learning Management System. Such systems provide lecturers with a strategy for creating content in the form of courses and monitoring students through knowledge tests through quizzes and tests.
Many popular websites today use plugins to create content and boost user engagement on their websites. Therefore, various LMS plugins have been developed that increase user satisfaction and keep the user longer during his visit to your website.
1. Forminator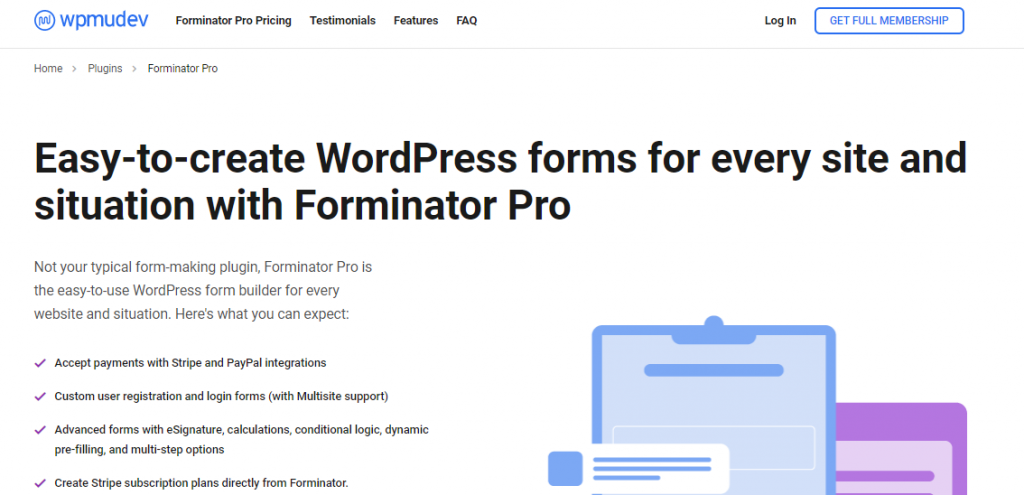 Forminator is the easiest drag and drop form building plugin for WordPress, helping to make your site come alive with interactive quizzes, polls, and forms. The latest release includes pagination for Knowledge & Personality Quizzes, allowing you to show quiz questions one at a time, or all at once.
Here's what you can expect from Forminator:
Accept payments with Stripe and PayPal integrations
Custom user registration and login forms (with Multisite support)
Advanced forms with eSignature, calculations, conditional logic,
dynamic pre-filling, and multi-step options
Create Stripe subscription plans directly from Forminator
Drive more engagement with interactive quizzes and polls
Spam protection with Honeypot, Akismet, and Google ReCAPTCHA
Unlimited notifications with email routing and conditional emails
Integrated submission management with scheduled exporting
2. WP Quiz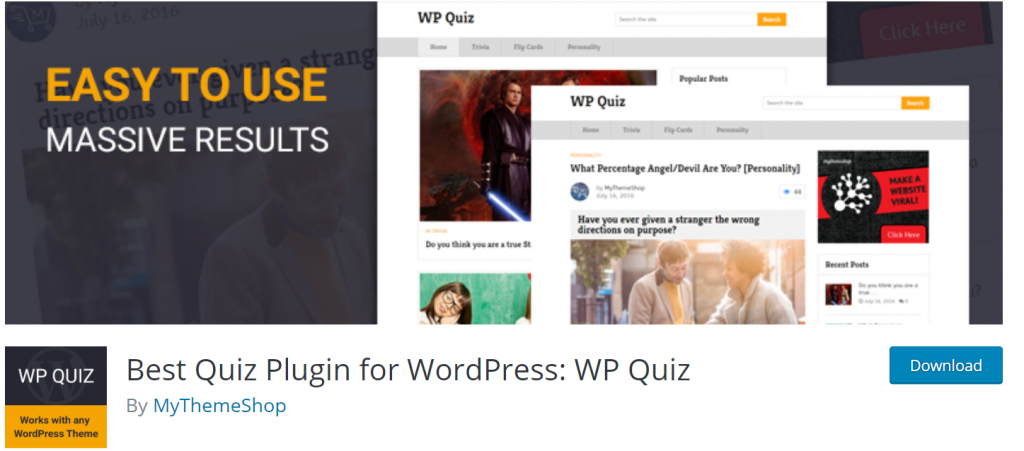 Nothing can attract the attention of users better than a good quiz. WP Quiz is hailed by many as the best quiz plugin available for WordPress. WP Quiz is flexible and easy to use. It comes with three types of quizzes: Trivia, Personality, and Turning Cards. You can add pictures to your questions and answers, allow users to restart the quiz, display the results at the end, and more.
The quiz comes with two formatting options: multi-page quiz or single-page quiz. You can automatically scroll and add social sharing buttons. The professional version of the plugin allows you to force users to view results, randomly ask questions and answers, put in a countdown, and display ads.
3. LearnDash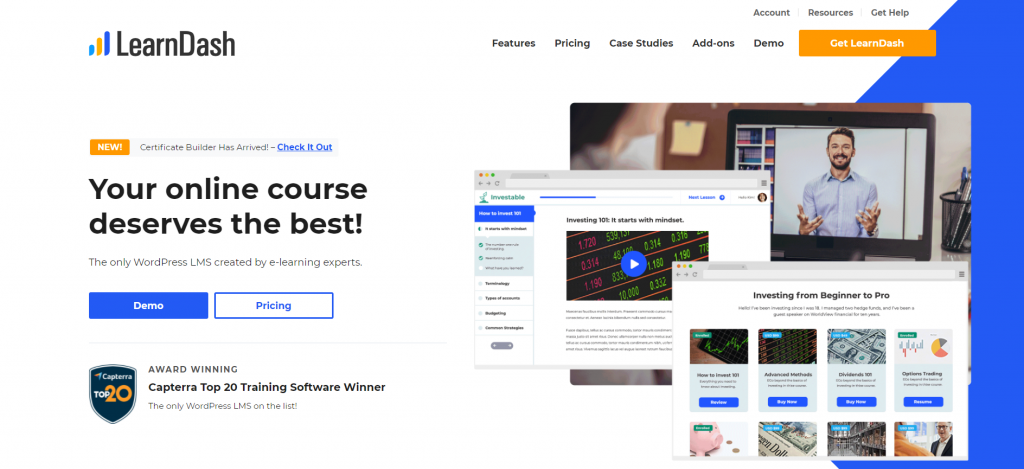 LearnDash is equipped with a powerful quiz feature that allows you to create any type of quiz you need. There are several types of questions, including single and multiple-choice, essay answers, sorting, matching, filling in blanks, and a survey. LearnDash is the most flexible plugin for all WordPress quizzes, whether you are creating popular content or selling online courses.
Some of the features included in this plugin are time-limited quizzes, random questions, multi-page quizzes, quizzes with a limited number of attempts, and more. Quiz publishing options include redirects, messages, multi-style quiz results, a high-score board, certificates, and multiple levels.
4. LifterLMS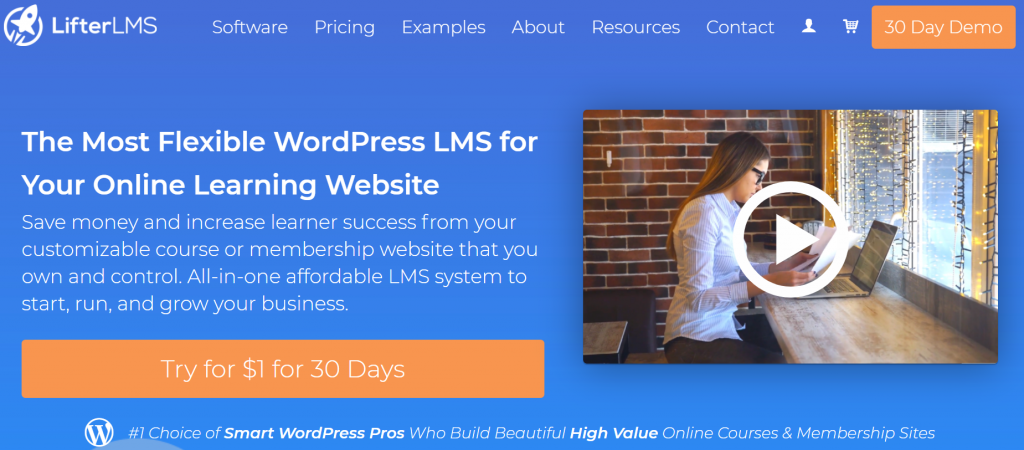 LifterLMS plugin is one of the better ones available. This plugin makes it easy for you to create and sell courses and memberships through your WordPress website. It supports integration with many popular add-ons and can link your site to other applications. E-commerce is built-in, so you do not have to rely on other plugins.
Although it has many features, and it is easy to set up and use. LifterLMS includes a detailed dashboard with settings for courses, memberships, accounts, payments, commitments, notifications, and more.
Some more of the significant features that these plugin offers are:
The possibility of creating different courses and assigning roles to members.
Integration with WooComerce.
Integration with other plugins and applications.
Easy to set up and use.
Using a payment gateway like Stripe or PayPal.
Credit card management.
Membership and course coupons.
Bulk membership and course sales, and more.
5. WPLMS – Learning Management System for WordPress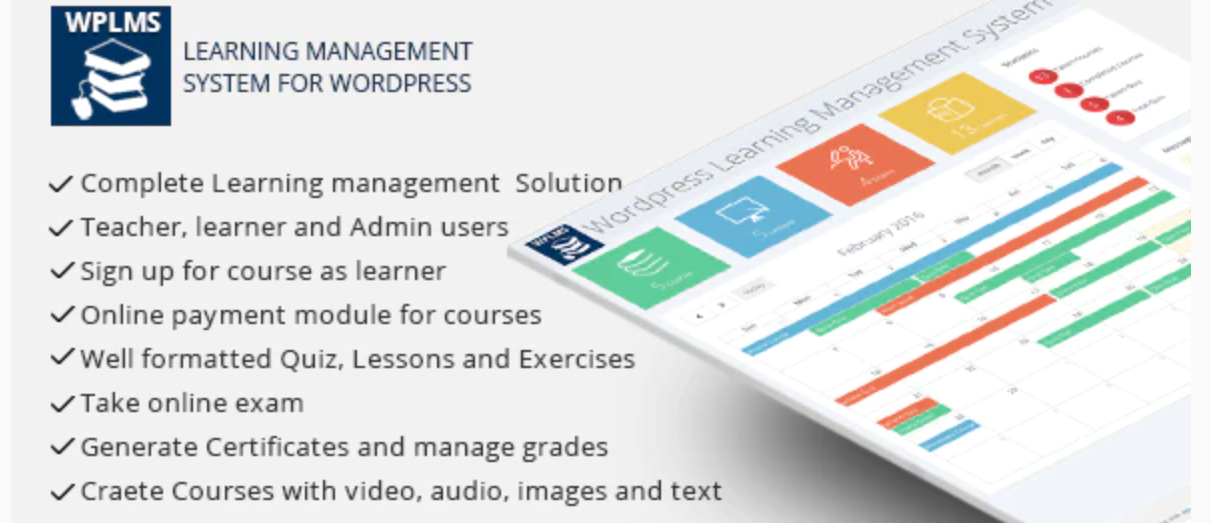 WPLMS is a plugin that allows WordPress to perform all the essential functions of an LMS – and a little more. Educators can create tasks that students can complete and (if necessary) load by managing the main account. You can include media such as audio, video, or PDF files in every lesson.
A messaging system is also included that allows teachers and students to communicate directly through the website. Students can earn certificates while completing courses successfully.
Using this plugin, you can:
Use a listing, of course with all details
Make private courses
Edit course contents and tutor details
Manage your whole learning system
Manage key details of the organization
Restrict access by View, Edit, and Delete
Restrict or allow complete access to different modules by user role
Send e-mail templates for important events
Use shortcodes to personalize e-mail messages
Integrate with Paypal
Create and manage quizzes
6. School Management System for WordPress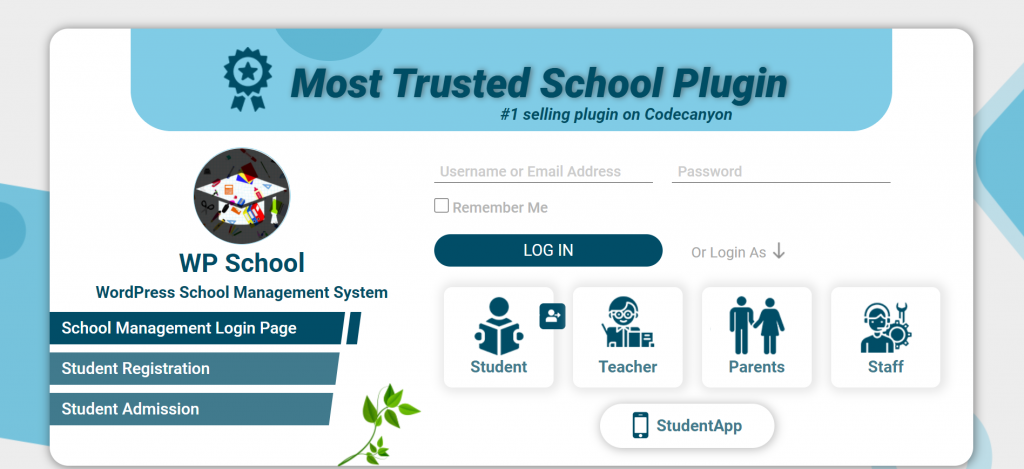 Traditional forms of communication such as paper and telephone calls are fast becoming a thing of the past in many education systems. The ability to communicate and perform school assignments online reduces costs and increases efficiency. It is beneficial to everyone because you can direct more resources towards things that matter.
School Management System for WordPress can contribute to the well-being of schools physically and virtually. You can manage every aspect of the educational institution online. Parents, teachers, and students each have their profile and account options. Also, you can send report cards online, track attendance, and generate reports to show the performance work of teachers and students.
The plugin even connects to several SMS apps, allowing text messages to be sent directly from the school's website. This plugin provides an excellent springboard if you want to create an online school or move existing school functions to the network.
7. LearnPress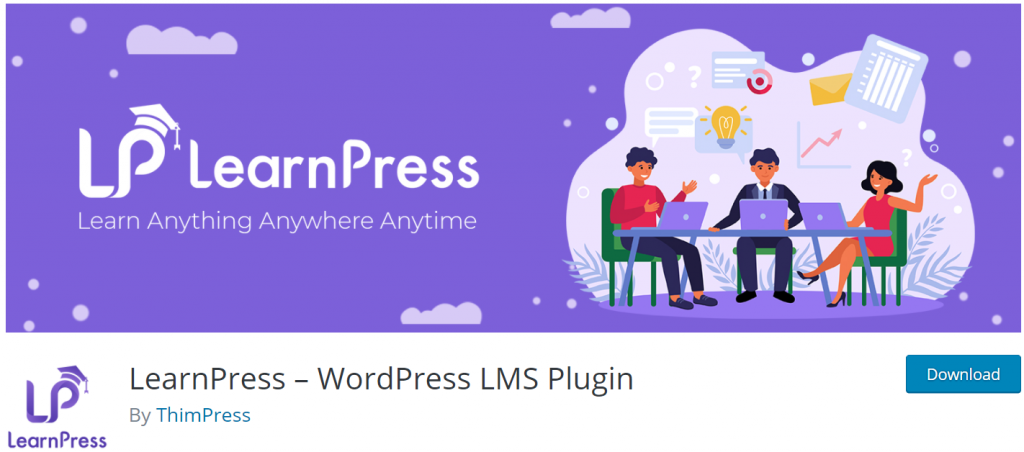 It takes little or no experience to create a unique LMS website with LearnPress. This plugin contains several specialties to help you manage and maintain online courses like the best mentors. Of course, you do not have to know how to code to take full advantage of LearnPress. In addition, everything is very self-explanatory, offering you learning on the go.
Keep in mind that LearnPress costs you nothing. There are various add-ons that you can use to expand the usability of LearnPress further. But if the free version meets your needs, use it as much as you want. Some of the add-ons include certificates, theme packages, Stripe payments, commissions, and more.
With this straightforward tool, you can get a complete LMS website ready for quick and convenient use. In addition, LearnPress offers quizzes, communication with students, inions, course sales, and more. LearnPress supports various payment methods and easily links to a premium add-on to create a subscription-based template.
8. Sensei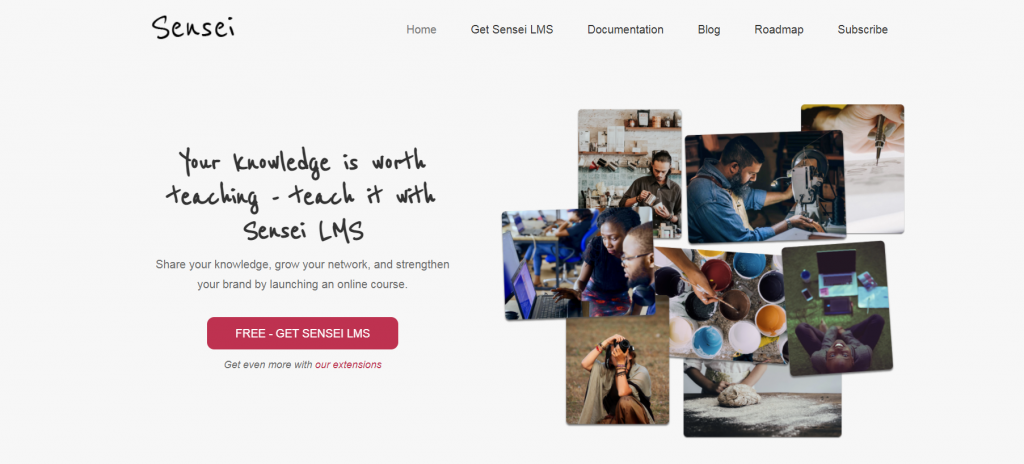 Sensei is a powerful WordPress LMS plugin created by the authors of WooCommerce. It is flexible and easy to use. Creating a course with Sensei is easy but not as powerful as in other options.
You can create quizzes, assign assignments, add grades manually or automatically, and even offer badges and certificates to students. If you want to sell your courses and accept payments, you will need to use WooCommerce. For each course, you want to sell, create a product and then link it to the course.
Most WordPress themes on the market integrate perfectly with Sensei. User registration is done through WordPress, so those familiar with WordPress can expect Sensei to be easy to learn. WooCommerce integration allows you to charge your course instantly, whether it is a subscription or on an individual basis.
Simple course analytics provides information on grading, course completion, and enrolled students. Quizzes are not special in terms of design, but there are a few templates for true/fake, single, file uploads, and multi-line tests. Sensei displays random quizzes based on a series of questions you asked before launching. Quiz evaluation can be set to automatic or manual.
Final Thoughts
As online learning continues to spread, WordPress has become a logical and natural choice for educators. Its ease of use and variety of potential benefits allow for creating a powerful medium for access to students outside of school classrooms.
WordPress, used with the right combination of plugins, can create a high-performance educational website for almost any institution. Whether you want to provide valuable resources or move an entire school online, there are many great opportunities to get started.
The learning management system is a powerful resource for employers as well. Employers can focus LMS on training and professional development, whether staffing agencies or extended schools or corporations. This powerful software combines database management with a digital framework for managing curricula, training materials, and evaluation tools. The impact of LMS is most felt outside of traditional educational institutions.
In a corporate training environment, learning management systems offer several additional features that serve a busy and professionally guided individual:
Automatic enrolment and reminders for required courses
Manager's approach to approving materials and participating
HR integration to monitor performance goals, course completion, and eligibility for employment