A common feature on almost every WordPress website is the author's bio box, usually found at the end of a blog post. It has an important role when it comes to boosting the likability, as well as legitimacy and reliability of your website.
In that way, the reader is given the ability to find out a bit more about you or your author, and it also helps you grow your social media influence as you can include links to your accounts in the author box. The author's bio box on your website can also be an additional element on the website that keeps the visitors engaged, too. In the following text, you will be introduced to the top five author box plugins for WordPress.
All of them are responsive, easy to use, and they get the job done. You will certainly find all of them truly helpful, but the decision is up to you. No matter the one you end up choosing, it won't be a mistake.
So, let's take a look!
1. Simple Author Box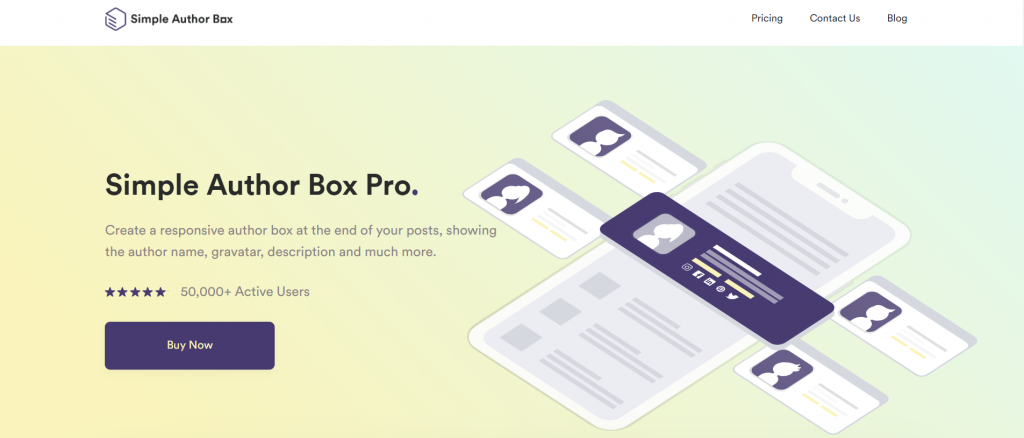 First on the list is Simple Author Box, a dazzling and easy-to-use WordPress author box plugin created by WebFactory, that provides you with a responsive author box at the end of your post. It has some amazing features in both the free and PRO version of this plugin. You get the ability to display the author's name, description, avatar, as well as links to social media profiles.
The plugin's styles are completely customizable, so you can easily match your theme without ruining the website's design. The boxes fully complement your site, and you have complete control over all customization aspects. The Simple Author Box plugin lets you automatically add an author box to all your posts, but you can also add it manually in your template files if you like.
The great thing about it is that you can add a guest writer to your post without creating a user account. You can also assign several authors to one article. The plugin also supports AMP and RTL. It looks great on desktops, laptops, mobile phones, or tablets. It's also great for guest posts and guest authors. You should definitely try working with this one.
2. Author Bio Box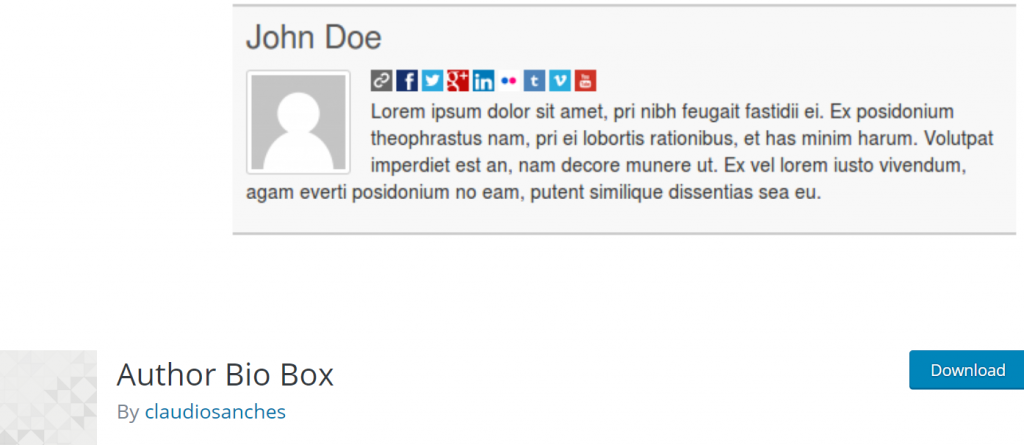 Author Bio Box is one of the free WordPress plugins that allow you to display a box that contains the author's biography. You get to choose among various options for adding the box on your posts or your WordPress homepage. You can edit the display of the author box however you like, so it is easy to adjust it for viewers.
It has some great features, such as an inbuilt shortcode, different border styles, the ability to resize the gravatar, and it allows you to customize colors and style. It's handy, and you can do a lot with it.
3. WP Post Author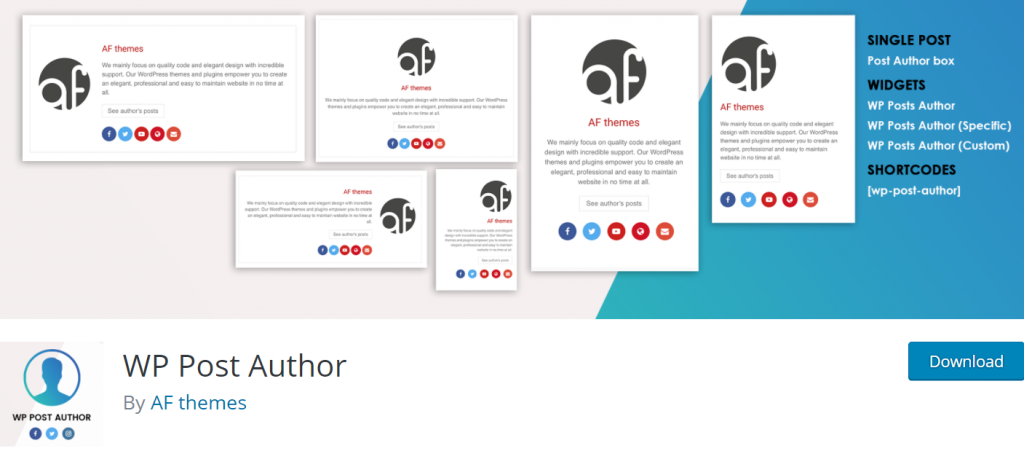 WP Post Author is another free WordPress author bio box plugin that allows you to display an author box on your WordPress website. It gives you many options when displaying the bio box; for example, you can add the author's photo, the author's role, name, e-mail address, and a short biography at the end of any post on your WordPress website.
You can also add icons of social networks, so your author gets his popularity boosted by gaining followers the easier way. You can choose which elements will be shown in the box and which elements will remain hidden. Those are some useful features, and in addition to them, it's also shortcode and widget ready.
4. WP About Author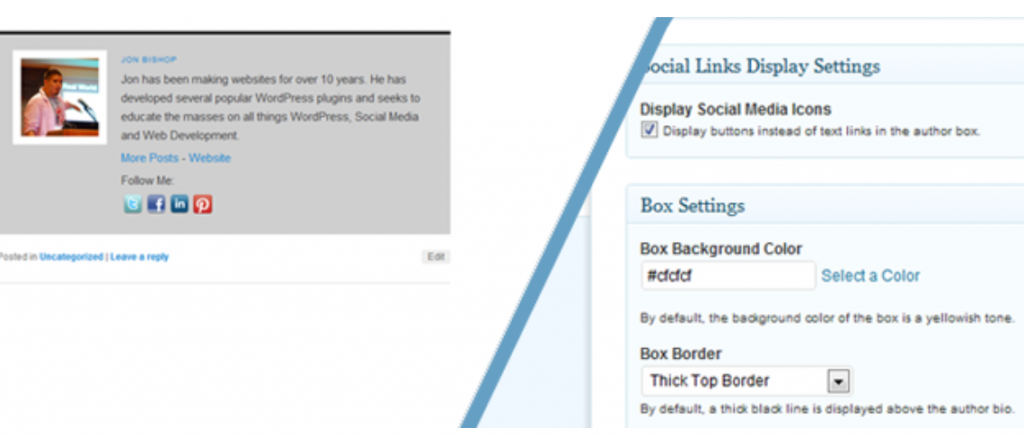 WP About Author is a plugin that allows you to add an author bio at the end of all your posts. It is easily customizable. You can change the background color with a color picker or change the size and shape of your avatar.
You can also display icons or links that lead to the author's social media profiles, and that can be useful for your author to gain followers and popularity. That way, your website gets more visitors. Also, you can pick from three border styles to match any theme you're using. With this plugin, it is easy to adjust the author bio to your website.
5. (Simply) Guest Author Name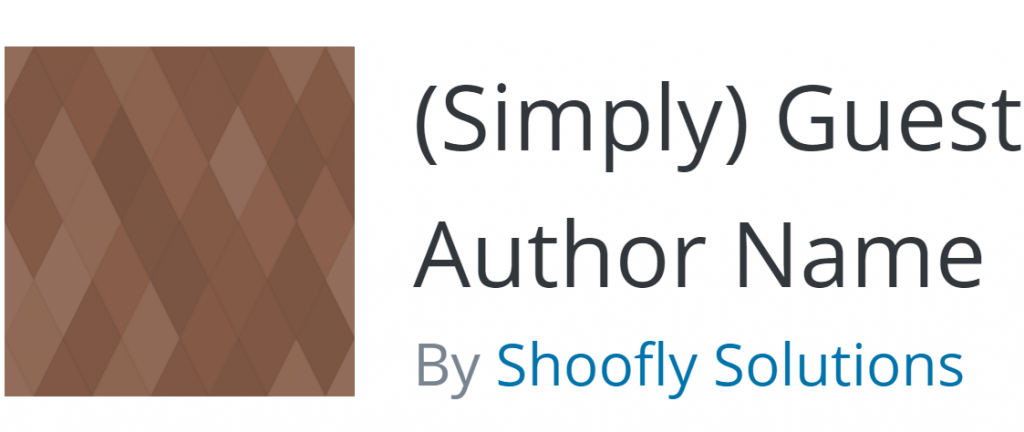 This is another great WP plugin that gives you the ability to add a guest author to your post. You can also add a link to the author's blog. It becomes so easy to add a guest author to your posts with (Simply) Guest Author Name. It also allows you to create a description, add an e-mail address and an avatar, as well as a link for the author's name field.
Some of its best features are saving and reusing guest authors, adding guest authors in your posts, creating custom URLs, uploading guest author's images. You can also filter all posts by guest author and make shortcodes for the author's name, link, and avatar.
FAQ

What is an author box in WordPress?
It is a box that can be found at the bottom of your blog post. It gives you information about you, your WordPress website, and more. You can find an author's short biography there. It can help you with exposure both for you, your brand, and your business in general.
Why should I add an author box to my website?
Adding an author box to your website can help your users to find out a bit more about authors on your website. It also helps the author to boost popularity and interact with readers more. It is also way easier to build credibility among users when they can see the actual person behind the content on your website.
How do I add an author box to my website?
There are basically three ways of doing this, and depending on your skills and needs, you get to choose which way is the best for you. You can either choose a theme that already has an author box, edit your theme's code, or use WordPress plugins. It is all up to you.
Final Words
So, to sum it up. Author boxes added to your website are useful in many ways, and they will indeed help you boost your website's authenticity. They boost your website's authenticity in the following ways; content gets more credibility, and your readers trust you more. That's why you should consider adding an author box to your webpage in the first place.
Furthermore, the author himself can gain a great number of new followers – since his social media profiles get linked to a certain post on the website. Readers get to connect with you and your content in a more quality way, and that is probably exactly what you want for your business, right?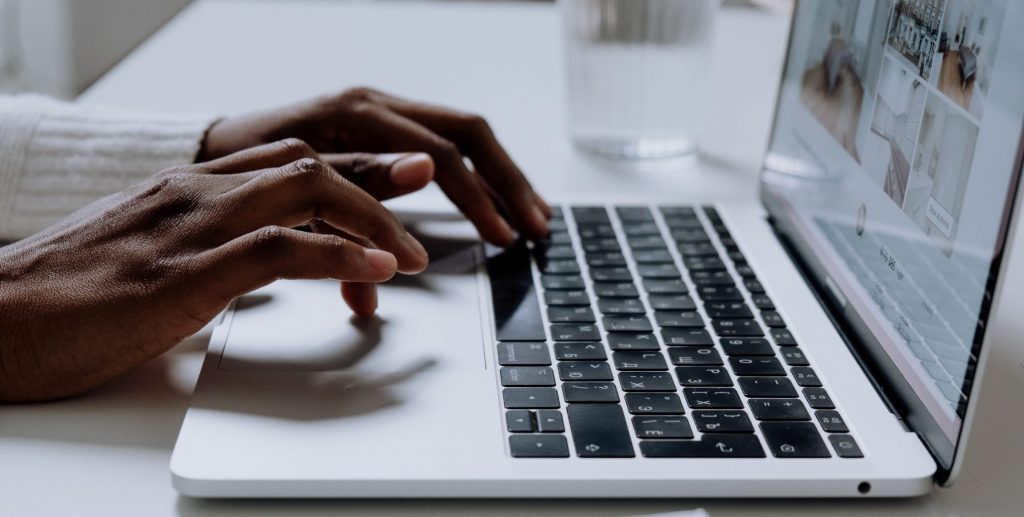 Many plugins allow you to add the author bio box to your website quite easily. You have the top five plugins for adding author boxes to your website listed above, and all of them are really easy to use and customize. They all provide you with some amazing features. You can check them up a bit more and decide which one suits you best.
But still, Simple Author Box is certainly worth highlighting. It really has the best features on the market, and it is surely a plugin you want to try using on your website. Compared to the other plugins, Simple Author Box provides you with some additional ability to customize your author box, which is great since you can use it the best way.
There is also a PRO version available, and it comes with the best features. Using Simple Author Box is certainly the best choice for you if your website is all about writing posts.
You can, however, visit the official webpage to get more information and see why this is the best option after all. Hopefully, this article will help you realize why author boxes are a great addition to your website.
We hope that you found the information in this article helpful. Good luck with finding the best plugin and adding an author box to your website. You will surely see the improvement, no doubt!