At first, being a simple network of computing devices that performed simple communication and data exchange,  the Internet has turned into the main hub for many human interests and affairs. Be it the marketing of your business or an idea that you want to share with the world, the best place to do that is the Internet.
WordPress is a platform meant to help people make their websites regardless of their knowledge when it comes to web development or coding in general. Everything is handled through plugins and drag-and-drop elements. Another of its advantages is the time it takes to get the site up and running. If you decide to take the plugin and drag-and-drop way WordPress offers, you could have a finished site much sooner.
Let's say you want to branch out from major platforms like YouTube or Vimeo, or you simply want a private space where you can upload your content. Maybe you want to start your private blog from the get-go. Whatever your reasoning might be, the first thing that comes to mind is making your own website.
Making video content that is appealing to a broad audience is in itself hard enough, and having to worry about how to make a website from scratch that will host mentioned content is not really helpful in that situation.
From figuring out the site's layout to its actual implementation, the site-making process does take some time. Meanwhile, as you you are adding some finishing touches to your site (or some parts of it), you want to communicate to your visitors what is happening effectively. The most common way is to make a "coming soon" page (also known as "under construction" sites), and luckily WordPress has plugins that help you make such pages.
UnderConstructionPage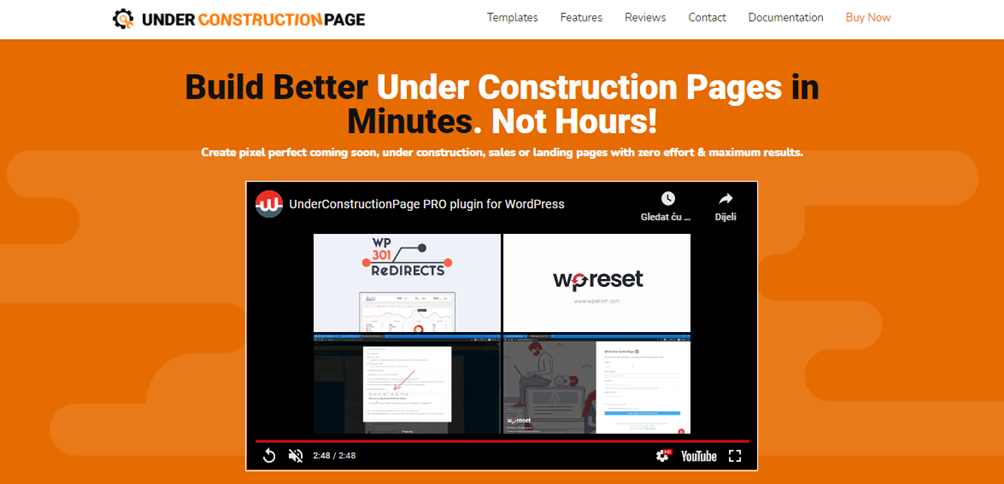 One such plug-in is UnderConstructionPage (UCP in short), a tool used by many happy users (by over 500 thousand users, to be precise) and with over 5.5 million downloads. As the developers of this plugin have highlighted, your time is valuable. With that in mind, UnderConstructionPage is a tool made with no room for unnecessary options. It is still feature-rich with all the necessary things there for you, helping you easily make under construction sites.
In other words, sites that communicate clearly to visitors that some maintenance is underway or that some changes are done to the site at that given point in time. You can make your custom "coming soon" page or build it by using a plethora of ready-made templates. For starters, we would like you to talk about some of those templates, then present the UCPs feature set, and answer some Frequently Asked Questions.
Templates
UnderConstructionPage has quite many templates ready to be used. With over 260 templates, there is a high chance that you might find the one just right for you. Let's say you are in the video-making business. You make vlogs or fill some other niche in the video content-making space. Then this plugin has some templates that just might make your job easier. It is quite convenient to have pre-existing templates. You choose a template that fits the theme of your site and simply use it.
Oh, and before we forget, if you add some element to your site like a button, you can customize it to your needs. Like the design, but not the color of an element? Different users have different ideas and visions for their projects. As such, you might want to make an under-construction page that thematically fits your website or simply want to add some personal touches. Don't worry, UCP allows its user a great level of freedom in regards to customization.
Social Media Marketing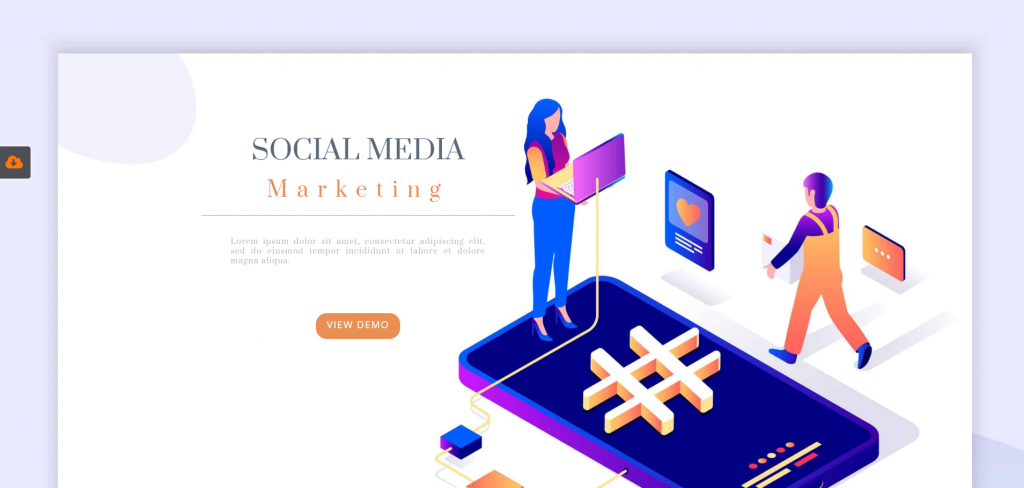 Nowadays, it's impossible to imagine everyday life without social media. Knowing that, it is crystal clear that the more effective way to achieve great results in the marketing business is through the use of social media as a marketing platform. If you want to market on social media and plan on using videos from your site to do so, you can easily put up a "coming soon" page featuring both elements.
Webcast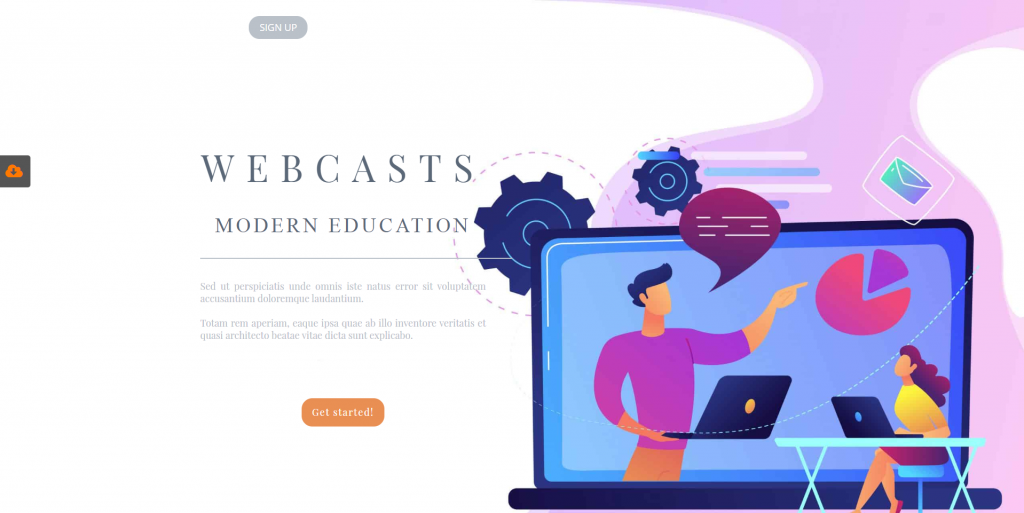 A webcast is a video presentation that is delivered over the Internet using digital media technologies to multiple simultaneous listeners/viewers from a single information channel. A webcast can be delivered live or on-demand. Webcasting is essentially "broadcasting" over the Internet.
So as the name of this template might suggest, if your field of business is video content-making or live-streaming, then this template is just right for your website when an under-construction page is needed. You can add a video on your page that can further explain things to your viewers.
Options menu
In this section, we will describe the first three options this plugin offers, seeing that you will work with these most of the time. Once you click on UnderConstruction (with the red dot, as is shown in the picture below), you will get to this page with options that allow for the customization of your page.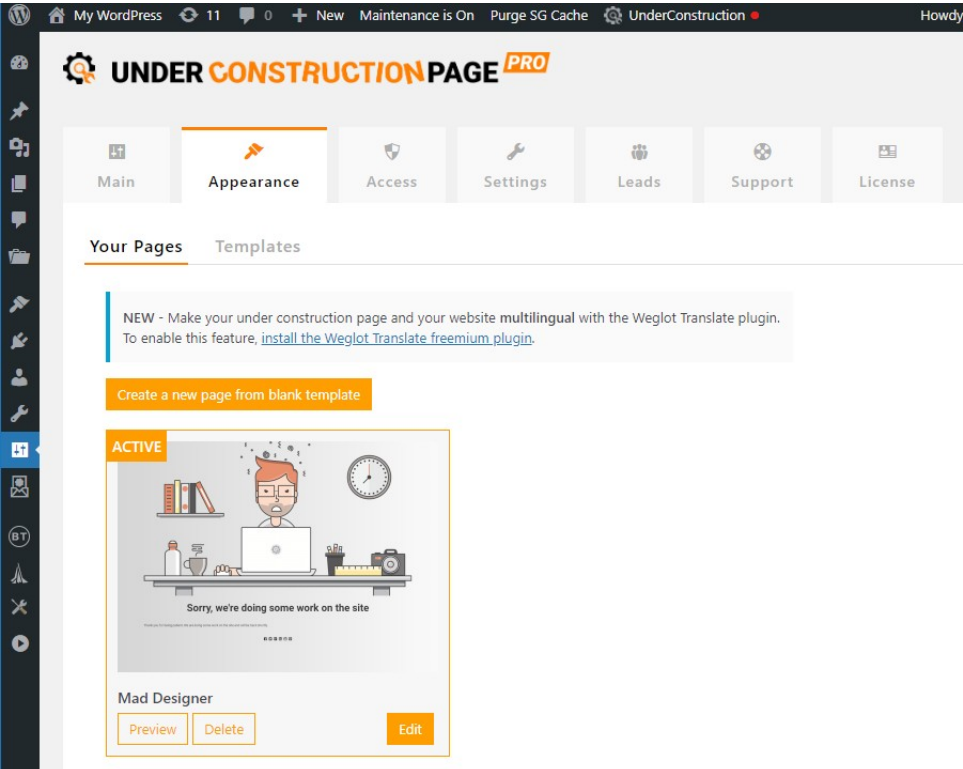 On the Main tab, you will be offered three options. The first is "Under Construction Mode," which, when enabled, blocks regular users from viewing the site, and they are greeted by the "under-construct" page. The second and third options are there to automate this first option. You simply pick a start and end date-time and then let the plugin do the rest.
The Appearance tab (shown on the picture) contains the options in regards to the customization of the page layout. You either choose a template or create a new custom one. The template editor lets you choose from headers, images, videos, countdown clocks, and many other elements that can be edited.
The Access tab gives you control over who can view the site normally and who is seeing the "coming soon" page. By default, you are viewed as an Administrator and have greater control over the site. You can also choose which users or IP addresses are going to be whitelisted, and as such, have normal access to the site.
Features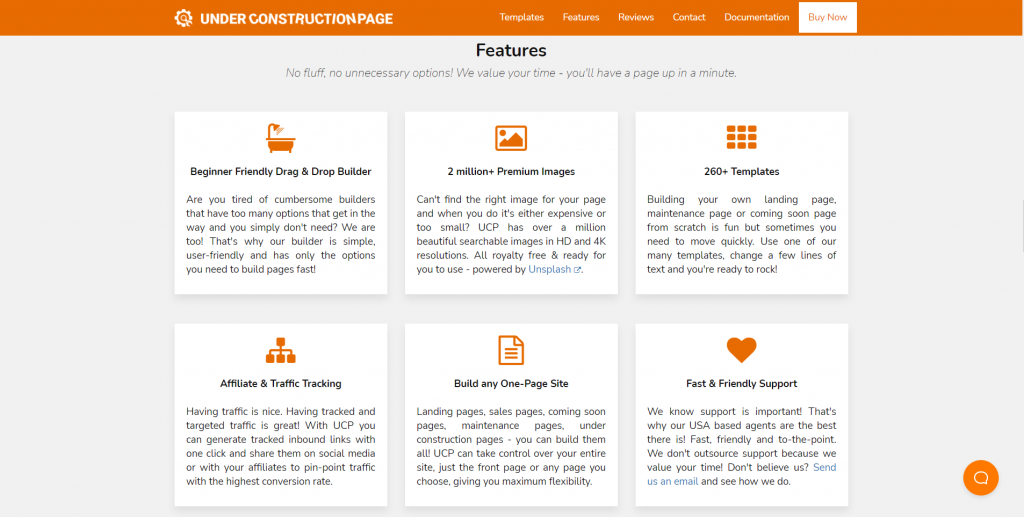 The developers wanted to make a plugin that offers an easy-to-use and comfortable workspace, helping you to build an under-construction page for your website quickly. Being bombarded with an array of features that you have no clue how to use is counterproductive.
The time spent on figuring out how something can be better used on content creation. Only necessary features are included with this tool, so let us talk about some of them.
A beginner-friendly Drag and Drop builder
UnderConstructionPage is built with simplicity in mind. Don't worry that this builder tool might have too many options. Some builder plugins overdo it with the set of options they offer for under-construction page building, leaving the user confused about which one to use. That is not the case with this plugin, as it offers essential options for a smooth and easy-to-understand page-building experience.
Over 2 million Premium images
Finding the right images for your projects can be a tiresome undertaking at times. They are either not free or have poor image quality. Do not worry because this plug-in offers over 2 million royalty-free images in either HD or 4K resolution. Just search what kind of image you need, and UnderConstructionPage likely has you covered. Unsplash powers all images.
Traffic  Tracking
Having traffic is one thing, but having targeted traffic is even better! UnderConstructionPage, one can generate inbound links that are tracked. You can share them with one simple click on social media or those you are affiliated with and therefore generate traffic with a peak conversion rate. And let's not forget, the higher the traffic, the better the view count on your content.
One-Page site easily build
Maybe some parts of your site are undergoing maintenance, or maybe you have some projects you want to share with your viewers in the near future. All these things can be communicated by redirecting your viewers to an appropriate page that shows that information. This tool allows you to build such pages with ease, proving just how much UnderConstructionPage helps you with that.
Support
Should you ever get overwhelmed in your page-making process or something goes wrong, simply contact support. The team behind UnderConstructionPage is aware of how important support is and promises to act friendly and fast in case you need their help. Maybe there is some problem with the video player on your page, or some of the other elements behave unexpectedly. Just contact them via email and tell them how they can assist you.
FAQ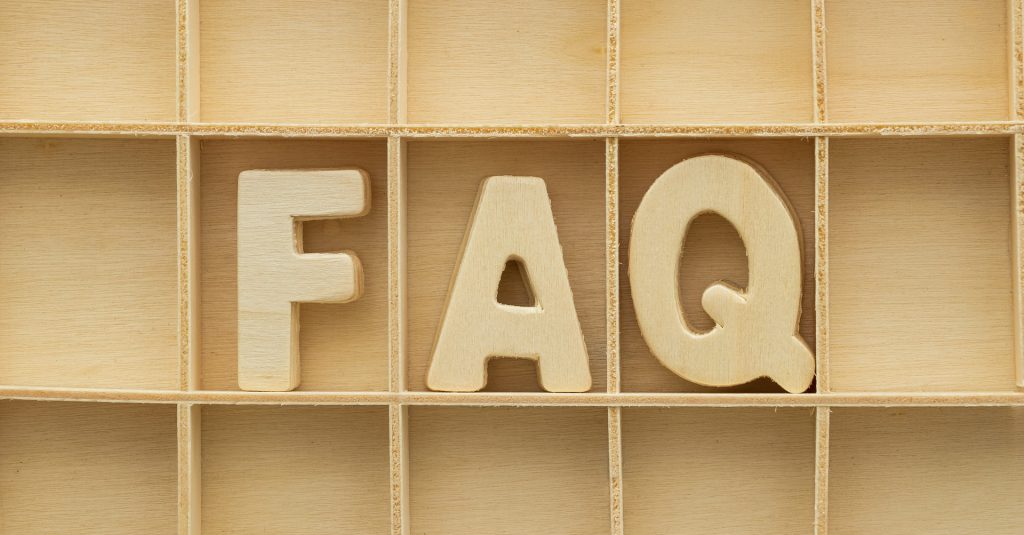 Why should I use UnderConstructionPage on my video blog?
The answer is simple: Making sure your visitors are always up-to-date with what's going on is essential, which makes coming-soon or under-construction pages vital. And with UnderConstructionPage, you can create a customized one and add full announcement videos or just snippets to pique interest.
Will UnderConstructionPage slow down my website and video loading speed?
The developer team assures you that no slowdowns will happen, and for a good reason. Pages built with UCP are lightweight and won't make your sites laggy or make them feel slower. The same goes for videos. They'll load easily and with no problems at all.
Can I do all of this with the free version?
You can do some of it, adding a video to a coming soon page; yes, you can. However, other options are more limited. So, we do recommend you upgrade if you truly want a stand-out page, as even the PRO version of the plugin is reasonably priced.
Conclusion
It's a good thing that plugins like UCP exist to help you. If you are working on your site and want to properly communicate with your audiences that it will be off-limits for a short while, then UCP just might be the tool for you. With a great selection of templates ready to be utilized, a "coming soon" page can be up in no time.
Just think about it. Instead of painstakingly sitting down and writing code, you just choose from a vast collection of pre-existing templates that suit your needs.
If you want to give your site more of a modern feel, you can add a video background. In other words, you find a suitable video loop and set it up to serve as the background of the website. A site like that does radiate a special kind of energy!
One neat thing about UCP is that it allows you to add videos on a coming soon page. That means even if the site is not quite finished yet, you can put an introduction video that explains what kind of content you make, what niche your content belongs to, and maybe what some future plans for the site might look like. It's up to you how you will use this functionality to your advantage.
We hope that our review of the UCP plugin brought you some clarity when it comes to choosing the right tool for your future projects.