Ah yes, the Internet. The central hub for both information and entertainment. Ever since it reached the masses, it has become an irreplaceable part of everyday life for hundreds of millions of people. The Internet is the perfect place to start something of your own that could change your life, just as it could change the lives of the people you want to reach out to.
As an example, many people have started blogs, in other words, sites on which they post original content right out of the creative parts of their minds. And, of course, there is no telling what one could do with a blog. Thematically any questions can be approached and shared with people who share their specific interests.
In recent years a specific type of blog has increased in popularity. By recent, we mean the period around the mid-2010s. Thanks to big platforms like YouTube, which have seen a spike of vlogs then, people have found a new way of sharing their thoughts and reaching out to other folks.
Video blogs or Vlogs, in short, are sites specialized in hosting videos as their main form of content. And their popularity is easily explained. Nowadays, people don't have the time or patience to read texts that span across many pages.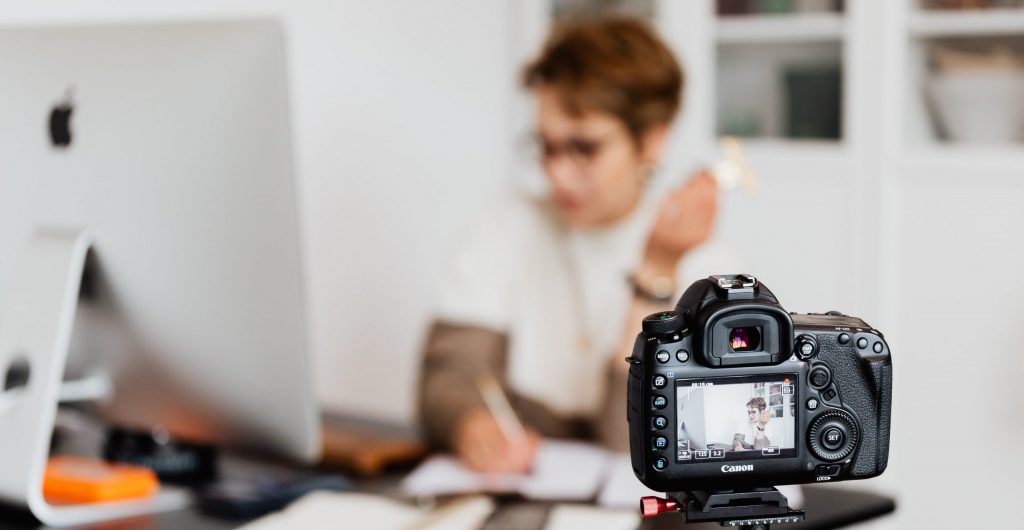 So having something that one can just turn on and let play in the background while working on something else is a big plus.
Be it for educational purposes or simply giving an insight into your day-to-day life, it's up to your vision what kind of vlog you want to make. And let's not forget one important thing here, if you play your cards right, you can monetize your content.
Now let us talk about some tools that could help you on your vlogging journey. The easiest thing for non-techy people is to make a WordPress site. You don't have any programming knowledge since everything is handled through plugins and drag-n-drop elements.
These plugins can be a great help in handling things, like, let's say, connecting your site to many video services, or give you great insights in regards to important metrics like video analytics.
Best plugins for video blogs
1. UnderConstructionPage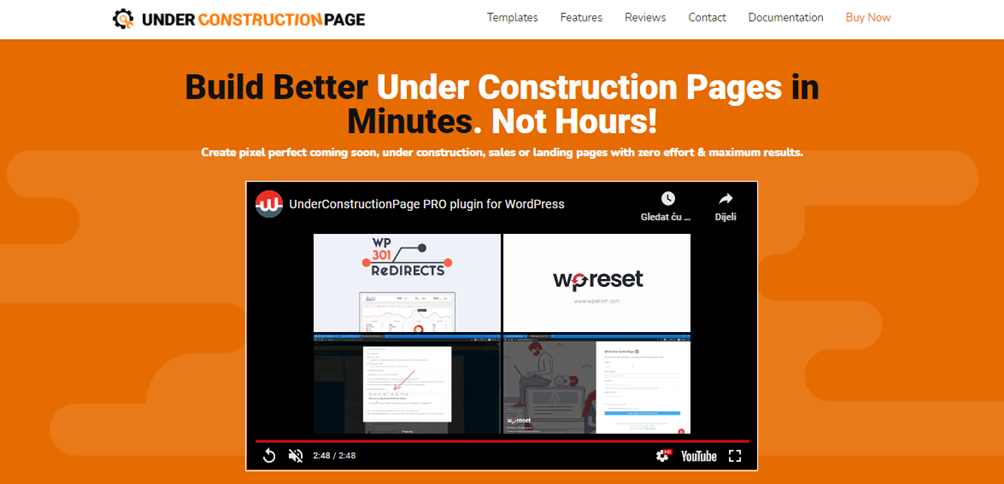 UnderConstructionPage is a plugin meant to help you create under construction and coming soon pages with ease. You are given a workspace where you simply drag-n-drop elements you want to have on your coming soon page. Of course, all those elements a customizable. There is a great number of templates already there to speed up the creation process.
Maybe you want to open a shop that sells sports equipment. Then you might want to use the Sport Shop template. Maybe you are specialty is architecture, so there is the fitting Architecture template. Or you are a person who loves and vlogs about technology, and of course, a template is already made for that purpose.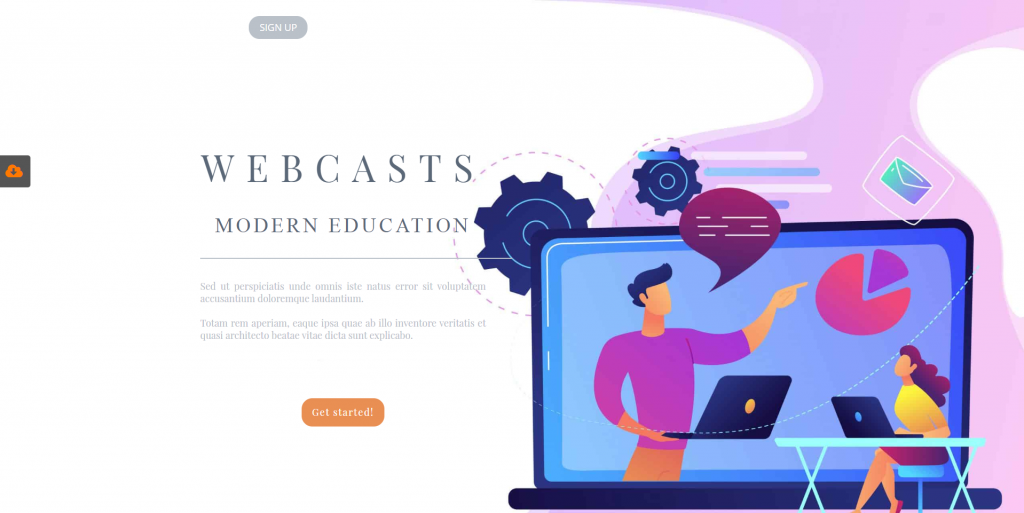 Videos can be shown even before the site is finished. If you want a nice background picture, then this tool has you covered with over 400 thousand free images. You can track Google Analytics with it and also use powerful services like MailChimp for automated emails.
They also have also a cool autoresponder system. Should you be troubled by something, Under Construction Page's support is there in your time of need.
2. WP Sticky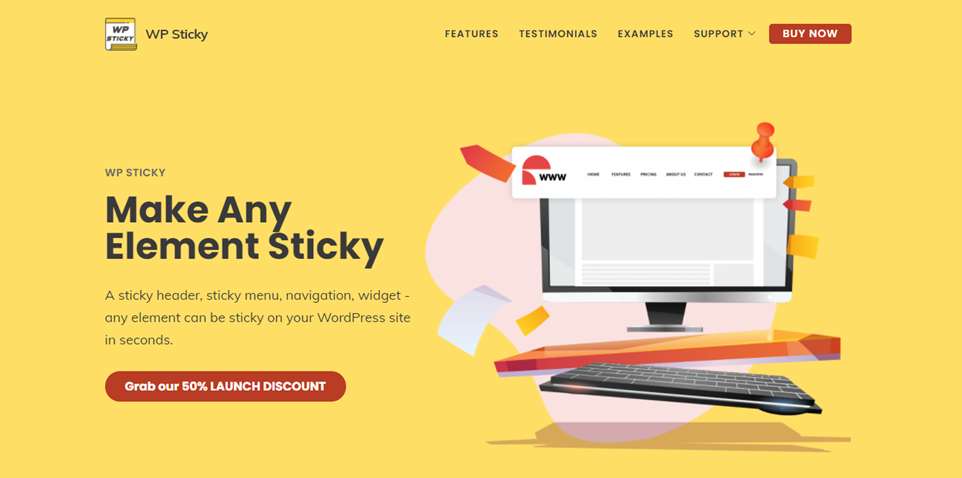 With WP Sticky, you can make any element of the site sticky. Now a good question would be what that even means. Simply put, a sticky element follows the users as they scroll. As the name would suggest, it's like those elements are glued or stuck and simply move as the user scrolls.
Keeping that in mind, this would be great for a vlog. Just picture this, someone comes to your vlog and starts a video, and instead of the user needing to wait for the video to finish to move to another, you simply make a sticky video element (a video player), and as long it's active it will follow the user as they browse the rest of your page.
A neat little feature. You can also link sticky videos to this site.
3. WP Reset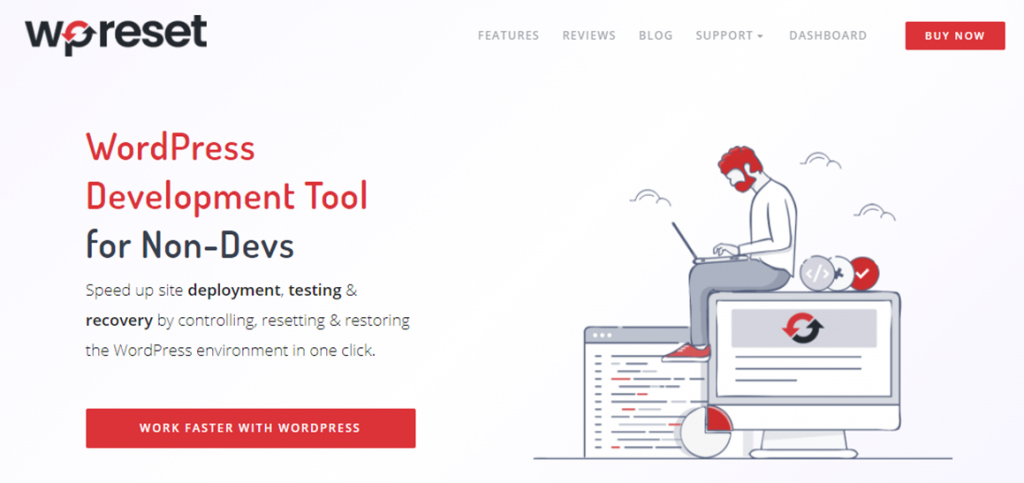 WP Reset is a helping hand to those who have no clue about programming. Having over 200.000 users is quite telling when it comes to customer satisfaction. Plus, this tool sports some powerful features.
Time Machine
Sometimes what can happen is that you update your plugin, and everything falls into chaos. With this tool, you just take a step back, and with simply 1 click, restore how it was before.
One-click plugin installation
You might be somebody who already has a list of favorite plugins and themes. Having that in mind it WP Reset allows you to install them all at once if you have done a reset of your site or when a completely new site is made.

Nuclear Reset
Sometimes you just need a clean slate. You want everything gone in regards to data contained on the site. Well, just nuke it. You just hit the Nuclear Reset button, and everything is gone.
Automatic Snapshots
Now and then, this plugin will take a snapshot of your site, and we're not talking about neat little pictures. In this context, we mean that it will remember the latest state of your site so that you can easily recover should something happen to it. Did you make some important changes? A snapshot is automatically made.
Cloud Support
Important data and snapshots can easily be stored in cloud services that are controlled by the WP Reset team, or you can choose to use popular cloud services like Google Drive or Dropbox.
4. YouTube Gallery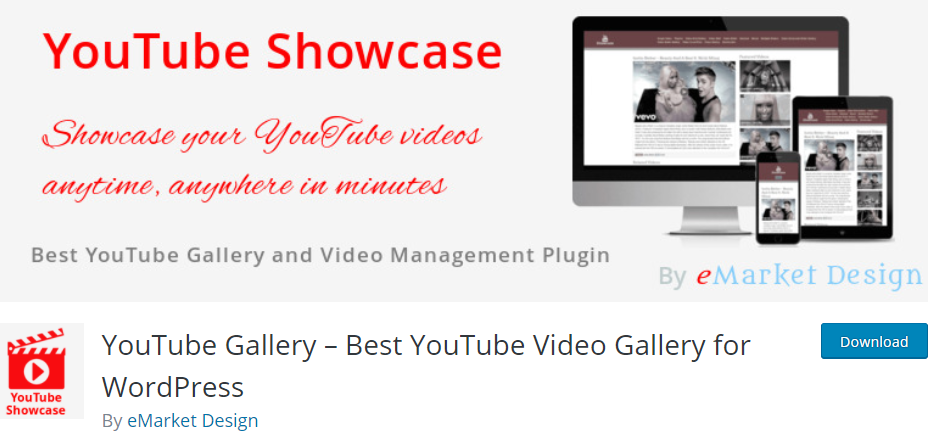 This is a plugin designed with simplicity in mind. It allows you to easily display video from YouTube in a grid view or as a gallery directly on your site. Every single video gets its page, and WordPress comments are enabled from the get-go.
You simply enter the YouTube Video ID (that's the string of 11 characters that uniquely describes every video), and a page with that video is automatically created.
Right after the plugin's installation, an assistant will appear to help you set up your site.
There are two gallery options:
Youtube Video Gallery – video title displayed at the bottom, optimized for mobile displays, latest video shows up first.
YouTube Video Grid Gallery – custom video gallery building, the option to add content excerpts, fully responsive
5. YourChannel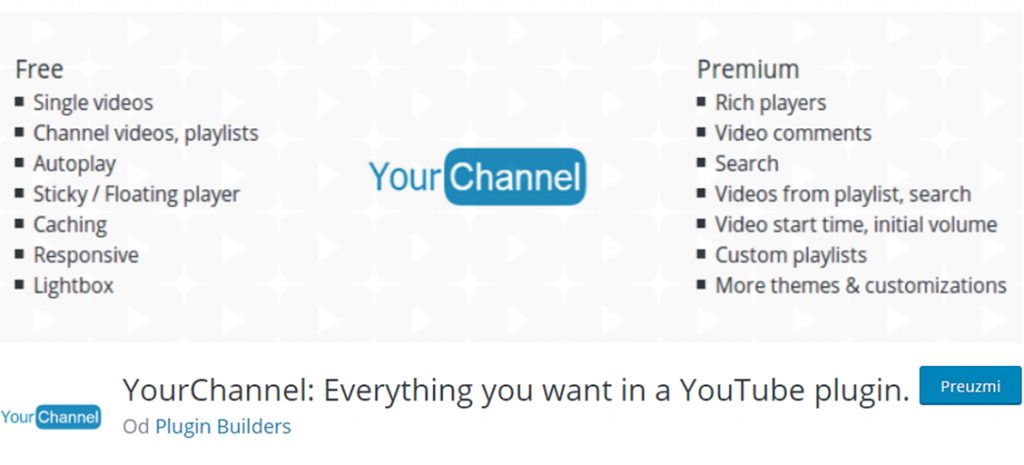 For all those who want to migrate their content from YouTube to their site, here is something for you. This plugin will set up your channel, on your site, by simply providing your channel ID or username. It has a free and a premium version.
Here is what free users get:
Display your profile picture and channel name
The total number of views and videos
Single videos and playlists
You choose what of the above mentioned is displayed
Pro-user, of course, get more, but here we will list just a few things:
Making custom playlists by entering video IDs
Display videos from playlists or search terms
Display of comments
Some of its features we want to highlight are a visual builder with a live preview, the autoplay option, and a caching system to speed up uploading.
6. Simple Author Box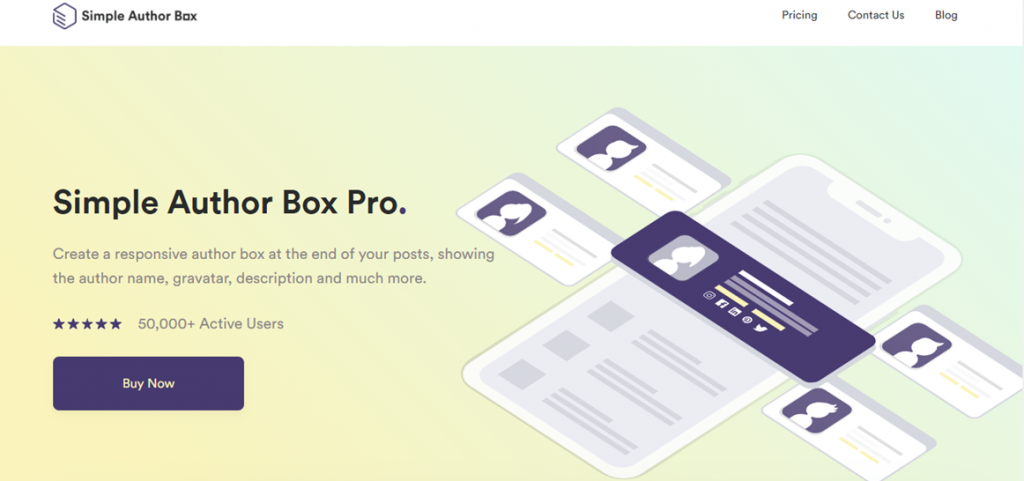 Simple Author Box is meant to help when it comes to author contribution. Let's say you have guest authors. Now you can simply assign posts to them and make it easier to contribute. You can also assign posts to multiple authors at once and properly credit everyone.
Both of the options are included in the free version. If at any point you need help, don't worry. This plugin has great support. They're here to help you out.
7. WebTotem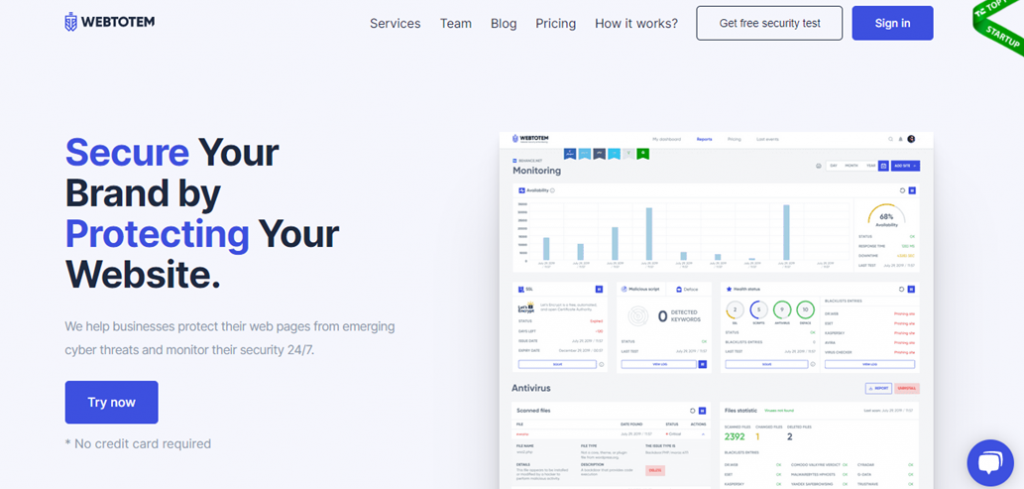 Having a site can be stressful, especially when it comes to its safety. Now let us introduce you to WebTotem, a tool designed to offer comprehensive security monitoring and serves as a defense platform to protect your data and site.
It is crucial to take care of data leaks and breaches long before they could happen. With this tool, you should be protected against the newest threats. You don't want unwanted access to your site. You want to block it.
You know the needs of your site, so adjust your security to them.
8. Warm Welcome

To be on the Internet means to go with the times and be up to date with trends. For the longest time, business cards were used to present your business. However, they tend to get lost easily is frankly a remnant of a time past in this digital age.
Now, just because business cards in the physical form are outdated, that doesn't mean that the idea behind them is bad. Knowing this, we have here a paid plugin that serves as a digital business card.
It is a video business card with site bubbles to allow a direct reply and help to start a conversation. This one was made to help you build trust with your audience, so it might be for you.
9. Tyle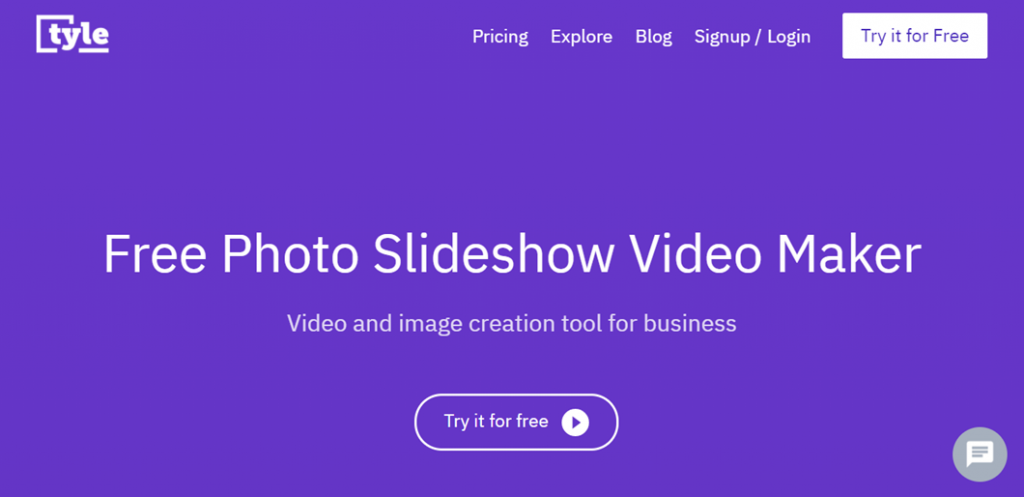 Making videos is a great way of communicating and bonding with people, but the video-making process is all but an easy one. Tyle is a plugin made to help you make high-quality videos. It gives its users access to over three million stock resources to make impressive videos.
You can also adjust your video's design to your needs and boost its visibility on social media.
10. Video Importer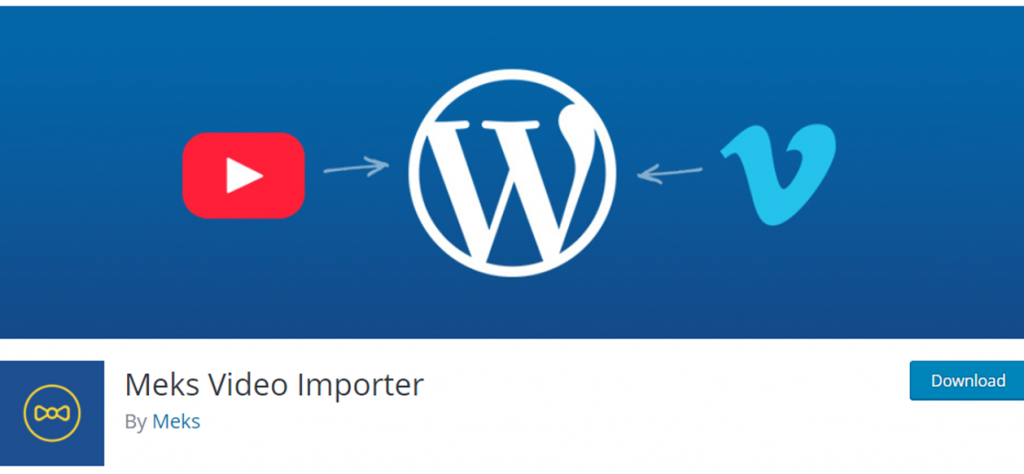 Maybe you have a whole backlog of videos on services like YouTube and Vimeo. Now you want to import them to your site. But doing that with one video at a time would take ages to complete. This is where Video Importer comes in.
It allows you to execute bulk imports of all your videos, making your life easier.
Conclusion
Making quality content, making sure that the site looks good, that its data is safe from breaches, and much more, that is the responsibility that comes with having a vlog website.
Being in charge of a vlog site can be challenging at times, but we hope that our list of plugins will help you in your vlogging career.