Business VoIP providers generally offer voice-over IP phone service to all types of businesses. This provider will allow you to make and receive calls either on your computer or mobile device. This has proven to be a highly cost-effective and stable management solution, regardless of how big your business is.
By adding this service to your business, you can make communication better with your customers, which can sometimes be more useful than filling out an online form or having a live chat. Here are some of the best VoIP services for businesses.
Great customer service goes a long way when it comes to advancing your business, but so does a well-rounded website.
So, if yours is in need of a facelift, check out WPMU DEV. WPMU DEV's all-in-one WordPress platform combines multiple tools and licenses into one. It makes it easy for anyone to create and manage a website. Get 20% off any of their plans.
Nextiva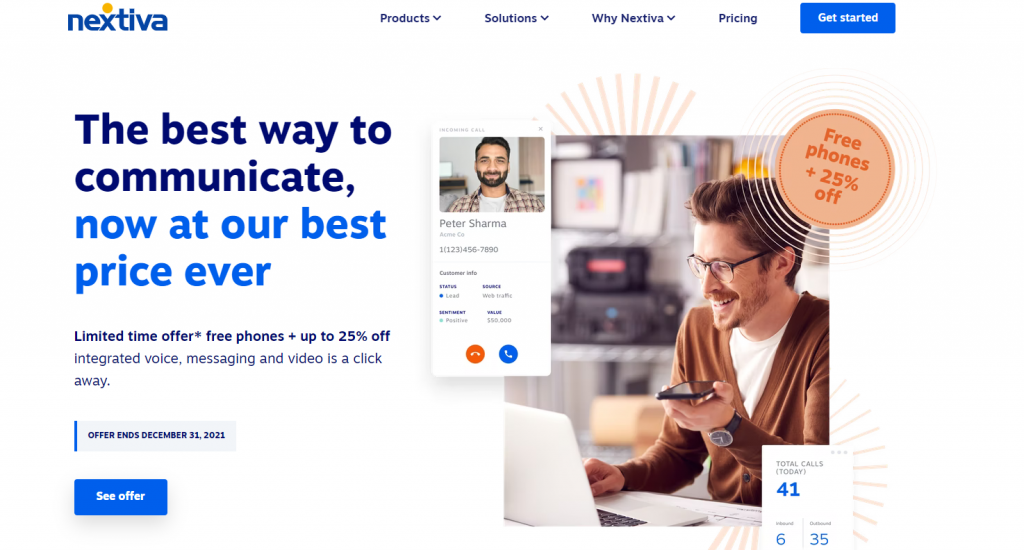 Nextiva is currently the best VoIP service for businesses that's available on the market. They offer a simple and easy-to-understand system, yet with lots of powerful phone systems for your business. Using Nextiva service is actually pretty easy as it provides a user-friendly dashboard that allows you to easily navigate through your calls, emails, voicemails, etc.
One of the best features you get with this service is an auto-attendant that automatically greets your callers and helps them choose the right person they're trying to reach. This service is trusted by several top businesses such as Taco Bell, Conan, Ashleys Furniture, and similar.
If you decide to use this service, they offer different prices for a different number of users. You get to choose the most suitable plan for 1-4 users or more than 100 users. However, the price is lower if you have more users, and the price is as low as $39.95/month per user.
RingCentral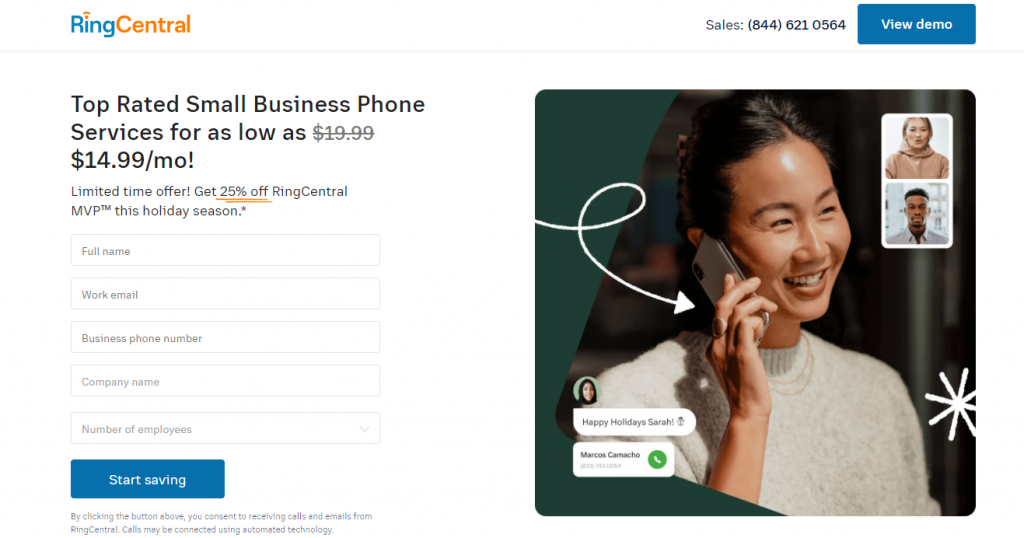 This is the top-rated small business phone service you can get on the market. With RingCentral, you can easily connect to any device and switch between them in just one click. This service is affordable for all types of businesses, and there's no need for separate products or additional vendors.
In addition, it's super simple and easy to set up and use, and it only takes a few minutes. It has never been easier to turn your employee's phones, laptops, tablets, or mobile phones into mobile offices and give them 24/7 access anywhere they have an internet connection.
The price depends on the number of users you register (starting point is one user), and you can register more than 999 of them. The price is as low as $32.99/month per user.
Grasshopper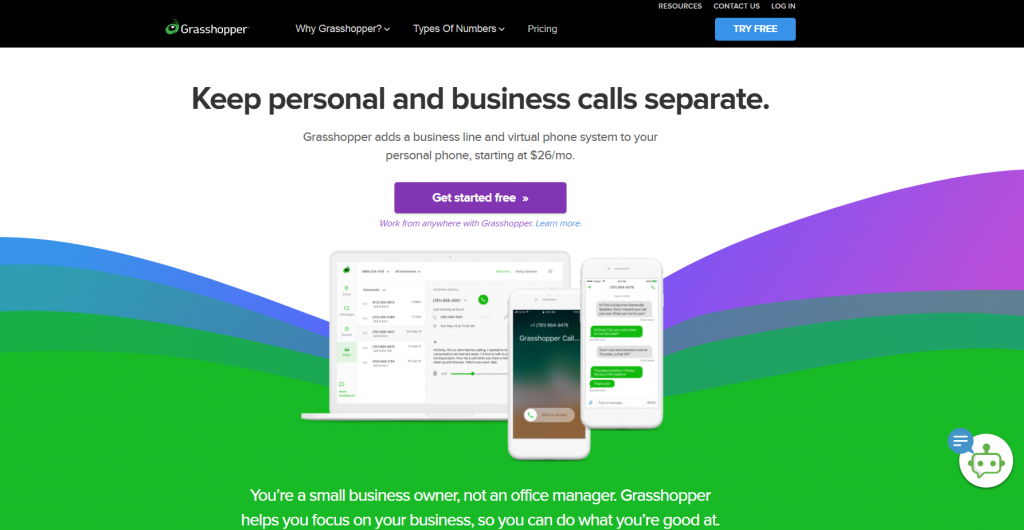 Grasshopper is the next great VoIP service provider you can use for better business communication. You get an option to choose from local, toll-free, or vanity-free numbers as you operate with all of your customers. Besides just phone applications, with this service, you also get a desktop application, business texting, call forwarding, virtual fax, etc.
It will save you money, and your business will look way more professional with this service. Price starts from $26/month for 1 registered number and 3 extensions (when paid annually).
Vonage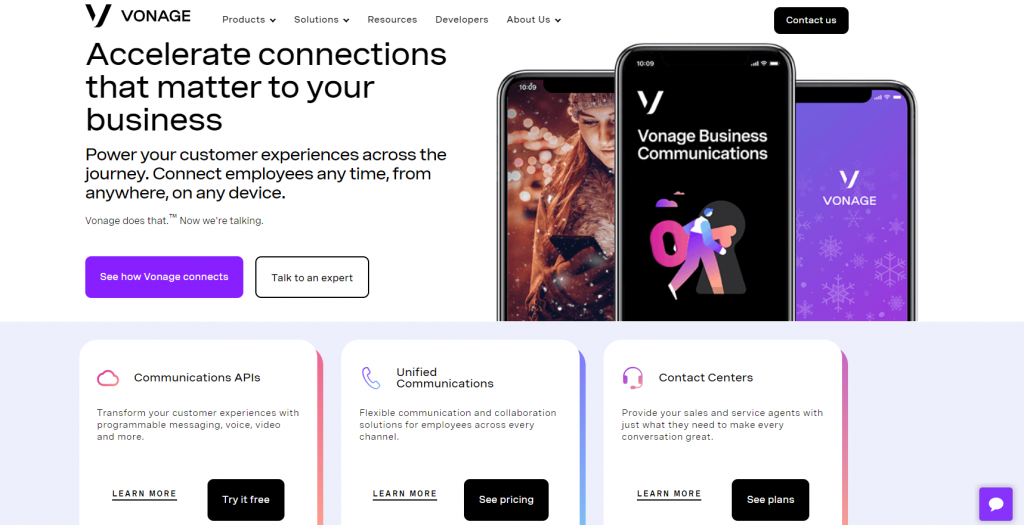 This service is the best business phone system and VoIP provider. Vonage is a cloud-based service that gives you high-quality communications with voice, video, and messaging coverage. It offers flexible and united communication and collaboration for all of your employees across all channels – Vonage will make every conversation great.
It will keep your business calls up and running 24/7 while giving you lower international call rates. Vonage is also compatible and easy to use with other cloud-based systems such as Office 365, G Suite, Salesforce, etc.
Additionally, it has a great collaboration with Amazon Chime to offer you top-notch web conferencing, file sharing, chat, and much more. The price depends on the number of registered users ($19.99/month per user).
CallHippo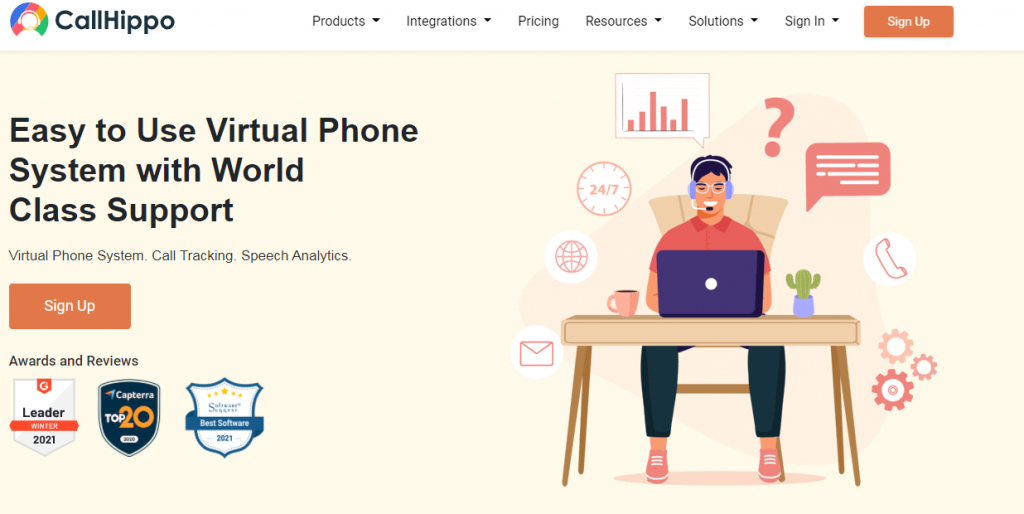 This great VoIP service is the ultimate tool that will help you make high-quality calls to your customers in real-time and develop stronger relationships with them. This service is super-easy to use and user-friendly. You can use it to offer customer support, answer pre-sale questions, and more.
CallHippo also offers great customer support and gives you everything you could possibly need to fulfill your business management needs. With CallHippo, you get a local number by default, and you're able to make calls to over 190 countries. Price varies based on the number of registered users and starts from $14/month per user.
Conclusion
There are lots of different services and VoIP providers today, and choosing the right one can be hard. There are also various features and options you get with each of them. However, we hope this article helped you explore options you want to have in your business and helped you choose the right service for you.