Video plays an important role in the current online world. Visual content gives special meaning and explanation of what someone does with their business. A well-created video attracts clients, customers, partners and helps businesses to grow.
But what is the right place to upload those videos?
Websites are an essential part of a business chain, but uploading those videos directly on the website would do more harm than good. Videos are large files that would eat a lot of storage space and server bandwidth of a website, and loading them would slow down the website and result in many possible errors.
To avoid that and still have great video content on the website, use a video hosting platform. As the name says, those platforms are home to billions of videos later shared and embedded on the wanted websites.
Even though YouTube is a synonym for an online video, it is not the only video hosting platform. And sometimes, it is not the best option either. There are many video hosting websites, and the choice depends on the user's goals and type of business. This article will present some of the best and the coziest homes for videos.
YouTube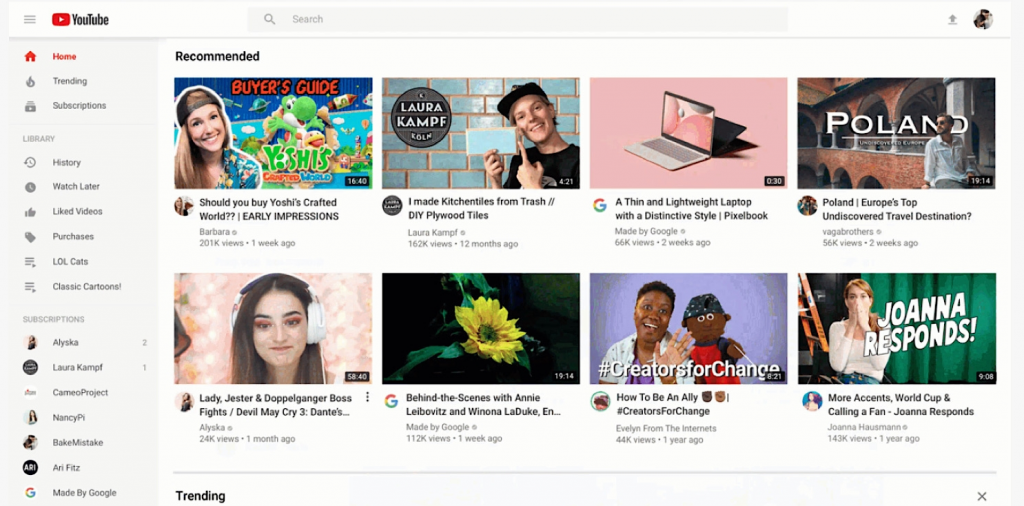 YouTube is the most popular video hosting website. Not just is it popular as a website for videos; it is also the second most visited site in general. It was founded in 2005 by Jawed Karim, who was the first user uploader, the pioneer for 2 billion users today. YouTube is an entirely free video hosting site that offers unlimited data storage.
As a user, you can upload as many videos as you wish, and a single video can go up to 128 GB and be 12 hours long. YouTube statistics are amazing, and 300 uploaded hours of video every minute is just one interesting number. YouTube is considered a social platform where users can upload but also subscribe to some channels and be just viewers.
Videos can be uploaded, private, listed, or unlisted. You, as a user/uploader, manage how it is shown. The downside here is YouTube Ads which are the price for free hosting. They can show up instantly, before or during the video interrupting the story and the visitor's mood.
Another thing that might interrupt and change the course is the next recommended videos. Often, they are not so related to what visitors watched before (unrelated to your business), or they can even draw visitors to a competitor's service and brands. Vice versa, sometimes your video can be recommended, and you can gain new customers' out of the blue'.
YouTube is a great place for those who want to build an audience online, expand the base of subscribers, and stumble upon an audience.
Dailymotion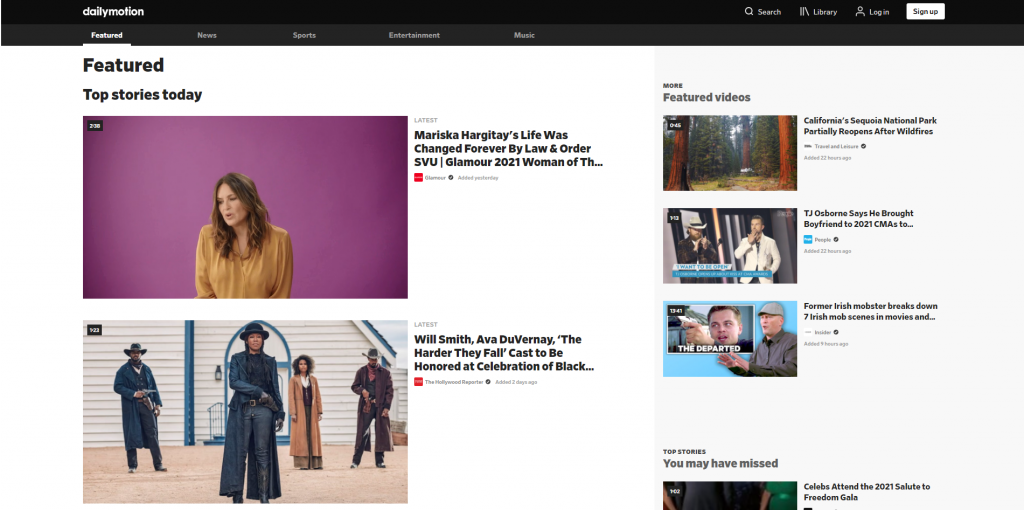 Dailymotion is another popular platform bested only by YouTube. It was developed in 2005, with the goal of sharing only what is important to visitors. It divides and limits video content into four categories: News, Music, Sports, and Entertainment.
If the service you are offering belongs here, creating a Dailymotion channel would be a great option. It offers free video hosting with an unlimited number of uploaded videos. However, videos can last a maximum of 60 minutes, and users can upload up to two hours of material daily. Videos here can be listed, or set to private, or protected with a password.
Just like YouTube, it surprises users with instant ads, before, during, and after videos. The number of users and, therefore, the audience is smaller than with YouTube. That can mean a clearer path for you to build an audience and to get more customers. But it can also mean that the number of videos with similar content or a number of competitors is smaller.
Dailymotion offers a partnership program used for monetizing video content and putting videos in the spotlight, among others. Overall, this is a great platform for those who are searching for an alternative channel and who are willing to start their audience growth slowly but firmly.
Vimeo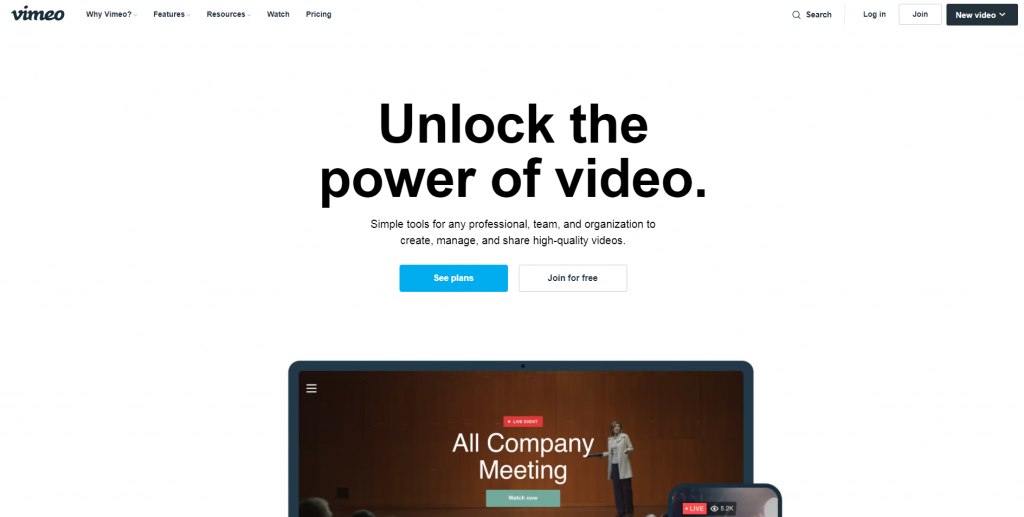 Vimeo is a different video-sharing platform. It was developed in 2004, and now it is mainly focused on creative professionals who want to share their work. It has a great collection of original short films, music videos, animations, and amazing nature videos. The audience and type of visitors correspond with the users or video uploaders.
Vimeo offers a free and paid version with specific limitations on video length and size. The significant advantage over other platforms is that it has no ads to interrupt the video. Since it is designed for professionals, it gives a smooth and sleek slide over the video without unwanted ads and recommendations. Videos can be protected with passwords, locked, or require specific permissions.
The low upload limit is the biggest disadvantage of this platform. The free Vimeo account has a limit set to 500 MB for one video, and the pro user can use up to 256 GB, or weekly only 20 GB. Vimeo has a particular type of user and audience. It is a great platform for creative professionals who would like to present their work to win more clients.
Brightcove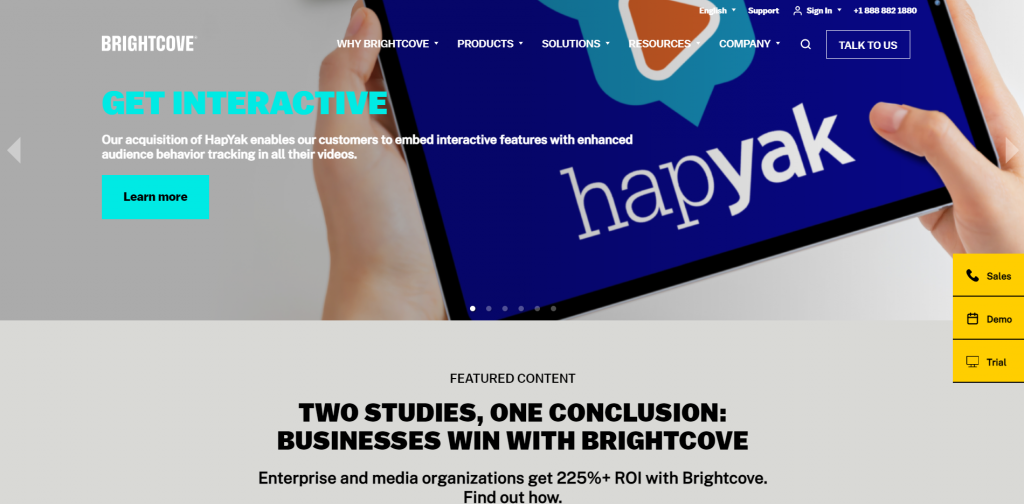 Brightcove is a video-sharing platform similar to Vimeo, developed in 2004. It isn't very well known or used among regular internet users, but it is used by some of the biggest companies in the world to create and share powerful professional videos.
Since it offers different paid programs and is developed for companies and professionals, it has no limitation on video uploads and service supports. They guarantee that videos on this platform are high-quality with reliable and secure streams.
This is a highly professional video-sharing platform with companies that have a leading role in the market. And if you haven't heard of this platform before, you might want to check it out if your primary purpose is business.
VideosHub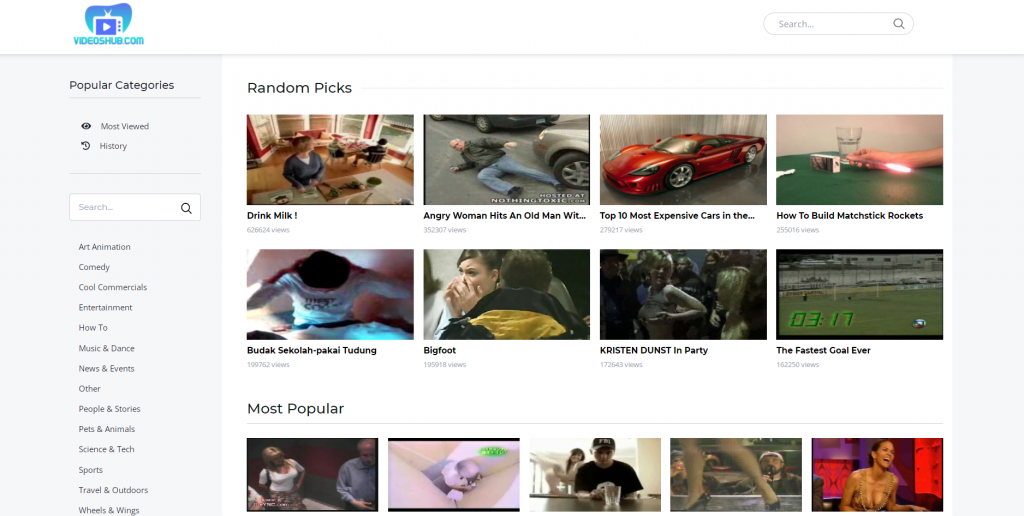 VideosHub was developed in 2003 for easy video sharing on the internet. It is similar to YouTube, where you can find any type of video with colorful and diverse content. It has a very simple user interface and has no limitation on content as Dailymotion has. VideosHub does not allow duplication; every video is unique.
The interesting fact which differentiates VideosHub from other video hosting sites is that videos can be only 90 seconds long and under 100 MB. It is used among regular users, but also some unknown businesses or vloggers that are trying to show their work to a wider audience before entering the big stage.
This is one of the oldest video-sharing platforms, but it is still used and has good visitor numbers.
Conclusion
Video content is becoming the most consumed type of media on the internet. It is important to create powerful videos, as well as decide what the best video-sharing platform for your business is.
YouTube is the most popular place to upload videos, raking in billions of views every day. But, depending on your business as well as your target audience, you can choose between other mentioned websites that suit you the best.