It's a known fact that the average person's attention span has become much shorter, partially due to the ever-increasing usage of the internet and, to be specific, social media. We live in a time where everything is just a few seconds away, beneath our fingertips.
Scrolling past hundreds of social media posts, photos, blogs, and videos, we have become very selective when it comes to choosing the thing that will get our full attention. Be honest and ask yourself this, what are you more likely to watch, in its entirety, a 1-hour webinar or a 3-minute video.
There is another factor in why short-form content is superior when it comes to social media sharing: the size of said videos. Some social media platforms have a restriction on the length of the videos you can post to their site.
For example, Twitter has a limit of 140 seconds for video length, which can be bumped up to 10 minutes but only for select users through their managers. When you have shorter videos, there are many more sites you can share them on.
So, wouldn't it be great if we could, somehow, recap and resize long, time-committing videos into bite-sized video chunks for our audiences to consume? The goal of this article is to acquaint you with different tools and methods you can use to achieve said result. Let's get on with the list.
Pictory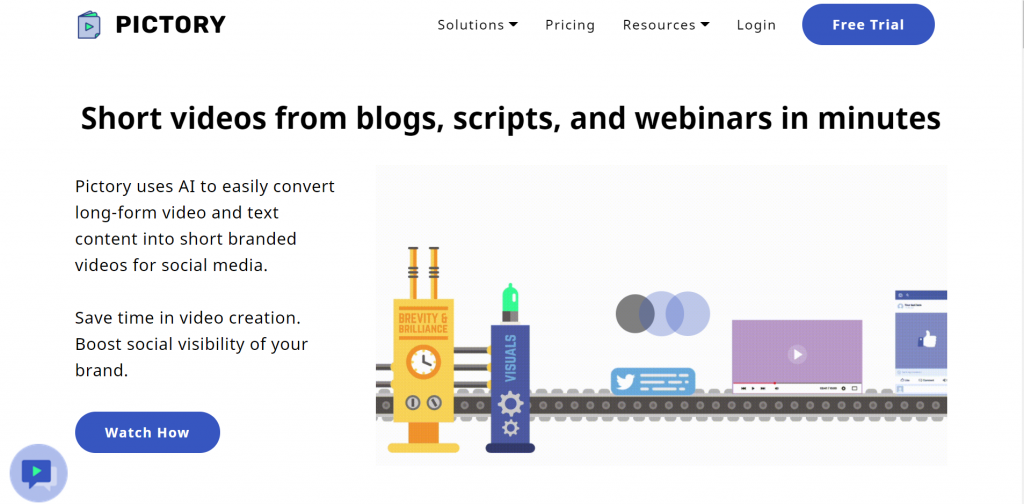 The first tool on our list is known as Pictory. As they state, the tool is designed to allow users to create short videos, perfect for social platforms, from longer videos in a matter of minutes. They can achieve this thanks to their smart AI usage and solutions.
People at Appsumo know that many of us have long-form content worth sharing, but it needs to be sized down to a manageable size. That is why their tool allows you to quickly scan the lengthy video, find the highlights and easily extract them.
After the extraction is made, you can proceed to adjust the results and refine them even further. Manually review and select the best-extracted highlights and customize them using logos, fonts, colors, and more.
Another great option is automatic caption generation. Most users watch short social videos on mute, as that is usually the default, so having captions is a must. Pictory can automatically generate the captions based on the video, and you can choose how to implement them, either baked into the video or save them as a separate file.
What if the thing you want to summarize is just a long text document, blog, or some other, non-graphical material? Pictory has your back. Using its AI features, it can detect the most necessary sentences for getting the point across and cut the "bloat."
You can also add graphical elements to your text, thereby transforming it into a proper video. There is a large selection of stock photos and video clips for you to choose from. If that is not enough, you can always import your own pictures and clips.
Descript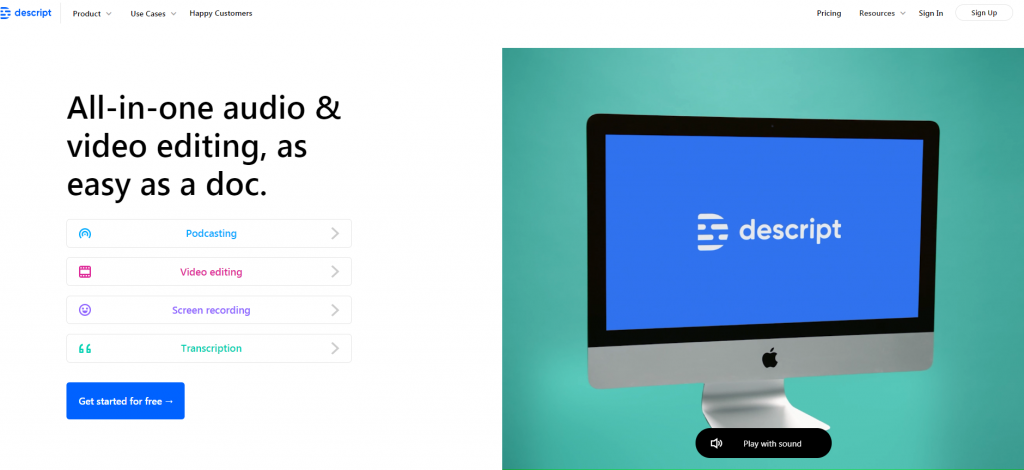 Descript is another tool offering solutions to those looking to make social-friendly videos. One of their key strengths, they point out, is podcasting. One of the most prominent features Descript likes to point out is audio transcription. Descript allows you not just to edit your videos, but it can also serve as a great recording platform as well.
This can be done instantly while you are recording a video using Descript. Another neat feature it offers is overdubbing. You can create a text-to-speech model of your voice and use it to automatically "read" the text for your videos, audiograms, or other uses.
Zubtitle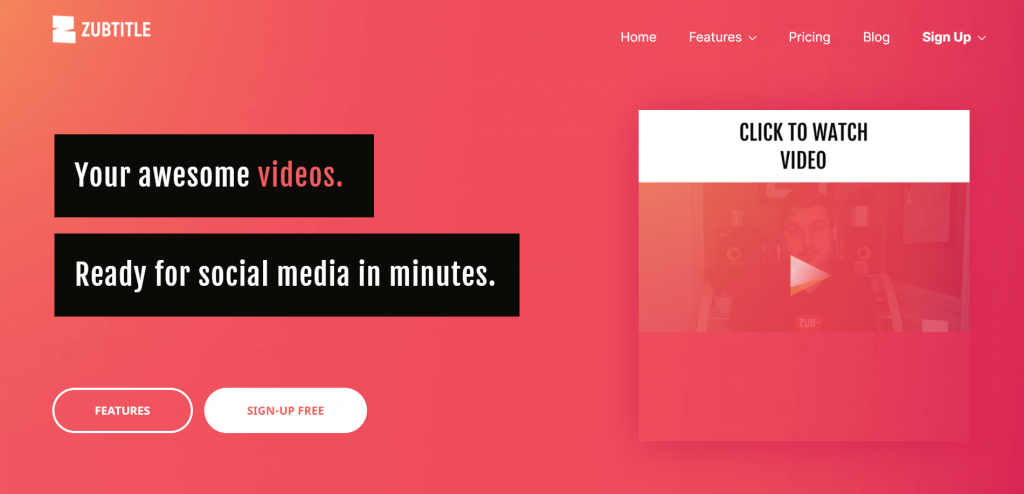 Zubtitle is another great option for customizing videos and video editing software for social media. Besides being easy to use and allowing you to create videos in minutes, Zubtitle has some prominent features, such as its headlines and title editors and options. Having eye-catching top borders and attractive titles can do wonders for your video's publicity.
Need to add captions to your videos? Zubtitle makes that task quite quick and hassle-free. Besides creating captions on your own, the tool can transcribe audio from the video, and you can then add it as a caption as well.
Vidnami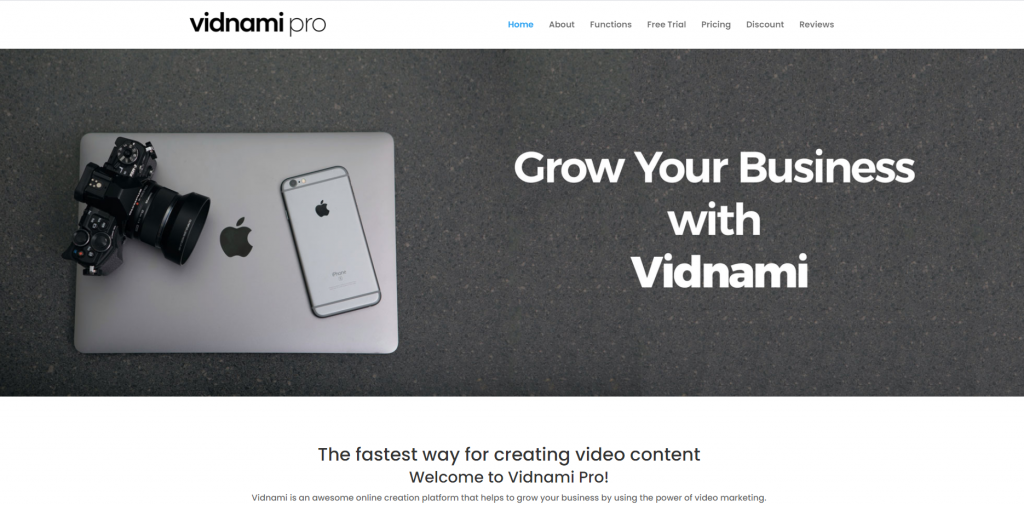 Vidnami, or formerly known as Content Samurai, is a simple-to-use video maker on par with our other mentions. The great thing about the tool is that it can be used with people who have never used a video maker; it's that intuitive. Vidnami allows you to create engaging, short, and stunning videos in a matter of minutes that will be perfect for your business or personal use.
Caption creations are easy as it is handled automatically by transcribing videos or clips. All you have to do afterward is select the caption and edit it if necessary. Besides that, you can also do the reverse, input your text and create engaging content from that.
Simply let Vidnami scan your text and select the most suitable videos from its huge library of video clips. It can even automatically combine all media forms, text, clips, voice tracks, and even inserted music. After you have created your content, don't forget to brand by adding your logo, colors, fonts, and other personalization details that will make it shine.
Conclusion
It is really important to be able to tailor your content to the targeted audience. The aforementioned tools offer you the ability to adapt long videos, blogs, texts, and other media formats to social media standards, making short, engaging, and captivating videos.
Remove the unnecessary sentences, cut out the awkward silence moments from videos and caption them as you see fit. All of this and more can be done using these great tools. There is simply no excuse for posting poorly edited and made videos with such solutions at hand.