Graphic design programs are an essential part of sending a visual message and sharing information. Sometimes it might be challenging to create and shape your content, and it is very important to find the right tool to help you. Some of them are listed here: graphic design software free download.
There are many amazing programs in the market, and some of them are free to use. Here are some of the most popular online graphic design programs available and widely used at the moment.
Venngage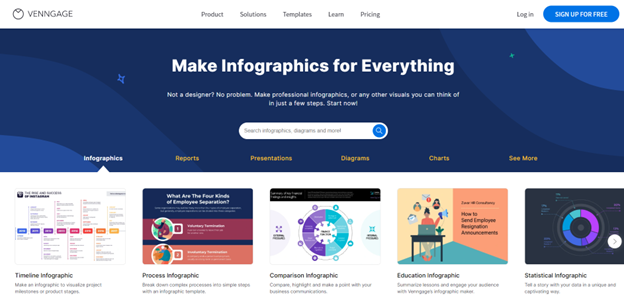 Venngage is one such application that helps you create tailored content. To help you start, it offers a number of customizable infographic templates. These range from education templates to marketing templates and many more. Hence, from its vast library, you can easily choose the one that fits your marketing needs.
Since these templates are customizable, you can add all kinds of text, characters, and sounds to them. Moreover, Venngage offers a quite friendly user interface which makes it fun and easy to use for beginners and pros alike.
Crello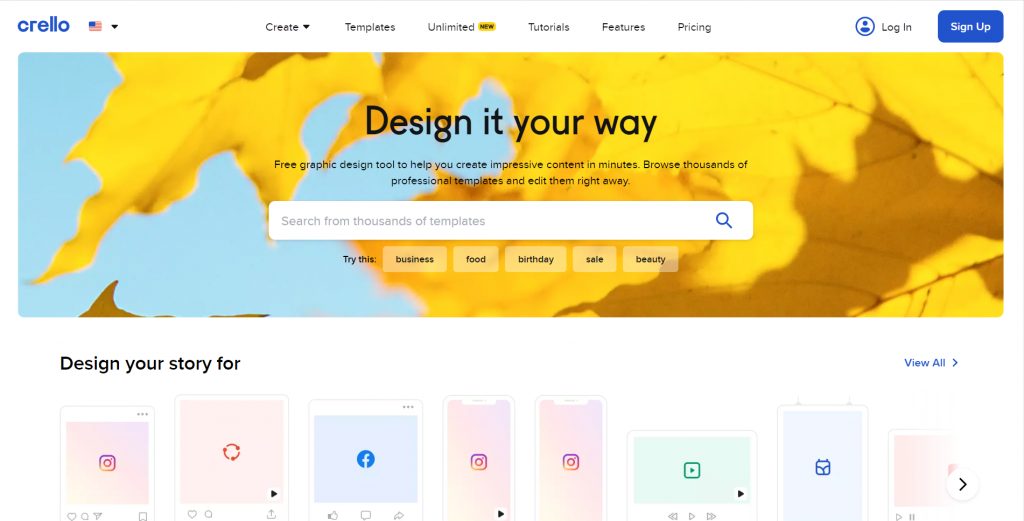 Crello is a great graphic design tool with an amazing selection of templates waiting to be customized based on your needs. It was launched in 2017, and it has over 2 million users and over 20 million designs created already. It has over 10 thousand templates and over 50 thousand different images and files available.
Templates are arranged in different categories and collections for an easier pick. After selecting your favorite, Crello Editor helps you to easily created needed visual content, which would help you to be noticed.
Even though the Starter version covers all basic needs for occasion designs, the main advantage of its Pro version is an unlimited number of personal designs and project downloads and more designers on team projects.
Crello does not look that simple and easy to use for beginners. But the plus side is that it offers a number of tutorials, blogs, and resources for education. Just like Canva, Crello offers mobile apps for easy access to your design.
Canva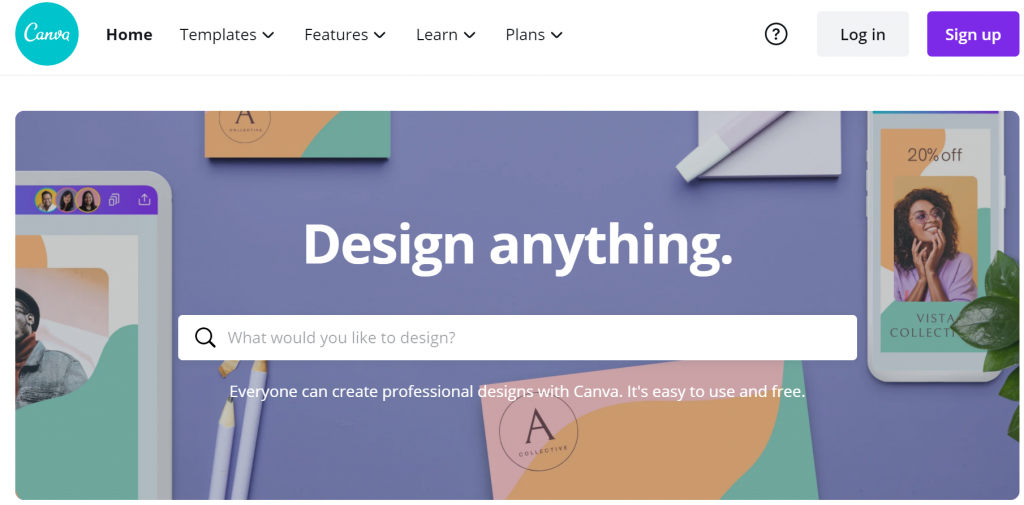 Canva is a very powerful design platform launched in 2013. It has well-organized categories for different types of designs. Based on your needs, you first select a category of your business. Canva offers over 250 000 free templates professionally made and carefully arranged in different categories.
It helps you to create presentations for businesses, schools, calendars, social media content, different posters or banners, videos, resumes, prints on clothes, and much more. After selecting a category and preferred template, you can start with editing. Canva's design editor is simple and easy to use, with plenty of possibilities to customize the selected template.
It has drag-and-drop functionality, which gives you power over the design. It offers a large number of different fonts and colors for texts, as well as different images. Also, it lets you create completely personal content with the option of uploading your pictures.
Besides the free version, Canva offers Pro and Enterprise plans which are better suited for large businesses and teams, giving the option to control and manage access to Canva features and team designs. Canva has a desktop and mobile version for quick design changes.
Canva provides own design courses and tutorials for beginners willing to learn and become a graphic designer. Over 50 million users and billions of created designs on Canva are significant proof of Canva's power and importance.
DesignWizard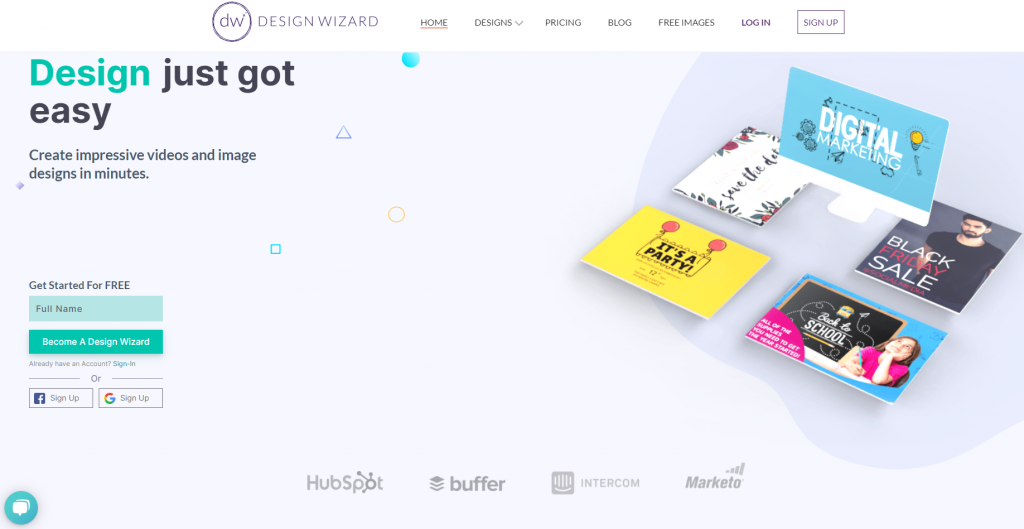 DesignWizard is a simple graphic design online program that is best suited for beginners. It was launched in 2016. It offers over 15 thousand beautiful professional templates for different types of business and needs.
DesignWizard editor is very easy to use with an option to upload personal images, special fonts, logos, or shapes. It takes you just a few minutes to create and share amazing videos and images. Its basic free version offers great images and template customization, which is simple and enough for a beginner.
But its Pro and Business versions come with larger storage and more templates available, as well as a number of design downloads per month.
Snappa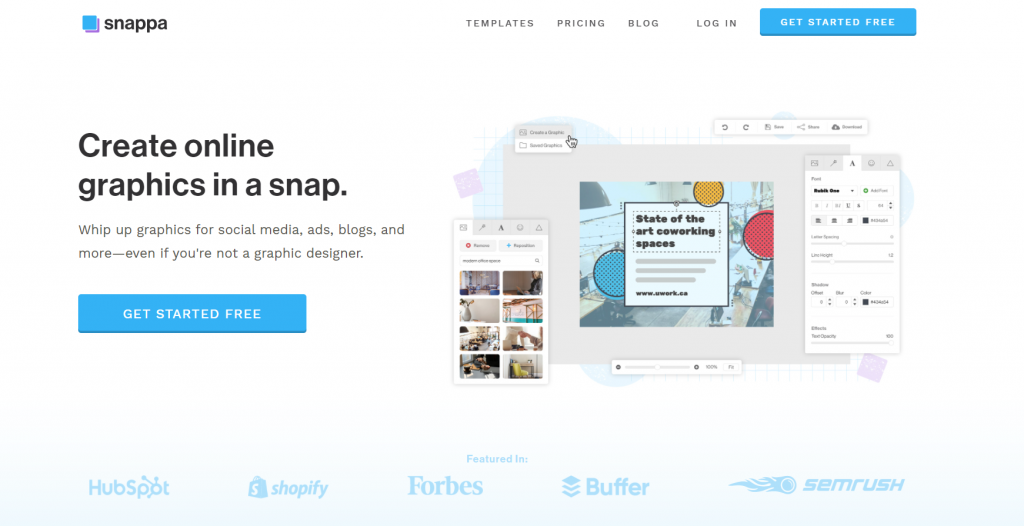 Snappa is one of the simplest graphic design programs. It was founded in 2015 for small businesses to overcome the struggle with graphic design. It has a straightforward Editor well suited for beginners; yet again, it returns quite professional designs.
It has over 6 thousand templates thoughtfully arranged into different collections. Templates can be customized with random texts, different fonts and shapes, and given or personal images. Snappa offers three different pricing plans, with a number of design downloads as the main difference.
The Starter version offers only three downloads of designs per month. The Pro version has an unlimited number of downloads and more customization options. The team version is designed for team members that work on the same design project. This package can take five users in a team.
Team version can also be customized if your team is bigger and growing. Snappa is very simple and mostly used among people without a design background and daily need for professional design content.
BeFunky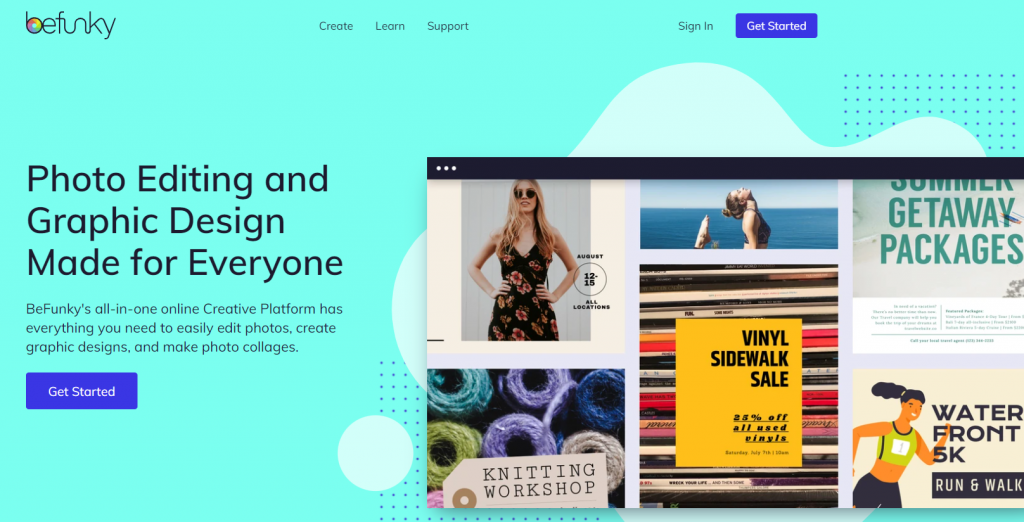 BeFunky is a platform for creating content, editing existing photos, designing professional documents, flyers, banners, invitation cards… For its features, it has three different online editors. These tools are easy to use and straightforward for every user.
There is no need for any previous experience. They offer millions of images and thousands of professional templates for personalizing. Or, if you want unique content, you can create a new template from scratch with your personal images and preferences.
Besides the free version, you can upgrade to the BeFunky Plus for more templates and professional editing options. For those who are true beginners, BeFunky offers tutorials and resources for learning, as well as project ideas for mastering your skills.
Pixlr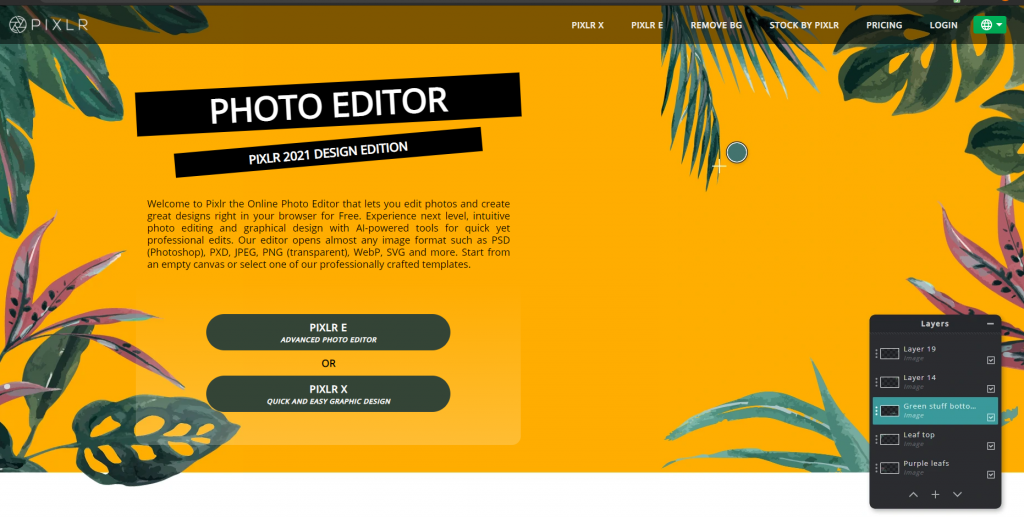 Pixlr is another great online graphic design software, perfectly suitable for beginners and users who don't have enough resources and time for learning more professional tools. It was developed in 2008, but in 2017 it got its new path and idea to become what it is today. Pixlr editor is very simple with artificial-intelligence-powered tools for fast and professional results.
Over 500 million users used Pixlr editors for their designs. Editors are simple, with a number of fonts, images, and graphics available. Pixlr offers three pricing plans based on the possibilities and number of offered templates and other files. Besides the online editor, it has desktop and mobile apps for most of the operating systems.
Stencil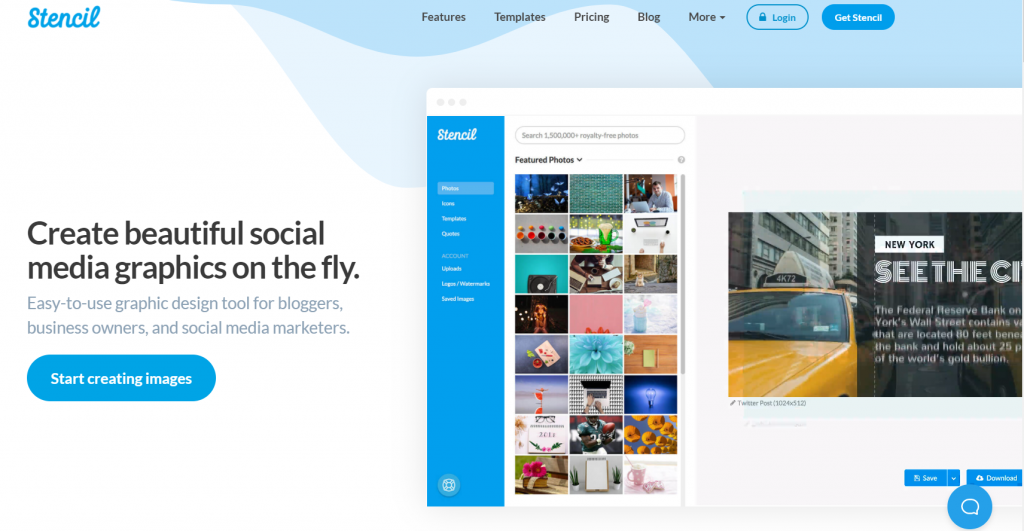 Stencil is a very simple tool for creating online designs. It is best suited for bloggers and social media content writers. Its editor comes with drag and drop functionality, where you can edit preferred templates and images selected among thousands available.
You can use different fonts and shapes to enrich your content. Stencil's basic version is free, and it has some limitations. The Pro version is a great option for someone who goes deeper into content creation and simple graphic design.
The third option, the Unlimited version, is the best for those users who need new content daily and an unlimited number of images used, saved, and designed. Stencil's cool feature is the plugin and option to edit photos without going to their website and leaving your current work.
Piktochart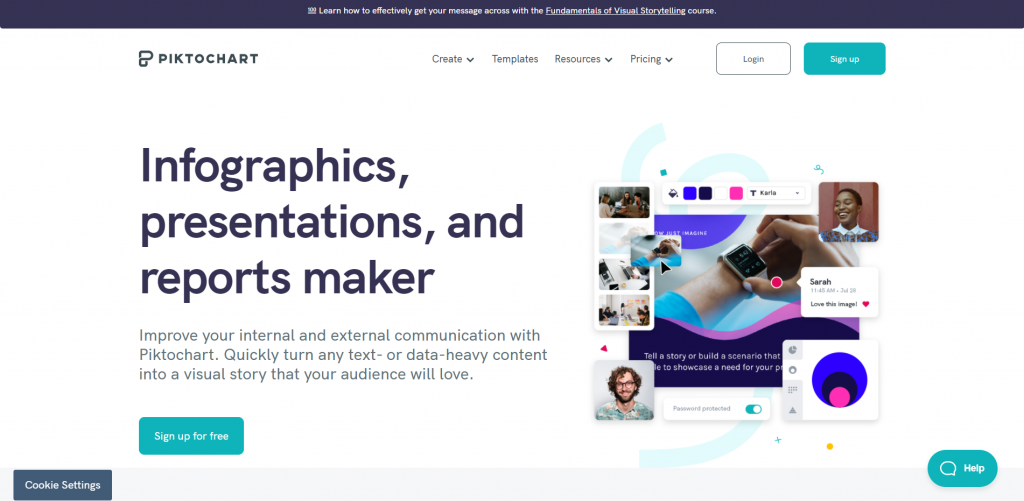 Piktochart is another simple yet cool graphic design tool for creating amazing graphical content. It has a very simple online editor where you can adjust the selected template. It offers a large number of professional templates from different collections.
Piktochart is mostly used for creating infographics and professional presentations in the field of marketing, finance, or human resources. But it is also used among bloggers or social media content creators for less strict and more creative content.
With the free basic version, it has two more pricing plans, depending on limitations and storage. The team version is designed for team members who work together on a specific design.
Gravit Designer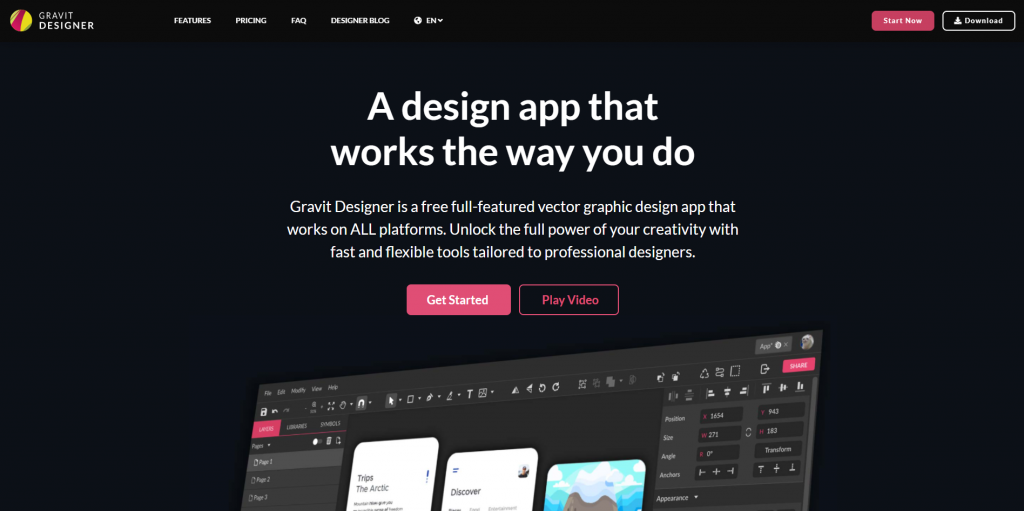 Gravit Designer is a powerful graphic design application developed in 2018. It is a very young but widely used and recognized application, thanks to its simple interface. Even though its editor is simple, it can produce amazing different projects. The number of templates from different categories gives the possibility of diverse projects.
The main advantage of Gravit Designer over other similar tools is the ease of access to your design. Its Gravit Cloud service saves your design and shows it whenever you want. You can use it as a web app, mobile app, or as a downloaded version on the desktop. It is compatible with different systems and offers cross-platform functionality.
Gravit Designer Free version is great for simple design and rare access. It offers great customization, but the main limitation is only 500 MB of space on the Cloud. Gravit Designer Pro offers unlimited storage on the Cloud, more colors, and even offline work.
Vectr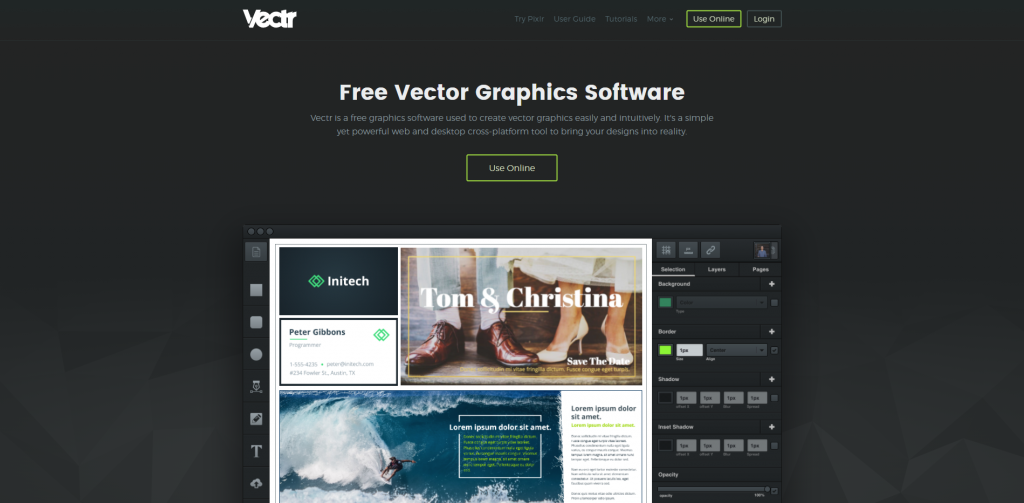 Vectr is another great graphic design tool. It is one of the simplest tools which leaves no confused faces after entering the editor. Because of its simplicity, it is very attractive among true beginners. It is mostly used for creating vector graphics and for editing banners, flyers, or other simple business presentations.
Vectr can be used as a web and mobile application, and you can access or re-edit your designs anytime and anywhere. Even though you don't need any knowledge to use this tool, they offer many tutorials and guides for those who are stuck or want to do more with this tool. One of the coolest things about Vectr is that it is a completely free tool.
With that in mind, for users who need a simple design without much effort, Vectr is the first choice. Of course, using a design agency is always an option as well.
Resume-Example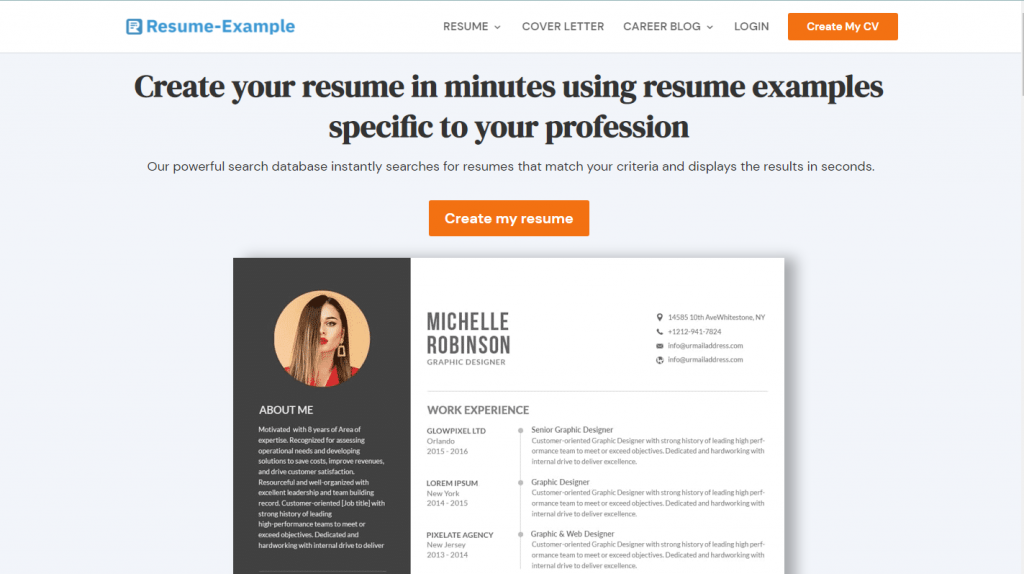 "Resume-Example" is a powerful search database that instantly searches for resumes that match your criteria and displays the results in seconds.
You will have numerous resume templates at your disposal. Modern, professional, and creative designs to help you multiply your chances of success.
Clear, fast, and easy to understand. Follow the steps and you'll write a captivating resume effortlessly, in only a few minutes! So simple, the assistant will tell you exactly what to do to highlight your skills.
Conclusion
Mentioned tools are simple and powerful for creating great personal content. Depending on your needs and time, you can test them to find what is the best for your project. If your business tends to grow, you may consider tools and packages with more options, larger storage, or a greater number of templates. This along with a tool like Asana will keep your business and projects on track.
Also, the possibility to access and change the design anytime on the go is a great advantage. So, if you consider it needed for your business, start with testing those tools that offer it.