Mastering SEO optimization can be difficult, especially if you're just getting started. Fortunately, finding the finest SEO tools is simple; we've created a list of them all. We contacted over 30 SEO professionals to find out what the finest SEO software is and which keyword tracking tools are impressing them.
You don't have to try all of these tools; simply figure out which one works best for your company.
1. Nozzle

In the first place, we Have Nozzle. Nozzle is a SERP monitoring tool that provides you with access to all data for any term related to your brand. It allows you to analyze SERP data by different segments such as date or device type.
This tool will give you in-depth results of all data, rankings, etc. You can use it to not only track your website but also your social media platforms and how different keywords are affecting their performance.
This monitoring software can also help you with tracking your competitors by just selecting their domain. This will help you keep one step ahead.
Nozzle goes beyond your brand by examining SERP data for each listing rather than simply your domain. You will be able to find and track all of your SERP rivals in order to determine where to focus your SEO efforts.
When it comes to pricing, Nozzle offers three different discounted prices tiers on AppSumo, so you will definitely find your best fit.
2. MOZ Pro

According to the MOZ Pro website, Moz Pro is regarded as "the proven, all-in-one SEO toolset" that provides its customers with SEO solutions for any requirement. Moz Pro features include site audits, rank monitoring audits, site crawls, backlink analysis, keyword research, and more.
When you join up with MOZ Pro, you will get full access to MozBar, the ability to track keywords across various search engines, SEO analytics, one-on-one walkthroughs, and 24-hour online support.
MOZ Pro is also with considering when it comes to resolving your client's typical technical SEO difficulties. When you use MOZ Pro to build a site crawl and audit, it will assist you in identifying technical SEO issues and demonstrating how to resolve them.
Moz Pro's pricing starts at $99 per month for the Standard package, which includes the essential tools. The Medium plan includes a broader set of capabilities for $179 per month and includes a free trial. It's worth noting that if you pay for your plans annually, you'll get a 20% discount.
There are more options available for agency and corporate needs, as well as premium solutions for local listings and STAT data analysis.
3. Majestic SEO Tools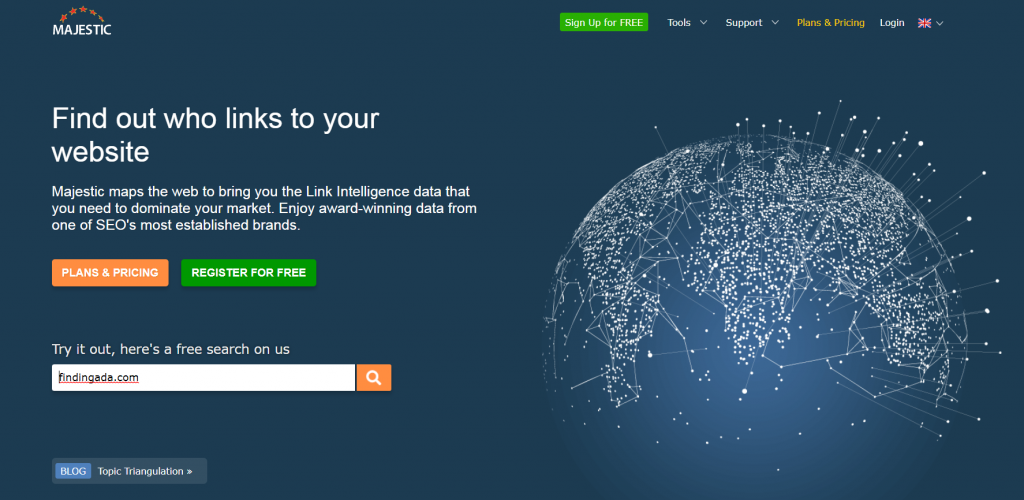 Since its launch in 2011, Majestic SEO Tools has garnered constant acclaim from SEO professionals. As a result, it is one of the oldest SEO tools accessible today. The tool's primary focus is backlinks, which link one website to another. This has a big impact on SEO performance, and Majestic has a massive quantity of backlink data as a result.
Users may search a 'Fresh Index,' which is crawled and updated throughout the day, as well as a 'Historic Index,' which has received online accolades for its lightning retrieval speed. The 'Majestic Million,' which provides a ranking of the top 1 million websites, is one of the most popular features.
Majestic's 'Lite' edition costs $49.99 per month and includes important tools such as a mass backlink checker, a list of referring domains, IP addresses, and subnets, and Majestic's integrated 'Site Explorer.' This function, which is intended to provide you with an overview of your online business, has garnered some criticism for being antiquated.
Majestic also does not integrate with Google Analytics.
4. SEMRush

Marketing SEO tools like SEMRush are popular in the SEO community. Experts like how they make it simple to analyze your rankings and uncover changes and new ranking chances. The Domain Vs Domain comparison, which allows you to instantly compare your website to your competitors, is one of the most popular features of this SEO tool.
You'll be able to compare terms and domains if you're searching for analytics reports to assist you to better understand your website's search data, traffic, or even rivals. The On-Page SEO Checker tool allows you to quickly monitor your rankings and get advice on how to enhance the performance of your website.
SEMrush has some great reviews and happy customers. However, it has been chastised for employing SEO jargon such as 'SERP,' which may alienate beginner users. A monthly 'Pro' subscription costs $119.95 and provides access to all SEO tools.
5. SpyFu

SpyFu is a search analytics firm that crawls the internet for data that is then used to discover the keywords that businesses and websites buy through Google AdWords. It also associates search results with search keywords, allowing businesses to have a better understanding of the sorts of queries and string of words that appear on Google's Search Engine Results Page (SERP).
SpyFu effectively allows you to 'spy' on your competition by assisting you in determining the keywords that your competitors purchase for online advertising and identifying the words and phrases that produce the greatest traffic. This allows you to stay one step ahead of competing firms or services in your sector while also driving more traffic to your own website.
SpyFu's plans are divided into three categories. The base subscription is $33 per month and includes 250 sales leads, domain contacts, and 5,000 weekly monitored keyword ranks. This strategy is best suited to young startups and small businesses with a limited internet presence.
Final Thoughts
And there they are, in our opinion, the best tools for SEO managers. Some of them are expensive, but there are also really affordable ones. We recommend you check them all out so you can find the best fit for you.